Spanish Travel and Vacation Guide
Spain Climate and Travel Information
Spain is undoubtedly one of the most idyllic and desirable vacation destinations on the globe. Appreciated not only for its unparalleled beauty, but also for its dynamic cultural energy - Spain is a nation pulsing with life and travelers can expect excitement and adventure around every corner. Very few countries, if any, welcome foreign tourists with such a culturally immersive travel experience - an experience marked by frenetic nightlife, mind-blowing architecture, and a nearly perfect year-round climate. A Spanish holiday is one of the few times travelers can enjoy both the warm tropical breezes of the Mediterranean and the engaging ancient history characteristic of Western Europe during a single vacation.
No Spain travel plan is complete without paying a visit to the two rival bastions of Spanish culture, Madrid and Barcelona - each defined by wildly different, yet equally vibrant lifestyles. Whether you find yourself bathing in the sun, sipping Sangria at Antoni Gaudi's public park masterpiece, Parc Guëll, or you choose to spend a day fanatically cheering for Real Madrid CF at Santiago Bernabeu Stadium, there's no wrong choice when it comes to Spanish holidays - a trip to Spain is guaranteed to be a once-in-a-lifetime experience.
Local Events, Festivals, and Gatherings in Spain
You've just landed from a long flight, and despite battling the overwhelming clutches of jetlag, you're eager to get out and explore the city. At the very least you're looking to sample the local fare before retreating to your hotel room and snacking on the $15 candy bar in the mini-bar. Both Barcelona and Madrid are cities that "never sleep" - which is to say that no matter what time you pull yourself from the jaws of travel induced sleep deprivation, there is always something to do.

Events in Barcelona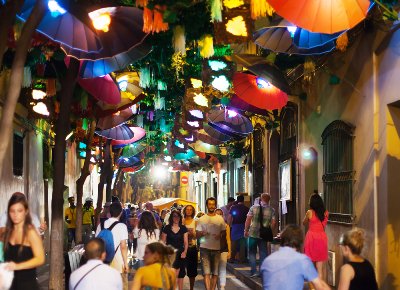 Barcelona absolutely breathes Latin passion and romance; evident through the near-constant presence of street festivities in this Spanish city. From free live music and public fireworks displays, to neighborhood barbeques and commemorative festivals, there's always something to do in Barcelona. The most prominent of these festivals takes place during the 3rd week of August in the Grácia district. Known as the Festa Major, during this party each street competes to win the annual "best decorated street" award. Walk through any street in Grácia during the Festa Major, and you are sure to be in awe of the incredible display of multi-colored, canopied decorations, the vast variety of local cuisine, and the sounds of live music. Bars and restaurants in the area also set up outdoor barbeques, hosts shows, provide drinks to passersby, and the best part is, entry is free.

Madrid Parties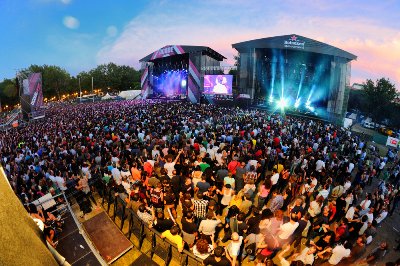 Standing in stark contrast to the all-inclusive, community oriented festival scene in Barcelona, Madrid is famous for its numerous after-hours rooftop parties, frequented by locals and tourists alike. Long after the bars and clubs have shut their doors for the night the real party starts in Madrid. Travelers eager to get a taste of the "real" Madrid, will find that as the evening comes to a close, and the early hours of the morning come to fruition, swaths of people gather outside of the clubs and slowly migrate to private rooftops for after-parties which continue in earnest long after the sun shows its face. Just follow the crowds after the bars close, as most party-goers travel in large groups, bound together in the throws of fiesta fever, toward the nearest skyline vistas. Part of what makes Madrid so lively and wonderful is that no matter what your interests, there is a party, festival, or event that will cater specifically to your tastes. Not feeling the after-hours party vibe? Don't worry; there are a number of street festivals that you may find engaging and thrilling, including the lively Veranos de la Villa or DCode Festivals, both of which feature a variety of contemporary music and arts, sourced from around the world.
Restaurants in Spain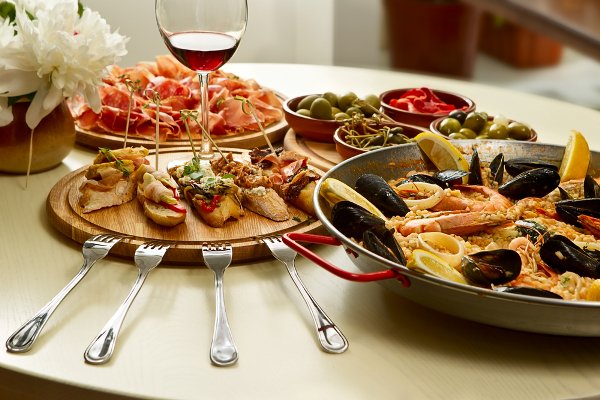 One of the biggest callings of worldly travel has to be the food, and experimenting with local cuisine is a necessary step in experiencing the full gamut of cultural identity. Fortunately for you, the risks here are next to none, Spain is known for its incredible regional culinary offerings, and you don't need to be a discerning taster to appreciate the fare. Whether you fancy Spain's regional cuisines of Catalonia and Basque Country, or the more general Spanish, Asian Fusion, French, or Italian cuisines, you'll discover more than enough restaurants to quell your watering taste-buds. Consider a few of our favorites below to enhance your upcoming Spain holiday adventure.

Restaurants in Barcelona

Enoteca: Easily one of the finest restaurants in all of Barcelona, Chef Paco Pérez has earned Enoteca two well-deserved Michelin stars, with his detailed culinary vision encompassing Mediterranean seafood, and locally sourced natural ingredients, expertly plated and presented to display the vibrant colors and mouth-watering aromas of Catalonian-fusion fare.

Casa de Tapes Cañota: Spain's most famous culinary offering comes in the form of Tapas, roughly meaning appetizers. The term encompasses a wide variety of well-prepared snack foods but to most travelers it translates to "delicious." To experience some of Barcelona's best tapas, travelers should pay a visit to Casa de Tapes Cañota - the more relaxed, younger brother of the famed Galician restaurant, Rias de Galicia. Culinary offerings include traditional dishes such as fried seafoods, including octopus, as well as a variety of local wine and beer.

Culinary Offerings in Madrid

La Terraza Del Casino: Head chef, and Spanish culinary influencer, Paco Roncero, leads the foray into experimental gastronomy with his two Michelin starred restaurant, La Terraza. The menu includes 23 unique courses, mixing avant-garde ingredients with traditional Spanish dishes, most famously his contemporary take on paella - Kellogg's Paella - mixing Rice Krispies, shrimp, and vanilla-flavored potatoes into the standard paella preparation. La Terraza is a bastion of modern experimental fusion cuisine, and a must-visit for adventurous eaters, eager for a taste of the most innovative Spanish fare.

Pan de Lujo: Located in an old bread factory, Pan de Lujo (translated "luxury bread") offers modern Spanish cuisine, and one-of-a-kind baked dishes, such as its signature rice pudding sandwich, and fresh baked baguettes. The original bread factory façade has been expertly preserved, with the interior being transformed into a sleek and uniquely modern restaurant setting. A glass-walled pool extends the length of the restaurant, and colored lights in the floor and ceiling change throughout the evening, reflecting off the shimmering pool, constantly altering the restaurant's ambiance.
Bars and Clubs in Spain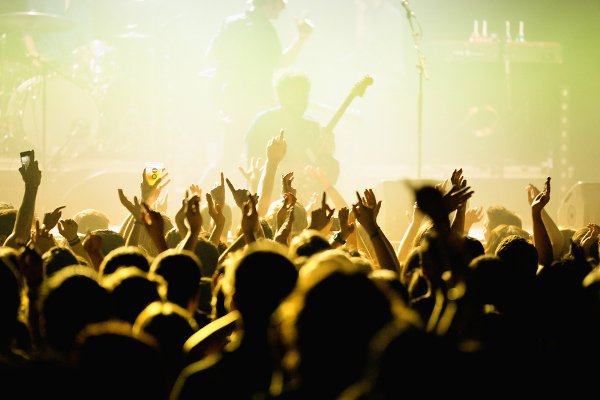 Keeping in theme with its upbeat and energetic cultural lifestyle, Spain's nightlife scene is absolutely legendary. Very few countries can boast such a wealth of after-hours attractions like Spain can, and when set against the backdrop of the nation's vibrant cityscapes, visitors are in for the thrill of a lifetime.
Unlike much of the United States, where Saturday nights manifest into the weekly unwind, Spanish cities stick to their "city that never sleeps" mantra throughout the week: every night is just as viable and energetic as the next, on the bar/club scene. If you're looking to spice up your Spanish holidays with a night out on the town here are our recommendations:

Barcelona Club Scene

Macarena Club: The undisputed underground gem of Barcelona's vibrant club scene, Macarena Club's rough-around-the-edges, and subterranean vibe provide the setting for an absolutely frenetic evening of dancing, grooving to the sounds of pumping bass, and underground electronic music. Largely the preserve of hip-to-the-scene locals, a night at Macarena Club will give travelers a taste of the "real" Barcelona nightlife, free from swaths of club-hungry tourists.

Mac Arena Mar Beach Club: The Mac Arena Mar Beach Club is one of Barcelona's hottest summer clubs, hosting a number of the world's top DJ's and record label parties. The center is comprised of a large bar with beds, awnings, and couches, providing an idyllic setting to enjoy the club's incredibly chic culinary offerings. Entrance is free, though food and drink are not, but not much exists to complain about, especially with the breathtaking backdrop of ocean breeze and sandy shores at your feet.

Nightlife in Madrid

Kapital: Easily one of Madrid's most popular nightlife destinations, the 7-storey club, Kapital, breathes extravagance. Floors 1-5 each play a unique genre and style of music, supported by 3 separate, but equally enthralling bars, providing a club setting perfect for patrons of all backgrounds and interests. The top two floors are reserved as "chill-out" zones, lined with comfy couches, and views of the city below. Travelers looking for a healthy mix of epic club pandemonium, and a relaxing evening of socializing over drinks, shouldn't pass up an opportunity to pay a visit to Kapital.

Del Diego Cocktail Bar: Tired from all the excessive partying during your Spanish holidays? If you're looking for a quieter, more relaxed bar scene, then Del Diego is the place for you. As a more traditional cocktail bar, Del Diego has an excellent selection of wine, beer, and cocktails to enjoy while you chat it up with your friends, and lounge the night away.
Hotels and Lodging in Spain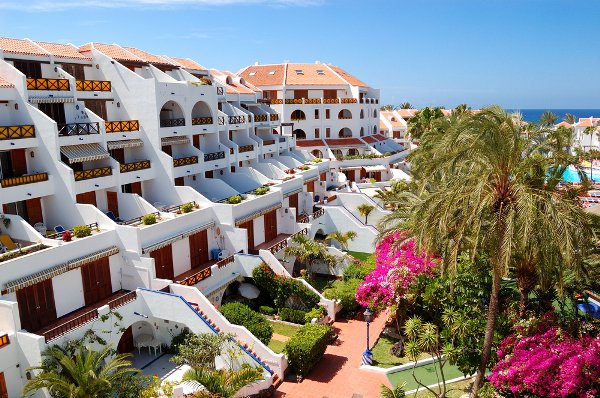 If you've never been before, you'll find that Spain travel is the epitome of ease when it comes to planning. No matter what creature comforts you desire, there'll be a place that's right for you during your Spanish holiday adventure. Choosing the right place to stay when exploring a new country can make or break a vacation, so it's recommended that you consider all the available options before jumping to a reservation. One of the more alluring options comes in the form of "Paradors" - luxury state-run hotels which are usually housed in ancient castles and monasteries that have been converted to house travelers, while remaining historically accurate and pristine. Occasionally the age of the structure prevents discretionary facilities from being practical or provided, such as a sauna in a castle, or a gym in a monastery, but the setting of your Spanish holidays will be unrivaled, so it's a trade off. Other lodging options include hotels (discount to luxury), hostels, or apartment rentals, all of which have the potential to be great; it just depends on your interests and budget.
Spain Climate and Weather
When planning the perfect Spain travel schedule, careful consideration must go into deciding what time of year to visit, to ensure your ideal Spain climate conditions. Fortunately for you, both Barcelona and Madrid - though they have different climates - are equally idyllic. Travelers looking for a mix of discerning Euro sensibilities coupled with tropical beach-y vibes are sure to find just that during their Spanish holidays.

Weather in Barcelona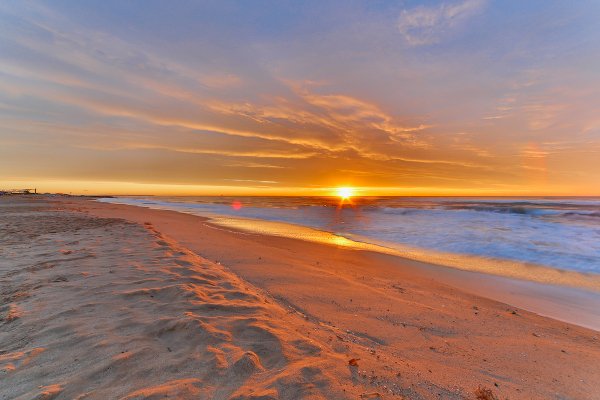 Summer is far and away the most popular time to travel to Barcelona, and for good reason. The temperate coastal Spain climate is at its best this time of year. Average temperatures during the summer months of June, July and August range from 25 to 31 degrees Celsius and despite the added heat from humidity, the cool ocean breeze joins the mix to create one of the finest climates anywhere in the world. The only drawback to summer travel in Barcelona is the crowds - increased tourist traffic during the summer leads to price hikes on hotels, airfare, and car rentals, so if you plan to visit during the summer, be sure to book your travel reservations far in advance.
On the other hand, traveling to Barcelona during the fall, winter, or spring can come as a smart alternative for the more austere traveler. Prices near the seasonal low as the fall colors come into effect, and because of Barcelona's incredible geographic location, it rarely gets colder than 10 degrees Celsius, even in the winter! Overall, it's really up to your personal tastes when deciding when to take a trip to Barcelona, and regardless of what time of year you choose to embark on your Spanish holiday, you are guaranteed to have a great time thanks to the delightful, consistent Spain climate Barcelona enjoys year-round.

Climate in Madrid

Much like its coastal counterpart, Madrid's climate is marked by generally favorable weather year-round. Obviously the summer is the most popular time to travel, due to the increased daylight hours and wonderful temperatures, but that doesn't mean that the other seasons don't have their own unique merits. Summer temperatures in Madrid average about 23 degrees Celsius, and precipitation sees its seasonal low. Unlike Barcelona,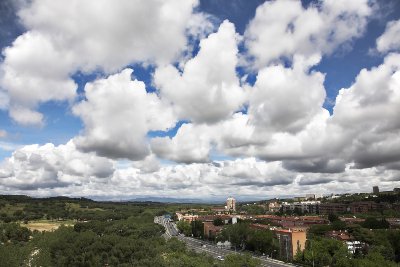 Madrid's inland locale dries up the coastal humidity, making it feel much nicer when the heat spikes. Once again, the only downfall to summer travel in Madrid is the increased travel costs associated with the upswing of tourist traffic, but much of that can be negated by reserving your car rental, hotel, and airfare through Auto Europe, where we guarantee the best rates industry-wide. The fall and winter, despite being a much more affordable and a less crowded time of year to travel, comes at the expense of increased rainfall, due mostly to Madrid's mountainous surroundings, though temperatures rarely fall below 40 degrees Fahrenheit. If you are willing to pack a coat, and risk a few days of rainfall, travel to Madrid in the fall, winter, and spring is highly recommended as the money you save by visiting outside the summer months will be substantial, and those funds can be better spent on all the attractions you can check out without having to wait in hour-plus queues.
Spanish Tipping Culture
In both Madrid and Barcelona, actually in Spain in general, no rules really apply regarding tipping. Most waiters, taxi drivers, and various other service-job holders don't expect you to tip them. Most are employed with fixed salaries, and don't rely on tips to make ends meet. This isn't to say that tipping is frowned upon, rather it's truly up to you to decide.
Spanish Holidays: Planning to Perfection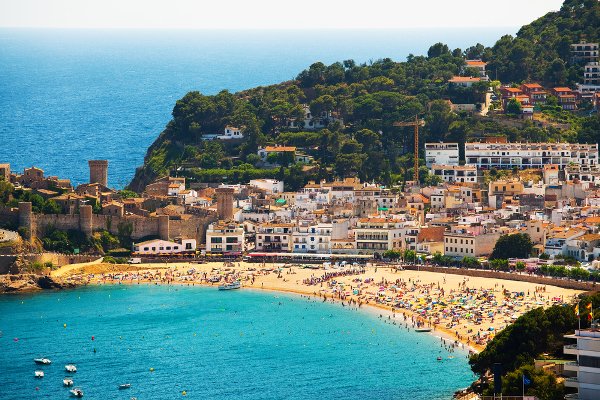 Now that you've gotten the run-down on all the top tier destinations and outings in Barcelona and Madrid, you're well on your way to embarking on the ultimate Spanish holiday. With the resources provided here by Auto Europe, and our wonderfully comprehensive Spain Travel Guide, you'll have all the knowledge you'd ever need to guarantee the perfect vacation in Spain. All you need now is a fufilling itinerary, a few weeks off, and a good pair of swim trunks - you'll be ready to bask in the midday sun under the cover of palm trees, serenaded by the sounds of the oceans tides lapping against the shoreline.