France Road Signs
France Road Signs and Traffic Signals
While driving in France it is important to follow the rules of the road and local driving laws. If it's your first time driving here the easiest way to make sure you do this is to familiarize yourself with traffic signs and parking regulations. We often take for granted how much we rely on road signs when we are familiar with them, and in an effort to make sure your next trip to France is stress-free, we've assembled some tips and information which you can refer to during your upcoming France travel adventure.

Traffic Signs in France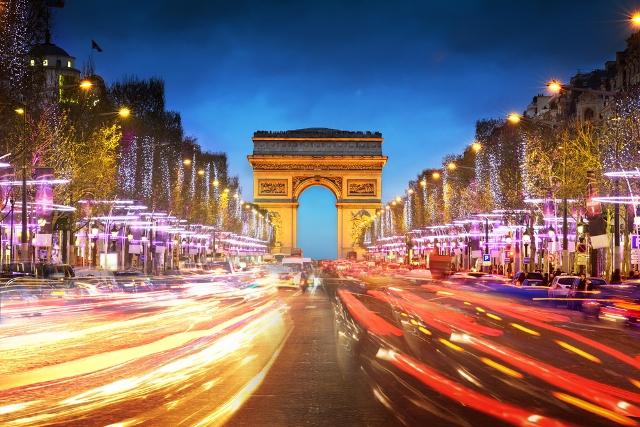 Whether you are a seasoned traveler to France or it's your first trip to Europe, one of the first things that will strike you when you get on the road is the difference between Canada and France road signs. You'll immediately become aware of just how much you take traffic signs back home for granted.
While driving in our own neighborhood back home we use traffic signs so frequently that we aren't even aware that our brains are identifying what they mean and using that information to help us quickly make safe driving decisions, but the moment you hit the road during your trip and are confronted new driving conditions you'll find yourself looking to traffic signs for guidance. For many this quickly becomes an exercise in frustration - France road signs are certainly different from what you're used to, and while traffic signs in France can seem confusing or odd to the new traveler, luckily the road signs in France are fairly intuitive and this quick guide should offer you the information you need to cruise France's motorways like a seasoned pro.

Here are a few of the most common road signs in France:




This France road sign indicates a junction in the road ahead and that the "priorite a droite" rule applies (meaning that you do not have the right of way). Think of it as an inverted Canadian"Yield" sign and this traffic sign will be easy to remember.




This sign has the same shape because it also is meant to indicate that there's a junction ahead. The center icon of this French road sign indicates that you have the right of way in the coming intersection.




This traffic sign indicates that the road you are on is a priority road, meaning that you have the right of way and do not have to yield to other vehicles (though you should still drive cautiously).




Similar to the French road sign above, this sign relates to the type of road you're on and who has the right of way. The black line crossing diagonally through this traffic sign means that the priority road you've been travelling has come to an end and you must now apply the "priority to the right" rule (more on this below).




The black circling arrows observed in the center of this traffic sign refer to an upcoming roundabout. A driver entering this roundabout must give way to the left - the drivers who are already circling the roundabout have the right of way.


Similar to a yield road sign in Canada, this France road sign means that you should give way ("Cedez le passage"). You may see this sign as a warning in advance of an upcoming "Stop" sign - in this case the sign will typically have the distance to the stop sign included just below.

Traffic Lights in France
You now have a firm grasp on the most common road signs in France, but what about the traffic lights? There are some slight differences between the traffic lights in France and those that you're familiar with back home.

Feux Vert (Green Light): If the roadway is clear you are free to proceed.
Feux Orange (Orange Light): Orange is different from the yellow lights in Canada. You are required by law to stop when the light turns orange in France. The exception is if you are unable to safely stop.
Feux Rouge (Red Light): Drivers must come to a complete halt and must not cross the intersection line.
If the traffic light is flashing orange the standard French priority to the right rule applies.
Observing the "Priority to the Right" Rule while Driving in France
Drivers in Canada understand that the driver traveling straight through an intersection or turning right typically has the right of way over drivers turning left or merging onto a larger roadway. Unless otherwise noted by one of the France road signs above, rules of the road in France say that the vehicle to your right always has priority. This means that if there are no relevant road signs and a vehicle is merging from the right on the road in front of you, you must give that driver the right of way (in America the opposite is true).
One important traffic pattern where this is especially important involves France's roundabouts (often referred to as rotaries in Canada). In Canada the vehicles entering the roundabout must yield to vehicles already in the traffic circle, but in France the opposite is true (unless otherwise indicated by one of the road signs mentioned above). If you are entering a roundabout your vehicle has the right of way. Similarly, if you are driving around a traffic circle and hoping to make your way to the appropriate exit it's assumed that you will yield to traffic entering the traffic circle from your right hand side.



While most traditional roundabouts in Paris and France use this priority system, many modern roundabouts in France make use of the right of way commonly associated with rotaries in Canada- meaning that the cars presently in the roundabout have priority. This is only true if you observe the sign seen at right when approaching a roundabout.

While all of this can take some getting used to, making sure you have a clear understanding of the common "priority" (right of way) signs which Auto Europe has included on this page will set you up for success while driving in France. Take some time to review the rules of the road before you depart and your new knowledge of French road signs can help you avoid fender-benders during your upcoming trip to France.