Car-2-Europe DS Automobiles: Lease a Car in Europe
The Best Alternative to Renting
Auto Europe has partnered with DS Automobiles to offer their Car-2-Europe vehicle leasing program to travelers from the United States looking for a long term vehicle for their trip to Europe. DS Automobiles offer temporary transit to give travelers an alternative option to long term car rentals. Car-2-Europe DS was designed to simplify travel for visitors to Europe who are planning a longer stay. These all inclusive leasing packages provide travelers with a luxury-like experience where you'll be provided with a brand new DS vehicle among a number of other benefits not typically found with traditional car rentals. Even better, Auto Europe is able to pass on additional savings for travelers from the US. Read on to learn more about the program and all of our 27 pick-up and drop off locations available in Europe.
What are the Benefits of Temporary Transit with DS in Europe
There are a number of added benefits for travelers who opt for a Car-2-Europe vehicle lease with DS Automobiles in Europe. Other than getting to travel in a brand new vehicle, you'll find a number of added benefits compared to booking a long term car rental in Europe. Temporary transit with DS provides travelers with:
Car Rental Insurance Included
Road Side Assistance Included
Unlimited Mileage
No Additional Driver Fee for Families
Available for Licensed Drivers 18+ (No Young Driver Fees)
Shuttle Service from Airport to Car Lot
Car-2-Europe Vehicle Leasing Options with Auto Europe
Learn more about DS Automobiles car leasing fleet available through Auto Europe. Find the vehicle that best suits your needs for your stay in Europe.
Temporary Transit with DS Automobiles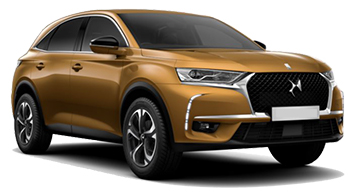 DS Automobiles offers a smaller range of vehicles for Canadian travelers but these vehicles are all from their latest range. Find a great rate for your temporary transit in Europe today!
Models Available to Lease in Europe:
DS3 Crossback, DS7 Crossback
(pictured left)
, DS7 Crossback Hybrid
Find our
DS vehicle specs here
.
Find more vehicle leasing options in Europe with Citroën.
Save Money with the Temporary Transit Program through DS
Long term car rentals can often lead to significant fees that can greatly increase the final cost of your vehicle. Car rental insurance coverage is typically charged on a per day basis, the longer the duration of your rental, the more you'll have to pay to insure your rental. This is also true if you are paying for an additional driver or paying any young driver fees. Remember, most suppliers charge young driver fees for anyone under the age of 25. Give yourself a luxury driving experience during your time in Europe. A DS staff member will be there to greet you when you land and provide a free shuttle to pick-up your DS car lease. Start the booking process today and discover the best alternative to renting a car in Europe.
Locations to Pick-up your DS Automobiles Lease