Lease a Citroën with Auto Europe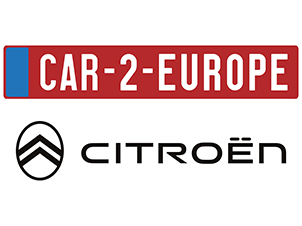 Anyone who is traveling to Europe for longer than three weeks should look into a Citroën short term lease from Auto Europes Car-2-Europe program. Lease a brand new Citroën vehicle from a number of popular European Airports to save money on your extended trip to Europe. Booking a rental car in Europe for weeks or even months can be quite costly. Extend your daily rental rate and car insurance charges over 50 or 100 days and you could be looking at a hefty transportation bill. Use our booking engine to receive a quote on a short term car lease for the extent of your trip to see if a Citroën lease is the right option for you.
Will you be crossing international borders during your time in Europe? Traditional rental cars typically charge fees for these options, eliminate those fees and travel freely between most European countries with a Citroën lease. Read on to find out additional cost savings and benefits for travelers who opt for a short term lease in Europe.
Complete Auto Insurance Policy including 3rd Party Liability and Theft Protection
No Limit on Mileage
Auto Under Warranty for Extent of Getaway
Share Driving Time with a Member Of The Family at No Additional Cost
Twenty-four hours a day Roadside Service
Accessible for Vehicle Operators 18+ without Fee
Due to conditions resulting from Brexit, cars can no longer be taken to the UK.
How to Qualify for a Citroën Lease in Europe
In order to lease a Citroën in Europe, drivers must abide by the following rules for the extent of their lease. First and foremost, a Citroën lease is only available for drivers who do not reside within the European Union. The Citroën leasing program is designed for international travelers to Europe who are not staying longer than 175 days in any consecutive 12-month period. It is also important for travelers to know that a short term lease is not available for travelers who intend to carry out any activity for monetary gain while you are in Europe. If you acquire a working visa, Citroën leases are not available to you. The final requirement is that drivers must be over the age of 18 and have a valid drivers license from their country of residence. If your itinerary follows these parameters, a short term lease in Europe is a great option for you.

Learn about Leasing a Car in Europe with Citroën
Your 2020 Citroën Vehicle Leasing Options in Europe
Citroën & DS Vehicle Leasing Options:
Citroën C3, Citroën C3 Aircross, Citroën C4, Citroën C4 Cactus Cool, Citroën C5 Aircross, Citroën C4 Space Tourer, Citroën Grand C4 Space Tourer, Citroën Berlingo, Citroën Space Tourer
Learn more about your options with our
Citroën Fleet Guide for Short Term Leases
Citroën Short-Term Leasing Locations
Auto Europe partners with Citroën to offer leasing pick-up locations in eight countries at nearly 30 different European leasing locations. Although pick-up locations are only available in eight countries, with a Citroën lease you can freely travel in 40 of the 50 European Countries. Confirm your travel itinerary with your leasing representative to ensure you'll have no issues once you arrive to pick up your vehicle.