Auto Europe gives you a virtual passport, allowing for a closer look at how different nations celebrate the holiday season. Learn more about how households around the world display their heritage and spiritual beliefs in a multitude of different ways. Celebrations tend to combine a mixture of vibrant decorations, uplifting music, delicious food, and plenty of time spent with friends and family.
Puerto Rico
–
Trullas Navideñas
Las Parrandas are a traditional carnival-like street party that spring to life during all seasons, but take on a particularly festive form during the Christmas season. Trullas Navideñas are unique traditions where a group of friends or family members known as a "trulla", gather together and go around unannounced to neighbors houses very late at night to sing Puerto Rican Christmas carols. These songs are typically composed of six-syllable verse lines and are considered to be gifts to the local community. The carolers, some playing various musical instruments like maracas and triangles, venture from house to house and are often invited inside to share delicious Christmas treats, and after a while the group gets bigger and bigger and the party continues until the early hours of the morning.
Poland
– Wigilia
Wilgilia is the Christmas Eve vigil supper in Poland, with the term generally being applied to the whole day of Christmas Eve activities. Children typically decorate the family's Christmas tree on this day, and tufts of hay are sometimes placed under tablecloths or in each corner of the room to symbolize that Jesus was born in a manger. As a game, individuals sometimes remove pieces of straw from under the table, if a green piece of hay was found the individual was said to experience an upcoming year of wealth or possibility marriage, while a black piece of hay was said to represent bad luck for the following year. Another tradition practiced by some households is to leave one extra place setting for an "unexpected guest", paying homage to the tradition of hospitality and inclusion.
Bahamas
– Junkanoo Festival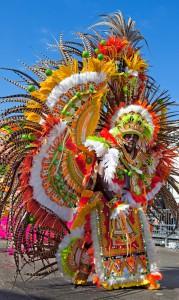 Held in Nassau's native quarter, the Junkanoo Parade and Festival is a combination of elements from Mardi Gras, mummer's parades and ancient African tribal rituals held on Boxing Day and New Year's day. Make your way down to Nassau's Bay Street and behold this stunning cornucopia of color and sound, where masqueraded marchers wearing intricate headpieces and colorful costumes dance to traditional Bahamian rhythms called Goombay. It is believed that this festival began during the 16th century, when slaves were given a special holiday at Christmas time, when they could leave the plantations to be with their families to celebrate the holidays. After emancipation, the celebrations continued and Junkanoo has evolved into a festival of impressive proportions.
Israel
– Hanukkah
Hanukkah is celebrated all over the world, but it has been noted that there may not be a more brilliant celebration than in Israel. This eight-day holiday, which typically lands on different dates in December, marks the successful Jewish rebellion over the Greeks. In 2013, Hanukkah fell earlier in the season than usual, beginning on November 28th, coinciding with Thanksgiving celebrations in the United States. A convergence of holidays that will likely not happen again for another 77,798 years, according to some calculations. In most homes, a branched candelabrum called a menorah is the focal point of the celebration, and each night, one candle is lit and gifts are often given to children. Games are played, food is enjoyed and local children in Israel even get a week off from school.
Ukraine
– Sviata Vechera
Sviata Vechera or "Holy Supper" is the central tradition of Christmas Eve celebrations in Ukrainian homes. Tables are sometimes decorated with a few wisps of hay on top of embroidered tablecloths as a reminder of the manger in Bethlehem. A sweet grain pudding called Kutia is a common staple on most menus and is traditionally the first dish to be served during the twelve-course feast. At the end of Sviata Vechera, families often sing Ukrainian Christmas Carols and Svyatyi Mykolai (Saint Nicholas) is said to visit children on the eve of December 19th, leaving their presents to be discovered under their pillows the following morning.
Sweden
– Luciadagen
The Feast Day of St. Lucy (Lucia) brings about many different types of celebrations throughout the world. Her feast is also tied in with the celebration of light and winter, and her feast day originally coincided with the winter solstice, which marks the shortest day of the year. The time-honored tradition of Luciadagen is a special feast day in Sweden where the oldest girl in the family wears a white dress, crimson sash and coordinating stockings. On the morning of the feast day, she wakes up members of the family with hot coffee and sweet rolls or bread. Wearing a wreath crown complete with white lit candles used to be common practice, but proved to be an invitation for disaster—now it is common practice to substitute lit candles for battery operated ones to avoid any mishaps.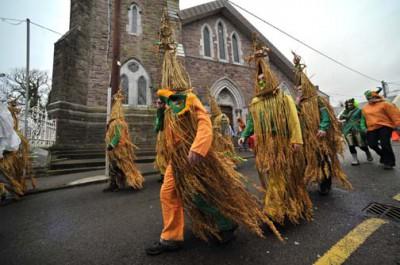 Ireland
– St. Stephen's Day/Wren's Day
St. Stephen's Day is a Christian saint's day dedicated to celebrating the life of Saint Stephen, the first Christian martyr, beginning on the 26th of December by the Western Church and 27th of December by the Eastern Church. Although this day is a public holiday in many countries, in Ireland, this day is day is also referred to as "Wren's Day". This interesting name has several different origins, including one story where while hiding from his enemies in a bush, Saint Stephen was betrayed by a chattering wren and consequently stoned to death. There are several other legends, including Irish stories linking the life of Jesus to the wren. Throughout Ireland, people dress up in old clothes, wear straw hats and travel from door to door with fake wrens, while singing, dancing and playing music.
Mexico
– Las Posadas
A symbolic portrayal of the nine months of the Virgin Mary's pregnancy, Los Posadas celebrations last for nine days. Celebrations include a procession of community members walking through the streets carrying images of Mary, Joseph and a doll symbolizing baby Jesus. Each evening, the group marches through town streets and entrusts the doll to members of a designated household, and the following evening, the doll is retrieved and the processional begins again. This tradition was started in commemoration of the journey of Mary and Joseph from Nazareth to Bethlehem. The end of this event is marked by Christmas mass services and large feasts, where friends and family come together to share stories and make memories.
United States
– Kwanzaa
Kwanzaa is a week-long celebration honoring African-American culture, a tradition that began in 1966 and has quickly transformed into one of the fastest growing holidays. Families celebrating Kwanzaa decorate their households with traditional artwork, colorful fabrics and have fresh fruits that represent African idealism on display throughout their homes. It is customary for participants to give respect and gratitude to their ancestors, in addition to holding candle-lighting ceremonies, feasts, artistic performances, along with reflection and discussions of African principals.
Hong Kong
– Ta Chiu
Residents of Hong Kong pray to patron gods and the ghosts of their ancestors during Ta Chiu, an array of religious ceremonies and celebrations leading up to the New Year that are held in order to wipe away evil, restore peace and renew life for the upcoming year. Priests read aloud the names of every living person in attendance at the celebration, then attach that list of names to a paper horse and set it on fire. The smoke is said to carry those names up to the gods and the living will be remembered.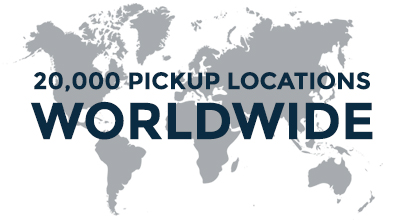 If your holiday plans include traveling, look to Auto Europe for the best rates on car rentals and the best advice for travel planning. Contact us today toll-free at 1-888-223-5555 to reserve your rental car for your upcoming trip!