Sure, you've read all the popular Spain tour guides and you're quickly formulating an itinerary for the vacation of a lifetime, complete with scenic overlooks for photo opportunities and quaint mom-n-pop eateries that are highly acclaimed by the locals (at least that's what they said online, anyway). Everything is coming together much more quickly than you initially thought and you find yourself overwhelmed by the endless amount of places to see and things to do; how can you weed out the tourist traps and get the most out of your time in Spain with only the best and most immersive glimpses into Spanish culture?

Luckily for us time-conflicted explorers, restricted by the limited number of hours in a day, the United Nations Educational, Scientific and Cultural Organization (UNESCO) has done a great service by delineating the UNESCO World Heritage Sites in Spain. See all of these sites and more with the convenience of a rental car in Spain.
What is a UNESCO World Heritage Site?
You may have heard of the prestigious title before, but exactly what is a UNESCO World Heritage site? To put it simply, a UNESCO World Heritage site represents the best of the best in globally recognized sights and attractions. Founded as a means of identifying places with intrinsic significance to the culture of all mankind, UNESCO World Heritage sites share a common contribution to humanity's role on planet Earth and what defines everything that we collectively value as a species. World Heritage sites can be anything from mountains, to rivers, to monuments, or even entire cities, but generally exhibit a place with outstanding touristic appeal.

There have been almost 1,000 unique World Heritage sites named by UNESCO to date, existing in dozens of countries all over the world, but we've done some of the legwork for you in finding a few of the most magnificent must-see UNESCO World Heritage sites Spain.
Save money on your:
Rental Car in Spain | Hotels in Spain
---
The Top 10 UNESCO World Heritage Sites in Spain:
---
10. Historic center of Cordoba

Cordoba, Spain (N37 52 45.1 W4 46 47)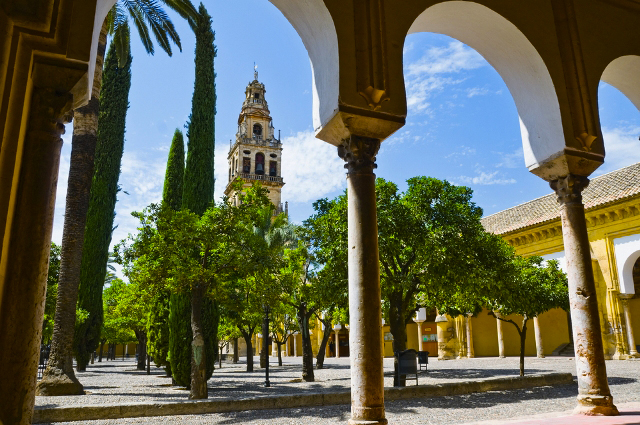 The historic center of Cordoba in the Andalusia community of Spain features a spectacular array of ancient architecture in the form of multiple mosques and cathedrals, many of which date back to the 8th century. The structures were built to compete with the prowess of Constantinople, Damascus, and Baghdad, making Cordoba one of the world's prized gems of ancient religious architecture. All sorts of cultures have occupied the city over the centuries, each leaving tangible traces of their respective artistic styles in the architecture of various buildings. As a result, exploring Cordoba in your rental offers a unique mixture of diverse cultural histories, left behind and recorded in the bricks and mortar of stone and marble that still stand to this day.

The Great Mosque of Cordoba is the primary influence that granted the city its UNESCO World Heritage site status, but the entire area has played an important role in establishing Cordoba as a place unlike any other on Earth. With 300 mosques and countless other ornate palaces, this city is rivaled only by Constantinople and Baghdad in sheer concentration of significant ancient architecture. The styles and techniques used in constructing many of these structures, including the towering interior of the Great Mosque, have not been replicated anywhere else in the world and the inclusion of nearby relics like the Alcazar fortress and Calahorra Tower make Cordoba an incredible place to visit.
---
9. Fortress Town and Hanging Houses of Cuenca

Cuenca, Spain (N40 4 35.832 W2 7 54.264)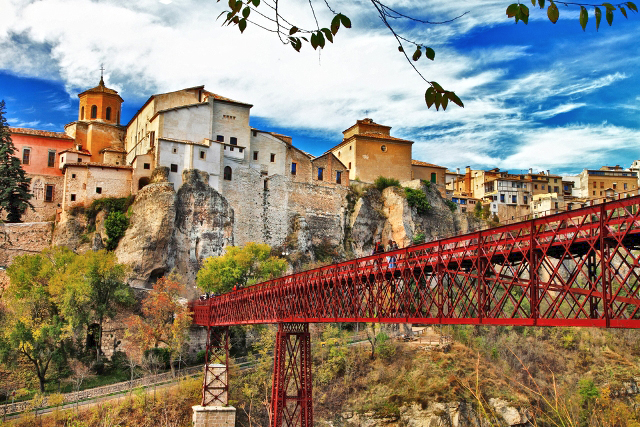 Home of Spain's first Gothic cathedral, Cuenca earns much of its touristic appeal from its situation high atop mountainside cliffs overlooking the Huecar River. The city was originally a fortified medieval town that has remained stunningly unchanged and well-preserved over the centuries. Buildings and fortifications were built in harmony with the natural slopes of the rocky geography, resulting in a fascinating architectural style that is as culturally unique as it is beautiful. A walk through the historic center will yield a rich tour of ancient building styles, highlighted by the strategic town walls and Moorish fortresses.

Cuenca is perhaps most famous for its Castillo quarter and vertigo-inducing casas colgadas, or 'hanging houses'. This raised section of the city is accessible only by a narrow suspension foot-bridge and showcases several large baroque churches and mansions. Many of the mansions are built literally hanging over the sides of the high cliffs their foundations rest on, yielding some astonishing and unique views set against the beautiful countryside below.
---
8. Mont Perdu

Aragon, Pyrenees Mountains, Spain (N42 41 7.512 E0 0 1.8)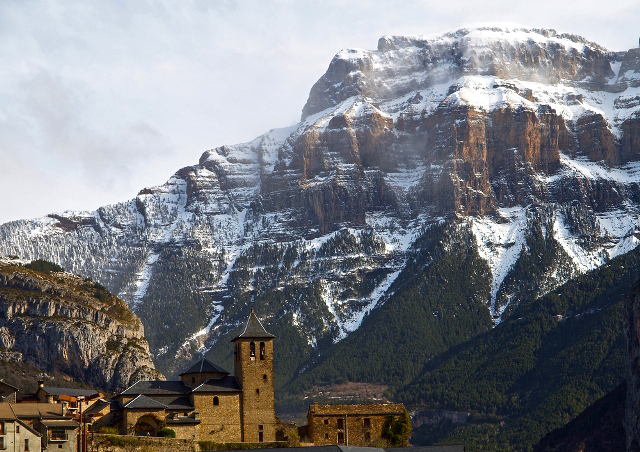 Mont Perdu sits on the border of France and Spain as a resplendent headpiece of the Pyrenees Mountains. The massive range is home to two of the deepest canyons in all of Europe and the surrounding highlands host a spattering of old villages and farms. Mountain roads crisscross the landscape, yielding plenty of opportunities for scenic views, and countless caves and high-altitude lakes can be found amongst the ecologically unique meadowlands.

Mont Perdu was granted UNESCO World Heritage site status for several reasons aside from its sheer beauty, though. The rural communities and farmlands represent an exclusive mountain lifestyle that has become increasingly rare in other parts of Europe. Agriculture is the primary means of earning a living around Mont Perdu, and the ancient methods of farming have remained largely unchanged in this secluded niche. In addition, the towering peak of Mont Perdu and the adjacent rock walls on the French side of the range represent a paramount example of their geological archetypes.
---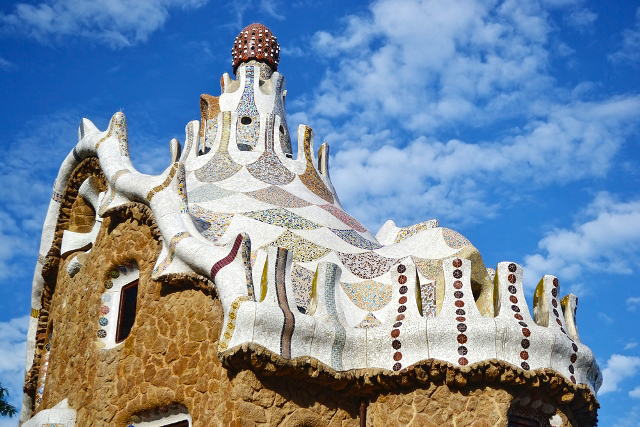 You've probably heard of the artistic works of Antonio Gaudi in Barcelona, as it is perhaps the most widely-renowned UNESCO World Heritage site in Spain, but have you ever seen them in person? View from the Park Guell in Barcelona. Pick-up your rental in Barcelona and begin your tour of the Park Guell and you'll understand why these creative structures grace the list of UNESCO World Heritage sites. Curious curves, complex mosaics, and elaborate facades intrigue observers as they wander around the strangely beautiful structures, built in the early 20th century by an ambitious Gaudi who was given full creative control of the architecture. Few other places in the world feature public buildings as wonderfully weird as the Gaudi works in the city of Barcelona, and visitors have been visiting from near and far to testify to the architect's genius.

The works of Antonio Gaudi were granted their UNESCO World Heritage site title based on the incredibly influence they made on building styles of the 20th century and for their exceptional representation of styles past. Gaudi constructed seven buildings in Barcelona; Casa Vicens, Casa Mila, the La Sagrada Familia nativity facade, the crypt in Colonia Guell, Parque Guell, and Palacio Guell. The structures collectively stand as the single best unified example of the styles used by Gaudi's contemporaries and are intrinsically unique as some of the most prolific pieces of public art in existence.
---
6. Historic City of Toledo

Toledo, Spain (N39 52 0.8 W4 1 45.9)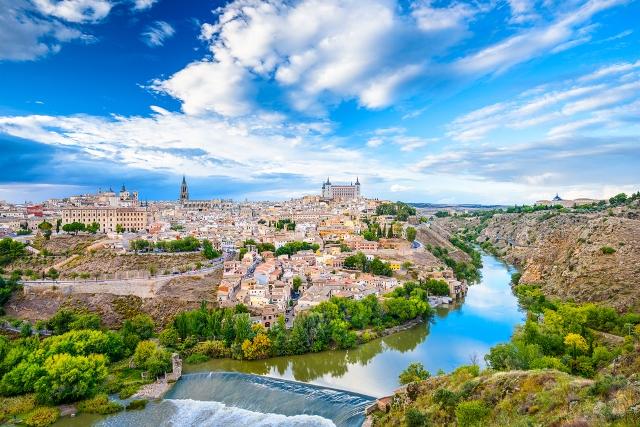 The historic center of Toledo showcases over 2 millenniums of history dating back well into ancient Roman times. This city has been occupied by several distinct cultures over the centuries, from Romans to Visigoths to Moors, and has representations of three major religions (Christianity, Judaism, and Islam) in its preserved historical structures. Everything from synagogues to cathedrals, mosques, and bridges destroyed in archaic wars can be found within Toledo, which has come to be known as a veritable 'museum-city'. A rental car in Toledo is the ideal way to see each and every museum on your trip.

Having been a center of arts during the Renaissance period, Toledo is home to innumerable works from countless famed artists. The Alcazar Palace is particularly impressive, towering over the city in still immaculate condition even after thousands of years. As this building had additions made over time, various sections of the construction represent different periods of art and architecture, making Alcazar a seamless historical patchwork of cultures. Whether you marvel at the grandiose palace or just take a walk around town, though, you'll undoubtedly find relics of all sorts of ancient cultures in every corner of the city.
---
5. Old Town of Santiago de Compostela

Santiago de Compostela, Spain (N42 52 50.736 W8 32 40.848)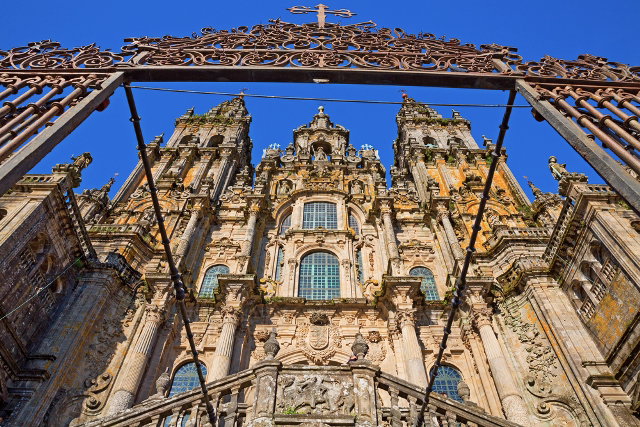 Santiago de Compostela is a renowned pilgrimage site representative of the Christian struggle against Islam in Spain. Although the city was completely destroyed during religious sieges in the late 10th century, the following decades saw a grand rebuilding that made the historic center what it is today. The site hosted massive migrations of Christians throughout history and, as a result, now represents one of the greatest holy cities for the Christian religion. Styles and techniques developed here had a massive influence on the Christian culture and changed the course of art and architecture in the region for centuries to come.

The main cathedral is undoubtedly the centerpiece of the city, with its two ornately decorated spires towering above all else. The cathedral has become an iconic symbol of Spanish Christianity and is considered a masterpiece of Romanesque art, still visited as a pilgrimage site to this day. The profound influence the city played in the role of Christianity in Spain coupled with its impeccably preserved ancient structures make Santiago de Compostela one of the top 10 UNESCO World Heritage Sites Spain.
---
4. Cathedral, Alcazar and Archivo de Indias

Seville, Spain (N37 23 1.824 W5 59 29.58)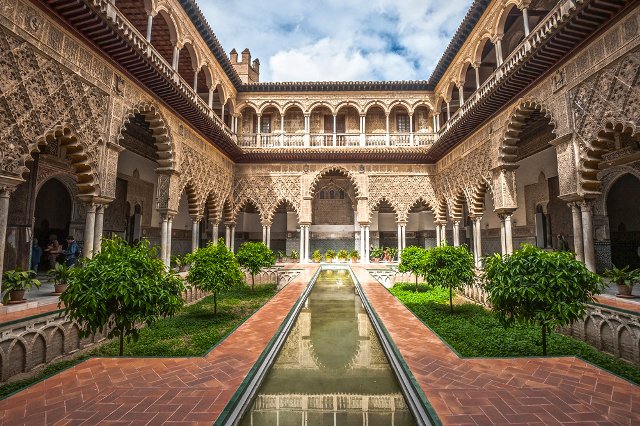 Seville, Spain, is a beautiful city in and of itself, but the massive compound made up of the cathedral, Alcazar, and Archivo de Indias have gained special attributions as a UNESCO World Heritage site. Rife with verdant gardens and gorgeous reflecting pools, the complex is undoubtedly one of the most stunning places to visit in Spain, if not only from an aesthetic perspective. Walking around the interior of the ornately decorated structures, one will find countless Roman columns and precious works of art, making for a truly inspiring glimpse into Spain's Moorish past. Pickup a luxury car in Seville and enjoy your trip in comfort and style.

The cathedral is the largest Gothic building in all of Europe and famously houses the tomb of Christopher Columbus. In addition to the famous explorer's tomb, the Archivo de Indias contains uniquely treasured documents from Spain's period of exploration into the Americas; an invaluable part of the Unites States', as well as Spain's, rich history. This special area is directly associated with Christopher Columbus' revolutionary discovery of the American continent and so earns a place high on the list of the greatest UNESCO World Heritage sites in Spain.
---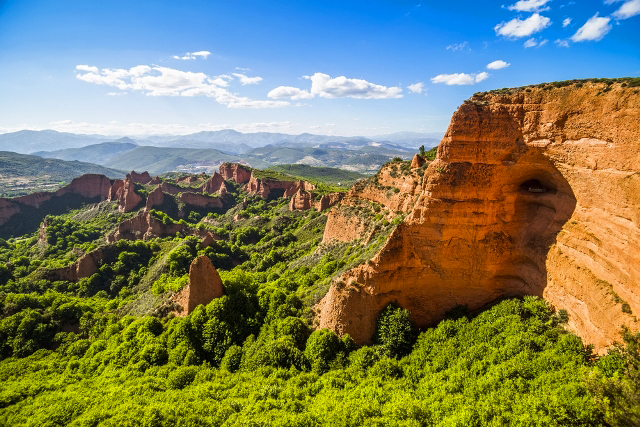 The Las Medulas area gained its fame and subsequent induction as a UNESCO World Heritage site due to the ancient gold mines carved throughout its dramatic cliffs and hills. The Romans began to mine the mountains here in the 1st century, diligently exploiting the rich gold deposits found within. After nearly 200 years, though, the mines were abandoned after an extensive gutting and have not seen any further development or industrialization since. Whatever remained after the Roman occupation has lain untouched, permanently imbued into the surface of the Earth.

The ancient mines at Las Medulas, located just outside of Ponferrada in Spain, offer a stunning glimpse into archaic Roman prospecting techniques. Tunnels, roads, and footpaths are carved all over the verdant landscape, vividly punctuated by bright orange rock where the cliffs yield exposure. Even if you're not a history buff, Las Medulas is a fantastic place to hike and explore; just be wary that you'll be walking the same pathways the Romans did nearly 2,000 years ago!
---
2. Teide National Park

Tenerife, Canary Islands, Spain (N28 16 17 W16 38 37)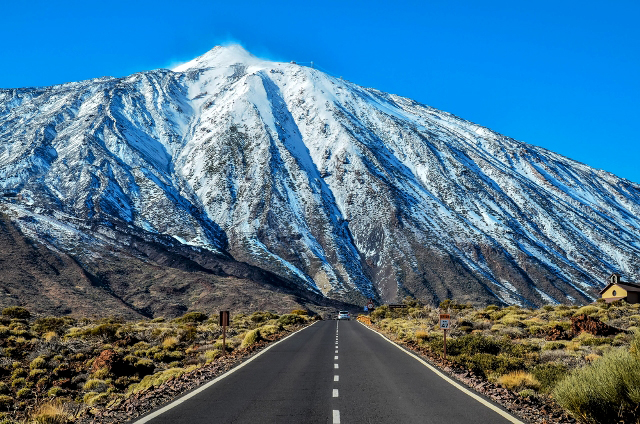 Teide National Park is located on the island of Tenerife, popular as a balmy vacation destination rife with fantastic beaches. Further inland from the coast, though, eager explorers will come upon the incredible Teide National Park, which occupies a large portion of the island's interior away from the more crowded coastal cities. Apart from its size, the park is host to an array of wildly varied geological patterns that have formed thanks in part to constantly changing atmospheric conditions. Vegetation is sparse in this protected area but the landscape is nonetheless beautiful to look at and admire.

You simply cannot visit this incredible space without noticing the behemoth volcano looming in the center of the island. The Tedie-Pico Viejo is in fact the tallest peak on any Spanish territory despite its modest island home and the third tallest volcanic structure in the world. The volcanic nature of the mountain contributes to the diverse colors and textures found in the park's soil and a trip to one of the many scenic overlooks will grant you an overhead view of the shifting patterns and colors in the landscape. Aside from its unique beauty, the Teide National Park earned a place on the UNESCO World Heritage site list as a paramount example of how volcanic islands form and grow.
---
1. Archaeological Ensemble of Merida

Merida, Spain (N38 54 57.996 W6 20 16.008)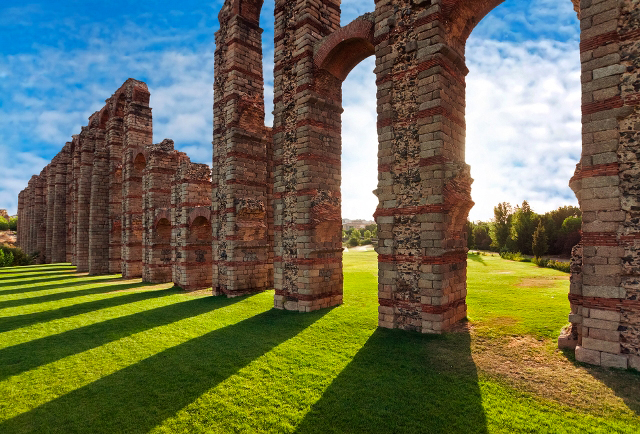 The colony that was eventually to become what remains at the archaeological ensemble of Merida today was originally founded by the Roman emperor Augustus more than 2,000 years ago, around 25 B.C.. The city that was subsequently constructed remained standing outside the modern city of Merida to this day, now constituting one of the best-preserved and most extensive examples of Roman architecture outside of Italy. A center for commerce, government, and communication, ancient Merida quickly became the capital of the Roman province of Lusitania, owing to the grandiose architecture and spectacular size of some of its constructs.

The highlights of the archaeological ensemble of Merida include a Roman amphitheater, a large circus, a massive bridge over the Guadiana river, and numerous towering aqueducts used to transport water. Some of the ancient dams are actually still functioning in an astounding presentation of the time-tested prowess of Roman architecture. These structures, along with many others, complete the ensemble which has come to be known as one of the best-preserved Roman cities in existence, hence the area's listing as one very important UNESCO World Heritage site. You can see all this and more with a rental car in Merida!
---
Explore the Unesco World Heritage Sites in Spain with Auto Europe
Auto Europe is your travel partner for your next trip to Spain. See more of this beautiful country with the help of an affordable rental car in Spain booked through Auto Europe. Our services don't stop there, we can help you save even more on your travel expenses by finding you great rates on your hotel stay. Follow the links or give us a call at 1-888-223-5555 to learn how you can package all of your travel expenses into one low rate. Save big on your next trip to Spain with Auto Europe.