Planning a Luxurious Vacation
Imagine this scenario: You arrive in Spain in a coastal city, hop off your airplane, head to the rental office and they hand you the keys to a shiny new Ferrari. When you
rent a Ferrari
on your next vacation, you have the unique ability to drive up and down the coast with the top down at your leisure. Can you imagine anything more thrilling than that? This fantasy would truly be a dream come true for many travelers. A luxury that not many people can say they have experienced. The truth of the matter is, when you rent a Ferrari with Auto Europe, you do not have to be rich to experience the "good life." You just have to put your faith in us and we'll take care of the details. Working with a car rental broker like Auto Europe offers many of the luxuries that you may not have anticipated being able to afford when you first thought about travel.
When people think about luxury travel, they tend to think about a few things:


Expensive food and drink – There are few things that come to mind faster than champagne and caviar. While those two items are extremely nice and will add to the enjoyment of nearly any vacation, they are also pricey. The best restaurants in the world, likewise, are extremely hard to get into because they are so popular.


High-end sports cars – Few things will make you feel like you are living a high class lifestyle than driving down a coast in a convertible or a high end sports car with the top down and the wind blowing through your hair.


High-class on the high seas – What better way to travel across the sea than on a yacht?


Luxury hotels – Everybody wants to stay in a five-star hotel. Unfortunately, many are booked up and, even worse, unbearably expensive.
With some careful planning and the right resources, some of these options are actually more attainable than you may think, even for travelers with a lower budget. While admittedly, it is no small matter to book a private yacht, snag some first class plane tickets, or sip the finest champagne everywhere you go, getting a sleek sports car rental is as easy as smart budgeting and making a quick phone call to Auto Europe.
Want to Rent a Ferrari?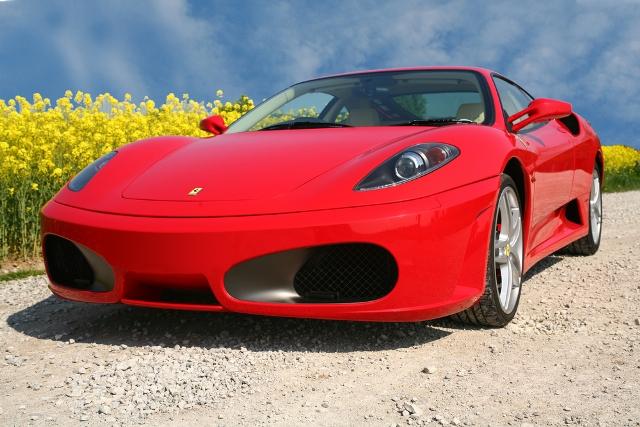 In the past, the concept that average travelers can rent a Ferrari or
another sports car
has been something that most people did not even consider. After all, who would think of renting a car that costs hundreds of thousands of dollars would be a realistic option for their next vacation. Recently, however, this outlook has changed a bit. It has become more common for this to occur. Places like Los Angeles, Las Vegas, New York, or Miami in the United States have been rolling out these types of rental programs for years. Now, thanks to car rental brokers like Auto Europe, that same luxury rental programs have moved to Europe and beyond.
Ferrari is a company that has reached an intersection of design, sophistication, and performance that is nearly unmatched in the automotive world. When one looks at a Ferrari, they see the benefits of the design immediately. The vehicles look sleek. They look aerodynamic. It looks like a predator ready to go on the hunt. Through modifications to the vehicles, including the addition of low emission systems, fuel economy is also increased. One of the top of the line models, the 458 Spider, features a whopping 570 horsepower. You can feel every bit of that when you sit behind the wheel and put your foot down on the gas.
One of the most surprising things, in fact, about the prospect of being able to rent a convertible like the 458 Spider while traveling, are the myriad of benefits associated with them. While many people would assume that a sports car rental would bring along with it increased gas prices or fuel consumption, it is simply no longer the case. Top-of-the-line convertibles like the Ferrari 458 Spider, for instance, have been engineered with the thought of energy efficiency at the forefront. Through an increased amount of aerodynamic efficiency, this vehicle has both a reduced drag and an increased down-force, which allows it to cut through the air in a very fluid fashion. The reduction of drag on the vehicle means it can travel at high speeds without having to be concerned with excess fuel consumption. In addition, the removal of all excess materials and the user of lightweight metals has improved the ability of the car to both maneuver and, due to decreased weight, has also contributed to better fuel mileage.
Rent a Ferrari or Other Sports Car in Three, Easy Steps
If you are going to go on vacation, you want to make the most of it, let Auto Europe help you plan the vacation of a lifetime! Anyone who has worked hard all year deserves to take advantage of everything that they can. And if you, like many others, are planning to travel in Europe, why not
choose to do it in style
? There are few things in this world that can convey success like showing up to your business meeting in a Ferrari.
You owe it to yourself to look into getting as much fun and luxury out of your vacation as you can. With Auto Europe, you can rent a convertible or even, yes, rent a Ferrari for your next vacation. Our reservation specialists have been trained to not only help you with your needs, but to explain to you all of the ins and outs of renting a luxury vehicle or sports car. With the lowest car rental prices, Auto Europe wants to put the keys in your hands today. Even better, with
one-way travel options
, you can go as far as you want without having to worry about seeing the same sights twice! Call today at 1-888-223-5555 and speak with an expert to find out how you can rent a Ferrari and travel in style!