Car Rental at Rosenheim Railway Station
Public transportation is available in Rosenheim but it cannot surpass the convenience offered by a car rental at Rosenheim Railway Station. Taxi cabs and buses put you on a hectic and very limited schedule that prevents you from enjoying your trip to the fullest. With a rental car you a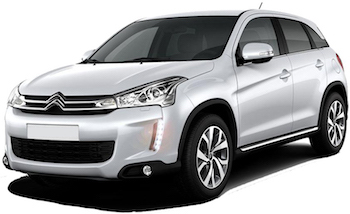 re able to come and go as you please, ensuring that you're not missing out on a single thing. Rosenheim Railway Station, located in Rosenheim, Bavaria, Germany, is the largest railway station between Salzburg and Munich with a city center location. Rosenheim Railway Station was opened in 1858 but a new station, now a category 2 facility, was built in 1878.
Picking Up a Rental Car at Rosenheim Railway Station
A rental car at Rosenheim Railway Station puts you in control of your holiday whether you want to stay in the city, head out to nearby areas or a combination of both! With so much to see and do in the area you'll want to make sure that you can get the most out of your holiday with one of Auto Europe's helpful travel services. With your car rental at Rosenheim Station you can visit the neighborhood of Max-Josefs Platz, where you can choose from dozens of different dining experiences, go shopping, and tour the area's beautiful homes.
Rental Car Suppliers Near Rosenheim Rail Station
Auto Europe is partners with many industry leading rental car suppliers in Rosenheim, including: Avis, Europcar and Hertz to provide our customers with convenient pick-up and drop-off locations in and around the Rosenheim Rail Station. Below you will find the contact information of these suppliers. Please contact our award winning customer support team with any questions or concerns you may have.
Avis Rosenheim Rail Station


Rosenheimer Str. 63

,


Kolbermoor

,

Germany

83059




+49 8031 304560

Avis Hours:
Mon - Fri: 7:30 AM to 6:00 PM
Sat: 8:00 AM to 12:00 PM
Sun: Closed
Europcar Rosenheim Rail Station


Kufsteiner Str. 63

,


Rosenheim

,

Germany

83022




+49 8031 35970

Europcar Hours:
Mon - Fri: 7:30 AM to 6:00 PM
Sat: 8:00 AM to 12:00 PM
Sun: Closed
Hertz Rosenheim Rail Station


Äußere Münchener Str. 40 - 44

,


Rosenheim

,

Germany

83026




+49 8031 609666

Hertz Hours:
Mon - Fri: 7:00 AM to 6:00 PM
Sat: 8:00 AM to 12:00 PM
Sun: Closed
Accommodations Near Rosenheim Station
There are many great hotels near Rosenheim Railway Station for you to choose from. Alpenhotel Wendlestein is a favorite of travelers to the area and is located only 0.6 kilometers from the railway station. Hotel Goldener Hirsch is also a nearby hotel that customers enjoy. San Gabriele, Hotel Alpina, and Happinger Hof round out the list and provide you with even more accommodation options in the general area. Keep in mind this is just a handful of the hotels that you can choose from!



Rosenheim Railway Station Contact Info
Rosenheim Railway Station
Südtiroler Pl. 1
Rosenheim

,

Germany

83022


Latitude:

47.85034


Longitude:

12.11950


General Information:

Known as "Bahnhof Rosenheim" in German, this location is the seventh largest passenger station in the state of Bavaria. Along those lines, it serves as a strategic location between the Munich-Rosenheim railway. Within easy driving distance are the cities of Salzburg, Kufstein, Innsbruck and Muhldorf.