Have you ever dreamed of driving a luxury car along the serene Amalfi coastline, or through the demanding twists and turns of Stelvio Pass? Even if it's just for the weekend? Thanks to Auto Europe's comprehensive luxury car rental fleet, you can
rent a sports car for the weekend
, for the best price, guaranteed.
With such an
abundance of top-notch luxury cars
to choose from, we've taken the guess work out of the equation, and profiled two of our most popular options, to help you decide on the perfect weekend
sports car rental
:
Ferrari 458 vs Aventador
---
Ferrari 458 vs Lamborghini Aventador: Drivability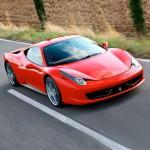 Nothing has more impact on the road than the
Ferrari 458
. Its striking sports exterior, and Formula 1 rivaling power can make even the most novice driver feel like Mario Andretti. With comfortable seating and a retractable hard-top convertible roof, the Ferrari 458 Italia includes the latest technology and aerodynamic designs to deliver unmatched performance on the road. In fact, the Ferrari 458's 4.5L V8 was even named as Engine of the Year in 2011, thanks to its superior performance and racing pedigree.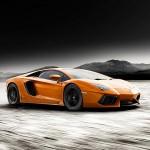 The Lamborghini Aventador is the vehicle of legends, its dynamic and recognizable body styling turns heads wherever it goes. On the inside you are privy to some of the most intelligent driving control systems in the world. Featuring a TFT display in the front, you can operate everything from the driver's seat, including traction control and multiple dynamic driving modes. What's more, the Lamborghini Aventador harbors intense power, capable of reaching speeds of over 200 mph without feeling like you're about to lose control, instead gliding along the road like it's weightless - It's a truly magical driving experience.
Ferrari 458 vs Aventador: Safety Comparison
The Ferrari 458 has an extremely strong door structure to improve the safety of its passengers and has an extremely high standard of structural rigidity. The vehicle also has stability control, a high-level security system, airbags, ABS brakes, and pretensioners to ensure the optimal position if passengers are involved in an accident.
On the other hand, the Aventador is made with carbon fiber parts, which adds to the vehicle's overall safety and performance. The vehicle also comes with an anti-theft alarm system, daytime running lights, 4-wheel ABS, stability control, and an engine immobilizer.
Both the 458 and Aventador are incredibly safe vehicles, specifically designed with extra safety accommodations in mind because of their high-speed capabilities.
Fuel Efficiency
The Ferrari 458 is one of the most powerful cars in the world, but despite it's high-volume 4.5L V8, the 458 is also one of the most fuel-efficient sports cars available today. The model works on the HELE (High Emotion Low Emissions) system, which incorporates start-stop tactics and other technologies that help reduce fuel consumption by around ten percent. The Ferrari 458 also features low-pressure fuel pumps and electronic variable displacement air-conditioning compressors, further lowering its emmissions.
While the Lamborghini Aventador is known as one of the world's most outrageous supercars, the vehicle has been rated highly in terms of fuel economy and efficiency. With its in-built aerodynamics, the vehicle is fitted with a start-stop system that saves fuel when the car is stationary, and a cylinder deactivation system that shuts down half of the V12's cylinders during light-throttle situations like cruising through the city.
Practicality
Though neither vehicle is technically "practical," when you rent a sports car for the weekend, practicality is rarely a deciding factor. Sports cars are all about creating an exciting driving experience, and in most cases, this comes at the expense of practicality. But for comparisons sake, we looked at the passenger and luggage capacity of both the Ferrari and the Lamborghini below.
The Ferrari 458 can accommodate two passengers and has a trunk space of 230 liters for luggage. The perfect amount of space for carrying light luggage for your weekend away!
The Aventador also seats two passengers, and has a 150-liter trunk at the front lid of the vehicle, which is still enough room for a couple medium-sized bags.
---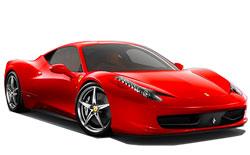 Number of Doors: 3
Number of Seats: 2
Transmission: Automatic
Fuel Type: Gasoline
Fuel Economy (City/Highway): 13/17 mpg
Engine: 4.5L V8 (570 Horsepower)
0-60mph/Top Speed: 3.0 sec / 210 mph
Luggage Capacity: 350 LTR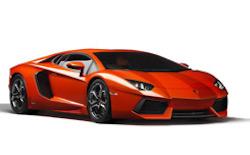 Number of Doors: 3
Number of Seats: 2
Transmission: Automatic
Fuel Type: Gasoline
Fuel Economy (City/Highway): 13/17 mpg
Engine: 6.5L V12 (690 Horsepower)
0-60mph/Top Speed: 2.9 sec / 217 mph
Luggage Capacity: 150 LTR
Ferarri 458 vs Aventador - The Decision is Yours with Auto Europe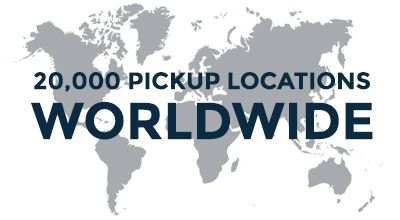 Both sports cars are impeccable engineering masterpieces and great choices if you want to rent a sports car for the weekend. Opt for the faster and more powerful Aventador if you have a real need for speed, and really want to stand out in a crowd,

If you are looking for that exciting sports car edge but need a little bit of extra storage space for your bags and some great safety features then choose the Ferrari 458. This brilliantly slick sports car also packs a punch, with great speed, power, and aerodynamics.

Either way, you'll certainly get a kick out of renting either of these two incredible sports cars for the weekend!