The details involved with planning a trip to Europe may seem tedious and overwhelming, but being prepared will significantly increase your chances of experiencing the vacation of your dreams. In addition to applying for a passport, there are several steps that can be followed in order to help craft the perfect sabbatical.
Figure out Your Budget
It is important to establish a budget as early on in your planning as possible, even before you have chosen your destination. Some regions in Europe are cheaper than others, but there are ways to explore economically everywhere. For example, choose to travel in the off season, pick more affordable accommodations or you may even decide to plan a shorter trip. Setting a budget early in the process helps to avoid disappointment that can come from creating an incredible itinerary, like several weeks
basking in the sunshine on the beaches of the Almafi Coast
, only to discover later that you cannot afford it.
Decided on Your Destination
Now that you are aware of what you can afford, it's time to decide where you want to go. Many eager travelers have an extensive list of European cities they would like to visit and it can be a difficult task to narrow down your choices. Pinpoint a particular site, excursion, or event that is on the absolute top of your must-see travel list, and tailor your plans around that. Find your focus and explore this region in depth rather than bouncing around from place to place and trying to squeeze an entire country into six or seven days.
Create a Rough Itinerary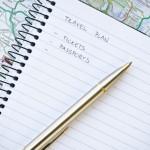 Do some research before solidifying your plans, figure out the sites and cities that are on the top of your "must explore list" and sketch out a detailed itinerary of your perfect trip. Doing this will help you figure out want you really want to see and experience, and after you'll be able to decide which activities you have time for and what ones fall into your budget. You also need to take your health into account and give your body some time to adapt to its new surroundings. For instance, if you're planning on embarking on a scuba excursion, you might consider scheduling it for several days after you arrive at your destination. Most scuba experts agree that divers should allot themselves at least 24 hours between dive trips and flying in order to let their bodies adjust to the changes in altitude. It's important to remember that your itinerary is not a legally binding contract; it's more like an outline written in sand. Don't let spontaneous opportunities pass you by, those could end up being your most memorable experiences!
Book Your Means of Transportation
Airfare is probably going to be the most expensive part of your trip, so it's in your best interest to look into booking this before anything else. By booking in advance this allows you to be more flexible with your dates, which will more than likely end up saving you money on your flight. Put the money you saved on your flights towards renting a car. It is one of the best decisions you can make in regards to trip planning because it gives you the opportunity to explore your destination at your own pace. Perhaps you have decided to
travel to Milan
. You are easily able to easily able to
pickup your rental at the Malpensa Airport
and start your adventure. In addition to helping you rent the perfect rental car, Auto Europe can also book you a portable GPS unit that comes preinstalled with European maps. Call us toll-free 24/7 for more information at 1-888-223-5555.
Tie Up Loose Ends at Home
Call your credit card company to let them know you will be traveling outside of Canada and find out if you are going to be charged a fee for using your card overseas. Spending some time researching ATM locations in your destination will be worth your while, especially if you will be relying on cash. Putting a hold on your mail and delivery services is also something to consider. Thieves often search for clues that home owners are out of town and stacks of newspapers and overflowing mailboxes are red flags. Before you leave home, take some time to map out your drive from the airport. The first day of any trip is always the most hectic and figuring out how to get where you're going with next to no preparation could be a disaster waiting to happen. Thinking ahead will help you feel less anxiety upon arriving and if you have a course of action planned, it will help ensure that your day is not lost to logistics and unfamiliar surroundings. Lastly, don't forget to add an
international cell phone plan
!
Pack Sooner, Not Later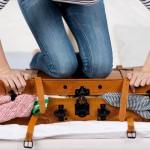 Resist the urge to put off packing until the last minute. Experienced travelers know that the longer you wait to pack, the more likely you are to forget an item of extreme importance, like your contact lenses (yes, I have indeed traveled with someone who managed to leave these behind). So do the members of your travel entourage a favor and put some effort into packing. This will also ensure that your valuable time is not spent roaming the isles of big box stores trying to gather up last minute travel essentials that were forgotten at home. Checking the weather forecast frequently before your trip can also help guide your packing strategy.
Lastly, get excited! You have put so much effort into planning, it's time to let everything fall into place and enjoy the rewards of your hard work.