When you are going to travel to Canada, Auto Europe recommends that you experience all the available spaces to obtain the most memorable memories within your trip. That is why, in this blog, we show you each of the aspects that you can know within the entire province of New Brunswick with a rented car.
You can start your journey through any of our spaces to collect your rental cars, such as the cities of Moncton, Bathurst, Fredericton, or Saint John, so that you can be fully connected within the entire province. So Auto Europe can help to facilitate the whole process during your trip to this wonderful province. The world's highest tides are always in the foreground when it comes to New Brunswick, yet the history, culture, and outdoor fun are also part of a true East Coast experience.
Bay of Fundy
The Bay of Fundy, home to the world's highest tides, is a true natural wonder. These giant tides made up of more than 100 billion tons of seawater rise to 12 meters twice a day ... every day; It is a phenomenon that has shaped a unique landscape on the coastline and throughout the region. You can explore this imposing bay in many ways. Walk across the seafloor at Hopewell Rocks or rappel off the cliffs at Cape Enrage. Board a boat for a whale-watching excursion and come face to face with these beasts of the ocean; Or hop on a ferry to reach the only three islands in the bay, each with its own unique adventures. There's so much to do in the Bay of Fundy that we'll take a closer look at some of the highlights below.
Hopewell Rocks
Near the shore of the Bay of Fundy are the famous Hopewell Rocks, a unique rock formation carved out by the force of tidal erosion over thousands of years. Nicknamed 'Flowerpot Rocks' for their rounded appearance and the vegetation that covers them, these rock formations offer a unique point of reference for determining the highest tides in the world. Visit them at a time of low tide to walk on the seabed and observe these huge rocks that rise about four stories above your head; then come back a few hours later, and you can kayak around the top of those same rocks, which jut out from the water level. Hopewell Rocks is also a great place to sunbathe on its two beaches, explore a vast network of hiking trails, or enjoy a delicious meal overlooking the bay.
Fundy National Park
Yes, Fundy National Park is home to those same high tides, but there is so much more to see and do. The park is truly an adventurer's paradise. It's more than 75 miles of trails that will take you through the mountains to valleys and forests, passing through waterfalls. Rent a canoe, kayak, or swim in beautiful Lake Bennett before setting up your tent for the night in the park. If you want more organized activities and fun, you can play golf, spend the afternoon on the tennis courts or be part of one of the many annual festivals that are held there.
Roosevelt Campobello International Park
You may not know that former US President Franklin Roosevelt once spent his summers on Campobello Island in New Brunswick. Roosevelt Campobello International Park commemorates Roosevelt's love for the island and its history. Here you can also visit the president's summer house, a beautiful residence with 34 rooms; Or you can participate in the "Tea with Eleanor" activity, an experience with tea, cookies, and a delicious talk with an expert guide on the life of Eleanor Roosevelt in Campobello. If your style is more outdoors, you can take advantage of the 2,800 acres of the park where there are bogs, forests, and coastlines. Please do the same activities that Roosevelt himself enjoyed: sailing, hiking, and picnics, or visit one of the four existing lighthouses.
Kingsbrae Garden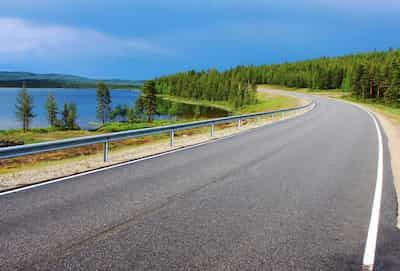 The 27 acres of the Kingsbrae Garden features more than 50,000 perennials in themed gardens that have earned Kingsbrae one of the top 10 gardens in the country. It takes a tour to truly appreciate the magnitude of this collection of flowers and plants, and Kingsbrae offers a "floral carpet ride" in a golf cart. Beyond the flowers, you must visit the Dutch windmills and lose yourself in a maze of cedars. Be sure to see the sculpture garden, which grows year after year. Say hello to the alpacas that roam the area and marvel at the peacocks' beauty and color. Play bocce or croquet and then have lunch at Savor, a garden restaurant whose chef has received multiple awards.
Swallowtail Lighthouse
It couldn't be the Atlantic coast without a historic wooden lighthouse standing along the rocky shore. The Swallowtail Lighthouse is on Grand Manan Island and is one of the first things you'll see when you arrive on the ferry. One of New Brunswick's most photographed lighthouses, Swallowtail, was built in 1860 and was restored just a few years ago. From its observation area, you will be able to appreciate a picturesque view or, if you do not want to have to climb so many stairs, you can visit its structure. If you visit it in summer, you can go up to the top of the lighthouse and visit the museum there.
Fredericton Boyce Farmers Market
The Fredericton Boyce Farmers Market is one of the largest community markets in Canada. More than 250 local suppliers bring their products such as fruits, vegetables, meats, cheeses, bread, wines, and many more products, straight to the table. Visit the market on a Saturday morning and get everything you need for a picnic. Or try ethnic food right there - like samosas or Chinese buns - and then explore the local art, ceramics, jewelry, and you will find unique souvenirs. Boyce Farmers Market is open year-round, but there's no better time to visit than during the fall harvest.
Historic Acadien Village
In the seventeenth century, French colonizers settled in New Brunswick. Historic Acadien Village makes us feel like it was just yesterday. The story comes to life as you walk alongside actors in period dress and among 40 historic buildings, each with a story to tell. Marvel at how a family survived the harsh Canadian winter in a 10 x 10 cabin and learned the songs and dances that helped them during those times. Sink your teeth into a molasses cake on a traditional Acadien table… After doing all of this, you'll walk away, admiring the perseverance of the people of Acadien.
Mount Carleton Provincial Park
At Mount Carleton Provincial Park, you have over 42,000 acres of unspoiled wilderness to enjoy. The park is famous for its hiking options, for which it has 11 trails for any skill level. If you like a challenge, dare to reach the top of Mount Carleton, which at 2,690 feet above sea level, is the highest peak in the Maritime provinces. The whole area is full of trees from the peak, you can literally see 10 million trees. You can go swimming or camping next to Lake Nictua. Some of the other activities you can do mountain biking, stargazing, animal watching, canoeing, and ice fishing. Have you already started packing your suitcase?
Miramichi River
If what interests you in fishing, then you should spend the day on the Miramichi River. Its channel is famous for fly fishing and has one of the largest Atlantic salmon runs on the east coast. But what if you are not interested in putting out a big one? Well, you can jump into a canoe or kayak and explore the river at your own pace, or even drift peacefully down the river on a tube. Learn more about the river and the region on a boat trip, walk along the riverbank, or even bear watching. In Miramichi there will always be something to experience.