There is so much to look at in Europe. It's easy to be dazzled by the Paris city lights, the London skyline, or the intricate Vatican in Rome. Between all the stylish urban wonderment and magnificent displays of human achievement, it's almost easy to forget to look at what nature built. With incredible mountains, rivers, coastlines and forests, Europe's great outdoor features are not to be missed. You should definitely include the chance to gaze at the local landscapes, especially if the local landscape happens to include a raging waterfall. Visiting one such cascading wonder is both refreshing and uplifting. At Auto Europe, we want to encourage people to voyage into new and breathtaking territories, and we suggest that, yes, you should bypass the rivers and the lakes that you're used to and chase after some waterfalls. When you allow yourself to see the world from every platform, you can follow your most ambitious travel dreams. It's hard to choose favorites, but we do like these falls:
Rhine Falls in Switzerland
It may not be surprising that the Rhine Falls of
Switzerland
feed the long and mostly gentle Rhine River, which crosses
France
,
Germany
and the
Netherlands
to meet the North Sea. What is surprising, though, is the size and power of the falls, which once inspired the poet Eduard Mörike to write "Hold your heart, oh traveller, tightly in mighty hands! Mine nearly descended, shivering with pleasure. Restless thundering masses thrown upon masses, ear and eye, whither can they save themselves in such an uproar?" If you are visiting the falls, you should check out Schaffhausen, a charming Swiss town with charming architecture and incredible chocolatiers. From there, you can continue on in your rental car to the serene Lake Constance, a popular summer vacation spot for sports like canoeing and water-skiing. You can also continue on to
Zurich
to savor the luxury and style of this continental city!
Iceland's Dettifoss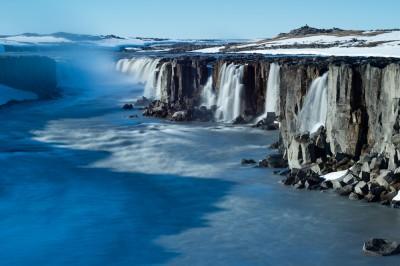 Many features in the dramatic nation of Iceland can be described as "powerful" and the Vatnajökull National Park is no exception. It covers about 12 percent of
Iceland
, and features the most otherworldly volcanic landscapes. The park contains Iceland's tallest peak, largest glacier and numerous striking waterfalls, including the Dettifoss. This waterfall is impressively large, but it's the intensity behind the rushing rapids that make it especially noteworthy: it is considered to be Europe's most powerful fall. While you are there, contemplating the intense beauty of nature, you may also want to take a gander at the remarkable black stone columns, through which Svartifoss carves.
The Langfoss of Norway
Norway
is well-known for its remarkable scenery, with deep cut fjords and jagged mountaintops, so it's unsurprising that it's also, uh, figuratively overflowing with impressive waterfalls, each one fed generously by the annual springtime thaw. The Langfoss, which can easily be reached with a rental car from either
Bergen
or Stavenger, is particularly lovely in the way that it tumbles, unfettered, down a monumental rock-faced hillside and then feeds directly into a wide fjord.
Plitvice Falls in Croatia
It's not astounding height, or raging river flow that makes the Plitvice Falls in
Croatia
so impressive; it's how lovely they are to behold. The Plitvice Lakes National Park is just two hours from
Zagreb
with a rental car. It features sixteen intertwined lakes set on various levels, each one more radiantly turquoise than the last. Between the upper and lower lakes, numerous gentle falls cascade pristinely against the golden rock mountainside. Visitors are sure to enjoy day hiking the groomed trails and boardwalks around the lakes and seeing all the pristine wildlife that grace the Croatian forests.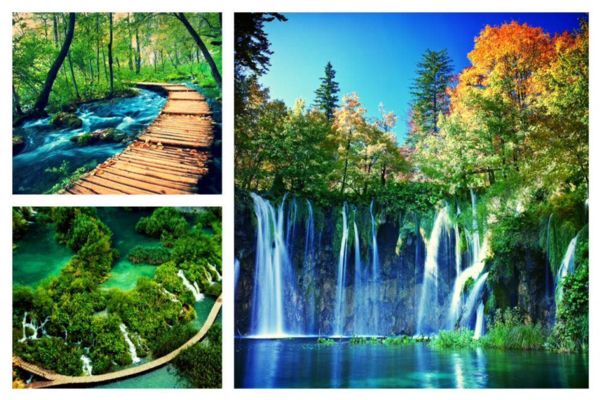 Krimml Falls of Austria
Austria
is a gorgeous wonderland of enchanting medieval cities and heart-stopping Alpine scenery. You can savor both with a
rental car in Innsbruck
. From there, it's a mere 90-minute drive to the pristine forested peaks and valleys of Hohe Tauern National Park, at which you can find Krimml Falls. The Krimml Falls are composed of three stages which total a drop of more than 1200 feet, making it one of Europe's tallest outpourings. Travelers start at the base of the falls, from which they can contemplate the rushing waters and impressive height. However, in order to really get a sense of the magnitude of these gorgeous Austrian Alpine cascades, I suggest romping up the well-maintained walking trail and enjoying a hearty meal in the restaurant at the halfway point.
The Cascata delle Marmore of Italy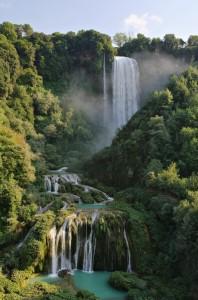 Since the dawn of civilization, man has concerned itself with reshaping the world to his own preferences.
Italy
presents a fine example of this in the Cascata delle Marmore, a Roman creation. The falls were created when the Velino River was diverted away from a wetland to do away with pesky mosquitoes. This landmark is a very short drive in a rental car from Terni, the birthplace of St. Valentine and site of lovely Roman ruins and historic Cathedrals. Today, many people enjoy whitewater rafting trips nearby the lovely falls. Looking at the way the fresh, flowing water carves through the Umbrian woodlands and the mossy green riverbed, it would be hard to imagine that these falls are a creation of anyone but Mother Nature herself.
It's impossible to experience too many good things in one lifetime, so keep seeking those cascading waterfalls, perfect cups of coffee, enigmatic smiles and warm summertime breezes. If you are looking to take your travel pleasures on your own schedule, Auto Europe's travel experts are here to help you get where you are going. For the past 60 years, we have been providing quality car rentals at bargain prices throughout the world. To arrange the road trip of a lifetime, call us toll-free today at 1-888-223-5555.