There is nothing more magical than a Christmas market, and nowhere more magical to experience one than at an original Christmas market in Germany. Enjoy the festive smells of apple cider, mulled wine, baked apples and freshly-baked gingerbread as you stroll through the cobbled streets of a traditional German town or village, surrounded by beautiful outdoor Christmas lights and maybe even a sprinkling of snow!
Christmas markets in Germany are an institution. From the oldest Christmas market in Germany to the exciting new cosmopolitan Christmas market in Berlin, there are so many to choose from. Winter trips in Europe are also technically off-season, meaning you may be able to snap up a vacation deal at half the price. Not only this, but the winter months in Europe can be a much quieter time to take a peaceful vacation before the hectic holiday season begins.
Most markets start at the end of November and run through to Christmas Eve. Visit in the day and at night/evening time to see the effect of the beautiful lights on the street. Most markets are usually open until around 9 pm. It is also worth noting that most markets are closed on 'Totensonntag' (Remembrance Day in Germany) that is held on the fifth Sunday before Christmas.
Find unique handmade gifts for your loved ones while experiencing the historic traditions of Germany at Christmas. Take a winter trip to Europe this year, get away from the busy shops and streets at home, and throw in some real Christmas spirit this holiday with these seven traditional German Christmas markets:
Save money on your:
Rental Car in Germany | Hotels in Germany
---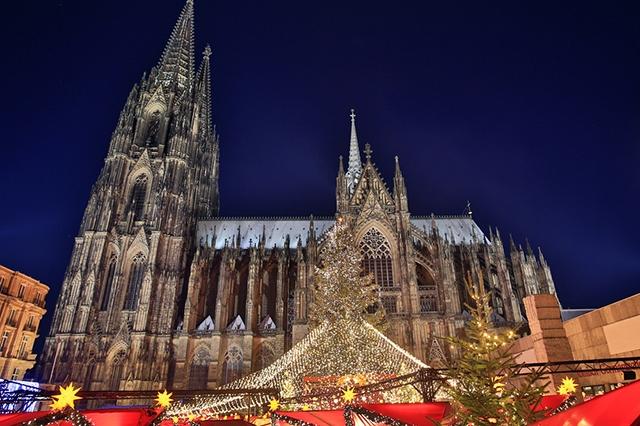 Am Dom Market, Cologne
November 23 - December 23, 2020
The Am Dom Christmas market in Cologne is probably the most famous Christmas market in Germany. Set beneath the largest cathedral in Germany that is also a World Heritage Site, Cologne Cathedral, the famous market is also home to the largest Christmas tree in the Rhine, as well as over 150 stalls, and plenty of mulled wine. Spend hours Christmas shopping or tapping your feet to traditional German music with a glass of the warm red stuff in your hand.
Rent a Car in Cologne | Info on the Cologne Christmas Market
---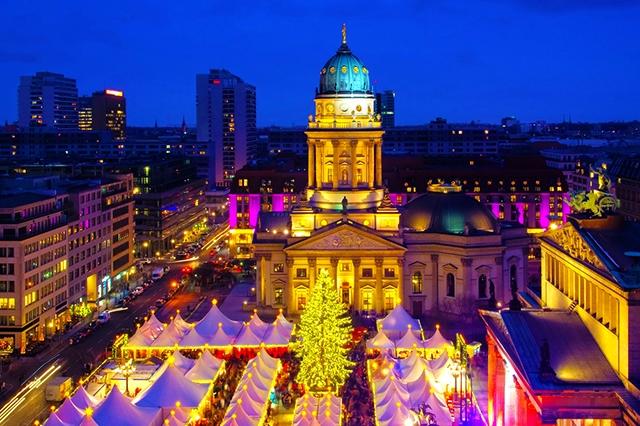 Gendarmenmarkt, Berlin
November 25 - December 31, 2020
Set in the heart of one of the most creative cities in Europe - Berlin - the Gendarmenmarkt is both a historic and excitingly cosmopolitan Christmas market. Enjoy some of the country's best food made by the city's best chefs, as well as plenty of live entertainment to keep you in the festive spirit, including jugglers, acrobats, fire artists, choirs, and dance groups.
Rent a Car in Berlin | More Info on Berlin Christmas Markets
---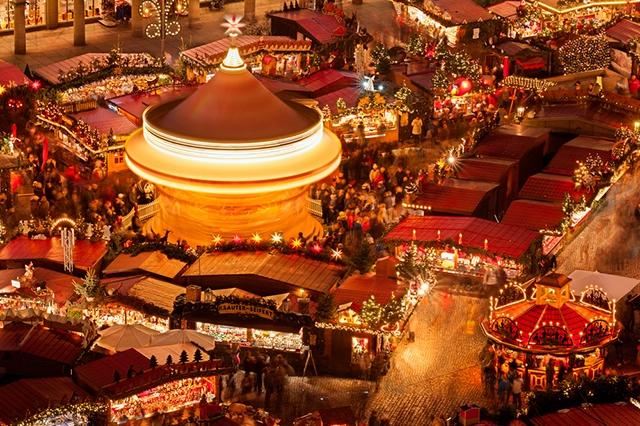 Striezelmarkt, Dresden
November 26 - December 24, 2020
The oldest Christmas market in Germany, Striezelmarkt is a winter wonderland of romantic Christmas lights, festive food and plenty of German charm. Famous for featuring the world's tallest Nutcracker and Christmas Pyramid, the market features local craftsman selling their wares just in time for Christmas. If you can, try to visit the market on the second Saturday in Advent for the Stollen Festival - when a giant stollen is paraded through the streets, cut and handed out to the crowd for charity.
Rent a Car in Dresden | Info on Dresden Christmas Markets
---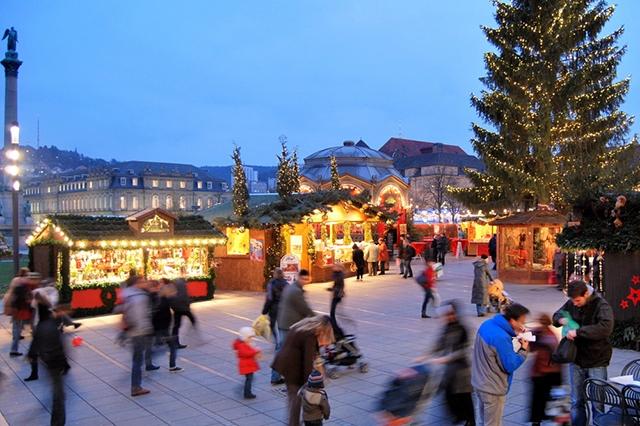 Stuttgart Christmas Market
November 27 - December 23, 2020
Experience all of the wonders of Christmas at the Stuttgart traditional festive market that has been named one of the most beautiful in Europe. Overlooked by the beautiful Old Palace, Stuggart Market is set in an architectural paradise, with a Santa's grotto, handmade arts, crafts and gifts and a miniature railway. This market is perfect for both children and adults.
Rent a Car in Stuttgart | Info on Stuttgart Christmas Markets
---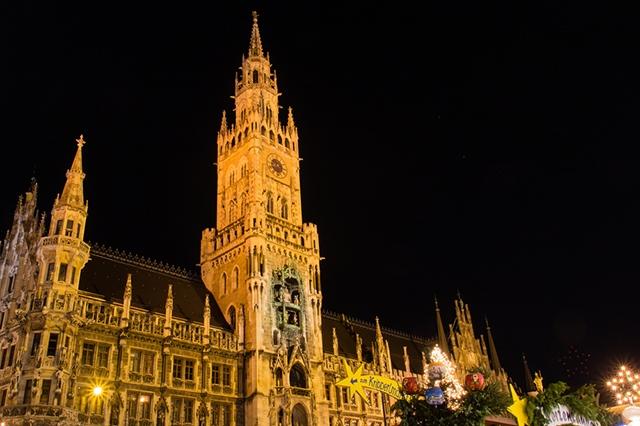 Marienplatz, Munich
November 27 - December 24, 2020
Travel to Munich, in the heart of Bavaria, and its Gothic architecture is home to the wooden huts and stalls of its Christmas Market in Marienplatz. Celebrating all things Bavaria, the market is a great place to buy Christmas gifts, enjoy local produce and even a concert or two at the impressive Gothic town hall that overlooks the spectacular market.
Rent a Car in Munich | Info on Munich Christmas Markets
---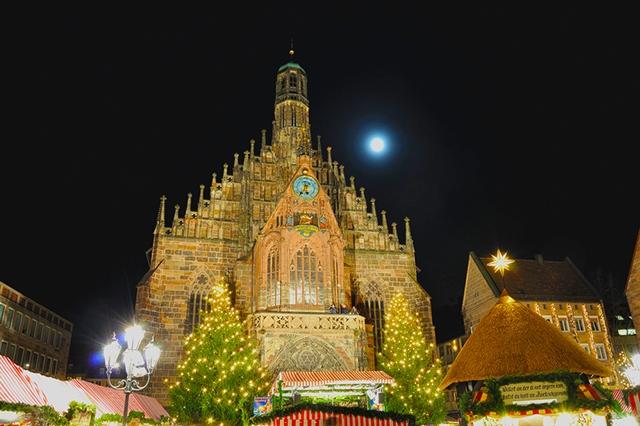 Christkindlesmarkt, Nuremberg
November 29 - December 24, 2020
One of Germany's oldest Christmas markets and the most famous in Nuremberg, the Christkindlesmarkt is a great Christmas market for the whole family to enjoy. Surrounded by the impressive Alps, as well as the medieval Imperial Castle, the market features a traditional steam train and an old-fashioned carousel, as well as nearly 200 market stalls selling authentic local goods. This market is so authentic and traditional that the sale of mass-produced and modern items is strictly prohibited.
Rent a Car in Nuremberg | Info on Nuremberg Christmas Markets
---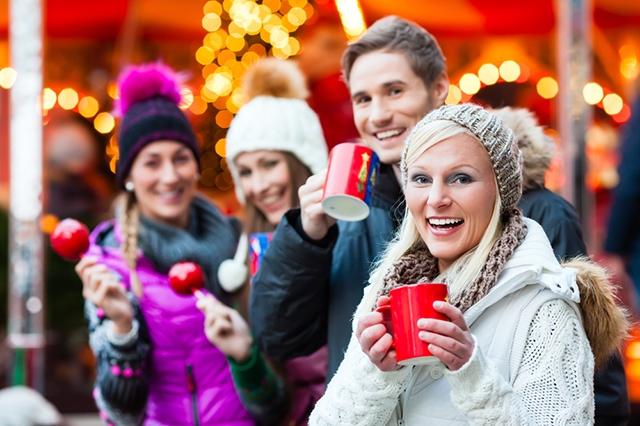 Schloss Guteneck, Nabburg
November 29 - December 22, 2020
This medieval Christmas fair is unlike any of the other Christmas markets on this list. Held on the grounds of the Castle Guteneck, the Schloss Guteneck is both breathtakingly beautiful and traditional. Selling mostly ancient artistry and craft, including pottery, bread baking, shoe making and even paper processing, the market has heated and seated areas, with room for up to 1,000 guests. Just make sure you arrive early if you would like a seat as the fair is only open on the selected weekends above.
Rent a Car in Amberg | Info on Nuremberg Christmas Markets
---
Take a Winter Trip in Europe with Auto Europe
Ready for the holidays already? We are too. No better time exists to embark on an adventure to the Christmas Markets in Germany than now, and with Auto Europe by your side, all your travel needs can be taken care of at the lowest prices around, leaving you some extra cash for gifts and family. Whether you need a luxury car rental in Germany or holiday hotel accommodations, Auto Europe has your back. Give us a call today at, 1-888-223-5555, and get ready for the vacation of a lifetime.
Save money on your:
Rental Car in Germany | Hotels in Germany