Greece Car Rental: Driving Information
Driving Overview
General Information
Greece is by far one of the world's top travel destinations due to its dramatic historical background and one of a kind natural beauty. Allow Auto Europe to come along and help make the most of your stay in Greece! Before you go, please take a moment to look over the important information below that pertains to renting and driving in Greece.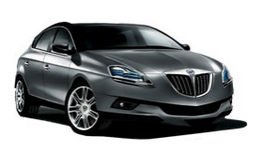 Requirements
In order to rent a car in Greece through Auto Europe you are required to be at least 21 years old and have had a valid license for a minimum of 1 year. A maximum age limit of 75 may apply with some car rental suppliers. All drivers who are not from Greece are required to carry an international driver's permit at all times and you will be asked to present it at the rental counter in order to pick up your rental. Young drivers 21 to 24 years old may be subject to a young driver surcharge of about $5.10 CAD per day. If you are traveling with children under the age of 12 years old they are not allowed to travel in the front seat of the vehicle and must be secured by a safety belt or child seat which ever is more appropriate to their size.
Speed Limits
The following are the standard legal speed limits in Greece: city 50 km/h, major roads 90 km/h to 110 km/h and 120 km/h on the highway. Please pay attention to sings posted in the country you are driving as speed limits may vary.
Rules of the Road
In Greece all vehicles are required to drive on the right hand side of the road and the use of a horn is prohibited in Greece unless using to warn of severe danger. All non-Greek drivers are required to carry an international drivers license at all times
Gas & Diesel
Gas stations in Greece close at 7pm on weekdays and are closed on Sundays, however Greek law states that 1 station is required to be open at night on a Sunday in all towns. Leaded, unleaded and diesel options are offered throughout Greece.
Tolls
Most all of the highways that run throughout Greece will require you to pay a toll. The vehicle class combined with the distance you travel along the motorway determines the amount you will have to pay.
Parking
Yellow stripes painted on the side of the road indicate that parking is forbidden. It is recommended to park in a secure visitor parking lot (popular throughout Greece) or in a hotel parking lot as on street parking is hard to find in many Greek cities.
Insurance Information
General Information
Insurance is extremely important when renting a vehicle and requirements often change from country to country. When renting a vehicle in Greece with Auto Europe your rental rate will automatically include all necessary insurances required by the country. If beginning your rental in Greece the insurance guidelines of Greece will be in effect for the entire duration of the rental. Specific insurance information can be found in the terms and conditions area of your rental voucher.
Below we have gone into detail what insurance is required to be on your vehicle rental and what other options are available to your through Auto Europe and the local suppliers.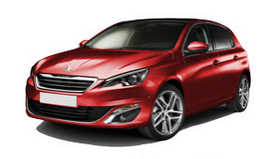 Required Coverage
In Greece, car rentals are required to have fire insurance and third party liability insurance coverage. Here at Auto Europe we include both forms of insurance on all basic rental rates in Greece. Fire insurance generally provides an unlimited amount of coverage in the event the rental vehicle is damage because of a fire. Third party liability provides $128,000 CAD up to $827,000 CAD worth of coverage to people and property outside the rental vehicle that may be damaged or injured because of the rental vehicle.
Optional Coverage
When renting a vehicle in Greece there are a few forms of optional insurance coverage, which includes collision damage waiver (CDW), theft protection, personal accident insurance and super CDW. CDW and theft are optional and will be included at an advance purchase discount if the inclusive rate it selected. CDW and theft can be purchased locally for a cost ranging from $24-$35 CAD per day for theft and $8-$17 CAD per day for CDW. CDW and theft in most cases will have a deductible that you are still responsible for in the event of an accident or theft. The amount of the deductibles for CDW can range from $430 CAD up to $2,200 CAD and for theft can rage from $0 up to $1020 CAD depending on the car rental supplier and vehicle category. Many suppliers offer a supplementary insurance which is called super CDW which will help reduce the amount of the deductible that you are responsible for. The cost for super CDW is approximately $10 CAD per day up to $22 CAD per day and is available through select suppliers only. Personal accident insurance is offered locally and will provide death and disability coverage to the driver and passengers of the rental vehicle. The cost of personal accident insurance is between $8-$15 CAD per day. Optional insurance may be available with certain suppliers only and prices are approximate and can change at anytime without notice.
Rental Restrictions
General Information
Depending on the vehicle you rent there may be travel restrictions that may apply to your rental. Some specific vehicle categories including luxury vehicles, vans and automatics may have travel restrictions due to insurance regulations. Below you will learn about the most common travel restrictions that apply to rentals commencing in Greece.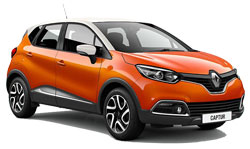 Restricted Countries
Vehicles rented in Greece through Auto Europe are not allowed to travel outside of the country at anytime.
One-Way Rentals
International one-ways from Greece are not available at this time. Domestic one-way rentals are offered in Greece and most will incur an additional fee. Not all vehicles are permitted and minimum rental lengths may apply.