Car Rental at Cannes Airport - JCA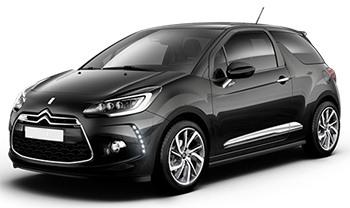 A car rental at Cannes Airport is available through Auto Europe, a leader in car rentals and holiday packages. When you rent a car in Cannes, you aren't restricted on the activities that you can enjoy, nor will you be around strangers like you would be with the use of public transportation. Although public transportation is available to travelers, it is much easier to rent a car in France and eliminate all of the various problems that can come with that form of transportation. Cannes Airport is located 5 km west of Cannes. The airport has several amenities for travelers, which include a VIP lounge with Wi-Fi, shops, and restaurants. The airport was opened in 1930, and provides 155 hectares of space for flights.
Book with the Best Car Rental Suppliers at Cannes Airport
At Auto Europe, we work together with the best providers who rent cars to tourists at Cannes Airport and other well-known locations in Cannes. Known brands including Europcar, Hertz and Sixt are just a some of the providers you might find if you use the search field towards the top of this page. Through Auto Europe you'll be able to check car rental rates, size, vehicle options and more in one place. In the most popular cities in France you may have more than 100 car choices. Offering mini and compact size vehicles for single tourists and full-size SUVs and passenger van rentals for large groups.
Europcar at Cannes Airport


Cannes Mandelieu Aeroport

,


Cannes La Bocca

,

France

06150




+33 4 92 19 01 90

Europcar Hours:
Mon - Fri 8:30 AM - 12:30 PM & 2 PM - 6 PM
Sat - Sun 9 AM - 12 PM & 2 PM - 6 PM
Hertz at Cannes Airport


147 Rue d'Antibes

,


Cannes

,

France

06400




+33 4 93 99 04 20

Hertz Hours:
Mon - Fri 7 AM - 9 PM
Sat 7 AM - 8 PM
Sun 8 AM - 8 PM
Sixt at Cannes Airport


8 bis Place de la Gare

,


Cannes

,

France

06400




+33 4 22 00 00 91

Sixt Hours:
Mon - Sat 8 AM - 1 PM & 2 PM - 6 PM
Sun 9 AM - 1 PM
---
Picking up a Rental Car at Cannes Airport
Picking up a rental car at Cannes Airport is easy and affordable, and ensures that you are not out there without a way to get around. There are plenty of attractions that visitors want to enjoy, and can when they have a car. Attractions not to miss include:
Iles de Lerins: These four islands are easily accessible by ferry and a short distance from the city of Cannes. Ile Saint marguerite, one of the islands, has a fantastic beach, while Fort de' I'lle has many sea-related attractions and artifacts.
Rue Meynadier: This neighborhood is free to visit, and you are sure to enjoy taking a look at all of the 18th century houses that fill the rues. In addition to the houses, many boutiques and shops are offered for your shopping pleasure.
Marchee Forville: This is the most popular Cannes market. The market is open daily, and on Monday, a flea market is also an addition. You can pick up a variety of food items at the market.
Casino Croisette: This casino was built in 1907. When you're seeking a bit of adult fun, there isn't a more fun place to be.
These attractions are just a handful of the many things that you will want to enjoy while in Cannes. Do not miss out on any of the fun!
Find the Car Rental Suppliers at Cannes Airport
This beautiful airport offers you different facilities for tourists, the information center is very helpful if you need any assistance. Also we work with Europcar that is located in the airport, Hertz office is a little far from the airport (30 minutes by car), and also we work with Sixt that is located at 8 bis Place de la Gare (20 minutes by car), but if you need more assistance you can call us for free in any part of France at 00-800-223-5555-5
Accommodations near Cannes Airport
There are several hotels near the airport, and thanks to the airport transfer services offered by Auto Europe, you can get to any of them with ease. Remember that Auto Europe also offers affordable car rental at Cannes Airport as well. The most popular hotels that visitors book near the airport include Campanile, the closest hotel located just .3 kilometers away; MMV Resort & Spa, situated one kilometer away, and Radisson Blue, located just under six kilometers from the airport.
Cannes Airport Contact Information
To speak with someone at the airport, call +33 0662 570 418. You can reach Auto Europe at 1-888-223-5555 to arrange your car rental at Cannes Airport. Agents are available 24 hours per day, 7 days per week. Cities near Cannes include Nice and the Cote d'Azur, which is 24 kilometers away, as well as the city of Lyon, which is located 300 kilometers away.
---
Rent a Car at the Cannes Airport
Cannes Airport




245 Avenue Francis Toner




Cannes

,

Alpes-Maritimes

,

06150


IATA Code:

CEQ


ICAO Code:

LFMD
Latitude:

43.546389


Longitude:

6.954167
General Information
:
The Cannes – Mandelieu Airport or Aéroport de Cannes - Mandelieu is an airport serving the city of Cannes. It is located 5 km west of Cannes and east of Mandelieu-la-Napoule, both communes of the Alpes-Maritimes département in the Provence-Alpes-Côte-d'Azur région of France.