Opel Vivaro Rental: Specs, Dimensions & Luggage Capacity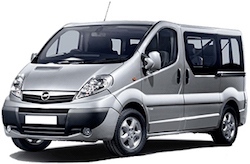 The Opel Vivaro Van Rental, also marketed as the Nissan Primastar, the Renault Trafic, and the Vauxhall Vivaro (depending upon which country you're traveling to), is not your average vacation rental vehicle. As a light commercial vehicle, it is used mainly to move heavy equipment and furniture over short or long distances. For any travelers that need to move heavy or multiple objects, or for large groups of up to 9 people, the Vivaro van rental is the best option. It would also be a very advantageous vehicle to take on a camping trip in Europe, because you can pack everything that you need for a week or more in the back. Camping gear, luggage, coolers, and even full-sized grills all fit in the back, no problem. The interior can even be outfitted as a sleeping area.
Opel Vivaro Specs
The Opel Vivaro comes with varying specifications depending on the user, so we have included for your convenience the most common and popular features.
Car Class: 9-Passenger Van
Number of Doors: 4
Number of Seats: 9
Transmission: Manual or Automatic
Fuel Type: Gasoline or Diesel
Fuel Economy (Gas/Diesel): ~35mpg/~43mpg
Engine: 2.0L I4 (118 HP), 1.9L I4 Diesel (99/113/148 HP)
Luggage Capacity: 5200 LTR
Opel Vivaro Dimensions & Interior Details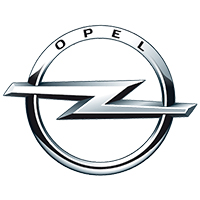 The Opel Vivaro fits up to 3 passengers in the front seat bench. In the manual version of the Vivaro, the gearshift is conveniently placed high on the dashboard to keep it from being blocked by the middle passenger's knees. The dashboard features the latest in navigation and audio capabilities complete with touch screen and hands free calling. For a single bench vehicle, the Vivaro has generous legroom and headroom and adjustable seats so you can find a comfortable driving position. The middle seat folds down and transforms into a workspace with cup holders and a hidden storage compartment.

Opel Vivaro Luggage Capacity
Needless to say, the Opel Vivaro Van's main feature is its storage space. With up to an 8600 liter capacity, the Vivaro is a great option for campers and travelers with big storage needs. The low positioning of the truck bed makes for easy loading and unloading. You can be sure to secure your luggage and equipment using the lashing eyes on the sides of the interior.
Other Popular Passenger Van Rental Options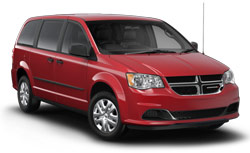 Dodge Grand Caravan Rental - A Dodge Grand Caravan Rental is a great choice for travelers to Europe with extensive needs for passenger and cargo space. Able to seat up to 7 adult passengers comfortably, the Dodge Grand Caravan is perfect for families and small groups.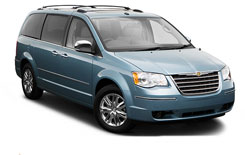 Chrysler Town & Country Rental - A Chrysler Town and Country rental is a great rental option for families and large groups for their vacation in Europe. As a minivan, the Town and Country offers quite a bit extra in terms of luggage and passenger space.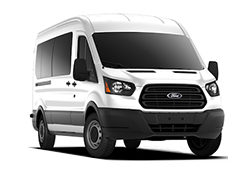 Ford Transit Passenger Van Rental - A Ford Transit passenger van rental is one of the most versatile rental options in Europe, allowing for up to 12 passengers, vast cargo space, and a comfortable interior with plenty of leg room for taller passengers.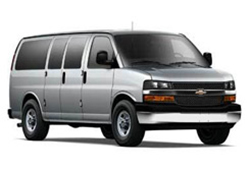 Chevy Express Van Rental - The Luggage capacity and interior space of the Chevy Express passenger van is vast in comparison to most other vehicles, and allows for transport of numerous suitcases while comfortable accommodating up to 15 passengers.
Rent an Opel Vivaro Van with Auto Europe
If you would like to reserve an Opel Vivaro rental for your trip to Europe, you can be sure that Auto Europe will work hard to find you the best rates and deals for your rental. Just book online using our fast and simple booking engine at the top of the page, or call us toll-free at any time of day to speak with a car rental specialist.
---
Find the Perfect Van Rental: Browse Our Van Rental Categories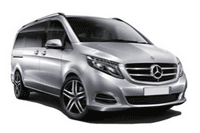 Passenger Van Rental
- Planning a road trip with a large group of people? When you book a 9, 12, or 15-passenger van rental, you completely eliminate the hassle of having to coordinate multiple car rentals to accommodate your group, and can travel together with ease.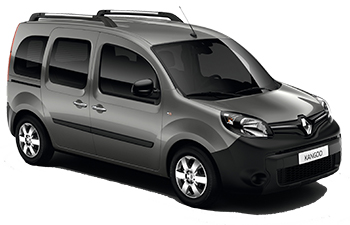 Cargo Van Rental
- Are you in need of a cargo van rental for an upcoming vacation or business trip? No matter what you'll be hauling; people, luggage, supplies or a combination of all three, there's a cargo van rental out there for you, and we'll help you book it!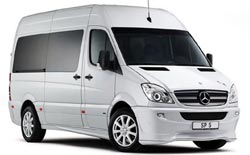 Sprinter Van Rental
- Book a Sprinter van rental, and experience a luxury van like no other, boasting a spacious cabin with room for 12 adults and their luggage, making it a popular choice for discerning travelers intent on traveling long distances with maximum comfort.