Driving in London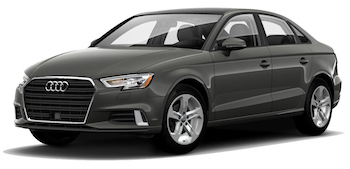 Driving in any new city or country will be a new experience, which is true whether you're an experienced traveler or leaving town for the first time. London is one of the world's largest cities and can be one of the most daunting places to drive, but fortunately Auto Europe has various travel tips found in this guide and elsewhere to help prepare you for your upcoming trip to the UK, which may include driving in London. When driving in London, it's important that you're prepared and familiar with local British driving rules and regulations including British road signs. If you've never driven in the UK before and are looking for basic tips for driving in the UK, check out the rest of our comprehensive UK travel guide.

London certainly has a reputation for being a hectic and stressful place to drive. With over 2.8 billion individual car trips taken in London per year, it's not surprise the streets are rather congested and many Brits opt not to drive in London. However, London doesn't have to be as tricky as many make it out to be, once you're comfortable driving on the opposite side of the road, traveling around London by car requires navigation skills more so than anything else.

In order to prepare you for your upcoming trip to London, Auto Europe has assembled several resources that will assist you in becoming familiar with driving in London. After reading this guide, you should be comfortable navigating London and feel like a season pro driving elsewhere in England.
Driving in the Congestion Zone
The first thing you need to know about driving in London is that if you wish in the core of the city center, known as the congestion charge zone, you'll be required to pay a daily charge of £11.50. The zone ranges from Hyde Park and Buckingham Palace to the West, to the Tower of London on the East, and from Regent's Park and the A501 road in the North to the A3 Ring Road in the South. Below is a map of the congestion charge zone, if you are planning on driving in this zone, prepare to pay the congestion zone charge which is applicable on week days between 7 AM and 6 PM.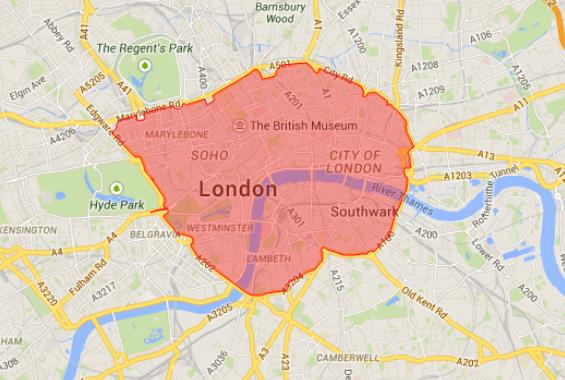 More About Driving in Downtown London
Auto Europe recommends avoiding city center driving in the UK in general, and especially driving in the congestion zone. Parking is incredibly limited, the roads are very packed with vehicles as well as pedestrians and bikes, and you have to pay a daily fee which can be add up if you'll be driving in the congestion zone over the course of multiple days.
Traffic in London
Even if you won't be driving in the congestion zone, driving in London is typically a less pleasant experience than say, cruising down an abandoned country road. With less than abundant parking, confusing street plans, and heavy traffic, sometimes avoiding the city center with your rental car or carefully planning the best time to visit London makes sense. But if you're destined to drive in London, we highly recommend utilizing the well-designed British highway system to safely and efficiently navigate the city, as well as utilizing a portable GPS to make the most of your driving experience and make it to your destination in a timely manner.
Speed Limits in London
Typically, drivers in London will find the metropolitan police to be relatively flexible if you're driving just a few miles per hour over the speed limit. That being said, Auto Europe advises that you drive cautiously and plan out any driving routes ahead of time so you won't have to speed. Additionally, there are thousands of cameras across London actively looking for speeders and unsafe drivers, if you're ticketed by a camera, you may find a hefty fine in your mailbox months after you've returned from your vacation. Speeding in London will not only increase your chances of receiving a hefty fine, but also increase the possibility of getting into an accident or collision with your rental car.
| | | | | |
| --- | --- | --- | --- | --- |
| | Urban Area | Single Lane Road | Two Lane Road | Highway |
| Cars, motorcycles and vans, up to 2 tons in max laden weight | 48 KMH | 97 KMH | 113 KMH | 113 KMH |
| Vehicles towing trailers, cars, motorcycles, or goods up to 7.5 MLW | 48 KMH | 80 KMH | 97 KMH | 97 KMH |
| Buses, minibuses up to 39 ft | 48 KMH | 80 KMH | 97 KMH | 113 KMH |
| Goods vehicles over 7.5 MLW | 48 KMH | 80 KMH | 97 KMH | 113 KMH |
London Speed Limit Signs
Most city streets in London will have a speed limit of 48 KPH, which will be indicated by a round sign with the numbers "30" surrounded by a red circle outlining the sign. Larger roads will have higher speed limits, the chart bellows is an basic guide for default speed limits of certain roads types based on the vehicle you'll be driving.
Driving in London During the Winter
Driving in London during the spring, summer, and fall is typically a pleasant experience and it's unlikely weather would hamper your ability to drive. Driving in the winter on the other hand is a very different experience, and Auto Europe recommends drivers slow down, stay alert and in control, wear your seatbelt and also prepare your vehicle for winter driving. This may include opting for additional equipment for your rental, such as winter tires. Also ensure you have an emergency kit in your vehicle, are familiar and comfortable driving in the winter, and have given yourself plenty of time to make it to your destination to reduce the risk of getting into a collision or accident while driving in London in the winter.
London Driving Distance Table