The delightful, yet sardonic Oscar Wilde once asserted that "A flower blossoms for its own joy." That may or may not be the case, but that doesn't seem to stop us from enjoying delicate and vibrant flora, as well. Throughout the world, springtime brings growth and revival, a season of delight and joy, which is heralded in by landscapes that burst with the colors and scents of our favourite flowers. Many places usher the arrival of their favorite botanicals with exuberant celebrations, which ensure a uniquely beautiful and immersive experience for visitors. When planning your springtime getaway, make sure to include time to stop and smell the flowers! You may find peace of mind among the gentle floods of colours and scents.
Southern France- Mimosas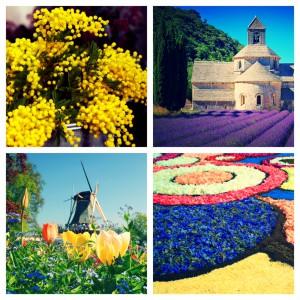 In mid-February, fluffy yellow blooms overwhelm the French Riviera, bringing profound cheer to a place already well-known for sunshine and joy. The Mimosa tree was first brought to the region in the mid-1800's, but has taken firm root, supplying the region with an abundance of sweet honey nectar and unique perfume notes. You can pick up a rental car in St. Tropez and make your way to the 10-day Mimosa Festival in Mandelieu-La Napoule. If you're able to tear yourself away from the gorgeous Mediterranean beaches, you are sure to find a jovial atmosphere with lavish parades and feasts. You can stroll through the largest mimosa forest in Europe, or head to the historic perfumeries of Grasse to see how the mimosa becomes one of the world's most exclusive scents.
Netherlands- Tulips
April in the Netherlands means tulips, and you won't find more of this definitive bulb than you will find in the little town of Lisse. The term "garden" is taken to a whole new level in the Keukenhof Park, where 15-kilometer trails and meandering cycling paths guide you through millions of lush, colourful tulip blooms. The boat tour is a popular attraction, and a wonderful way to relax and soak in the cheery beauty of the charming Dutch countryside highlighted with every color of the rainbow. This is all within a 45 minute drive from Amsterdam, which is a gorgeous city to visit any time of year.
England- Royal Botanic Gardens
The botanists and florists among you should make way to Kew Gardens in England. This 250 year old spread is considered to be a physical encyclopedia of plant life, and displays living examples of the one eighth of the known plant species of the world. An April visit to this enormous garden, just out of London, will reveal an abundance of such crowd-pleasers as daffodils, magnolias and cherry blossoms, though there are exhibits throughout the year. You can take in an entire world of blossoms, soaking in the peace and wonder of nature and then quickly be back in the hubbub and excitement of metropolitan London!
Italy- Flower Festival
Between the months of May and June, towns all over Italy host artistic flower festivals. In these lively community celebrations, cut flowers or flower petals are used to create sweeping flower carpets through city and village streets, following intricate designs and involving many amazing artists. This type of festival is called an infiorata, and is most notable for old-fashioned grace in the Umbria towns of Orvieto and Spello, as well as in communities closer to Rome.
France – Lavender
Lavender is often symbolic of deep relaxation and romance. Its fanatics should hold off until summertime to savor the sweeping fields of blues and purple adorning the Provence region of France. Renting a car in Aix en Provence and then journeying among the quaint historic villages in the Alpine foothills and the Mediterranean Côte d'Azur makes the trip of a lifetime.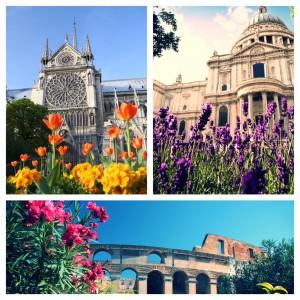 Pack a camera; you won't be able to soak in nearly enough of the breathtaking views of hillsides bursting in purples and greens. These inviting routes provide opportunities for wholesome relaxation, hiking, cycling and picnics at every turn.

Smelling the flowers is a great way to quiet your mind and find peace. If you are traveling in search of beauty and relaxation, there is nothing more eloquent and effective than delving into nature. Another way to battle stress when you travel is to rent a car with Auto Europe. With more than 56 years of experience, we are proud to provide stress-free car rentals by working with only the most reputable suppliers to ensure you receive quality rental cars in convenient locations around the world. Our 24/7 reservation support line and tenacious customer service go to further verify that your overseas car rental is to your liking. It's easy to book through our web site's three-step booking engine, or you can speak with our knowledgeable reservation agents by calling our toll-free number: 1-888-223-5555.