There is no better way to explore Italy than by car. The beautiful countryside of Italy's most famous regions of Tuscany and Lazio offer breathtaking views of green fields, vineyards, and plenty of wonderful rivers and valleys; views that are best experienced traveling from
Rome to Florence by Car
.
It's an extremely leisurely drive from Rome to Florence by car, and the roads are well-signposted and there are plenty of amenities for passengers along the way. However, the best reason we can give you for taking a Rome to Florence day trip is to see more of the country. Driving gives you the opportunity to stop at unexpected locations and experience the real Italy in your own time and at your own pace.
By driving from Rome to Florence you get to experience the freedom of
planning your road trip itinerary
. Although, we want to make this as easy as possible, too. So to help you plan your Rome to Florence day trip we have put together some unforgettable stops along the way to enhance your
Italian road trip
:
---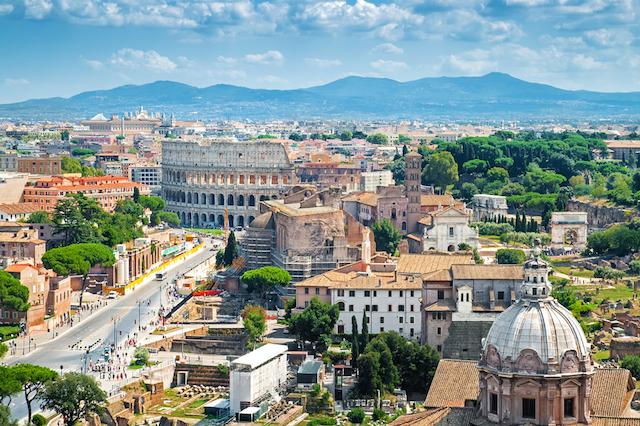 Rome
Start the adventure in Italy's prestigious capital, with a
car rental in Rome
. Known for its ancient historic sites, such as the Colosseum, the Pantheon and the Roman Forum, Rome is every inch the historian's playground. The city is also home to an independent country, The Vatican, which is actually the world's smallest country and the home of the pope. Aside from its historic legacy, Rome is also a place to delve into the ancient art and culture of some of the world's greatest architects, painters, and sculptors in its many galleries and museums. And for those who prefer to enjoy Rome at a slower pace, walking its beautiful streets and stopping for an aperitif every once in a while is the best way to truly get a feel for this enchanting city.
---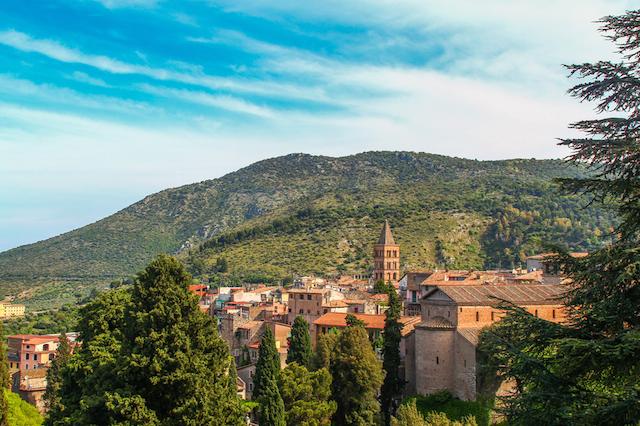 Tivoli
Just 30 km to the north east of Rome you will arrive at the small town of Tivoli. Made famous as a holiday destination by Rome's rich and famous inhabitants, the town is set on a green hilltop and has some fabulous ancient sites just waiting to be explored. Be sure to visit the town's two UNESCO World Heritage Sites of Villa Adriana, once owned by Roman Emperor Hadrian, and Villa d'Este, an immaculately landscaped Renaissance villa that was popular with the wealthy residents of Rome.
---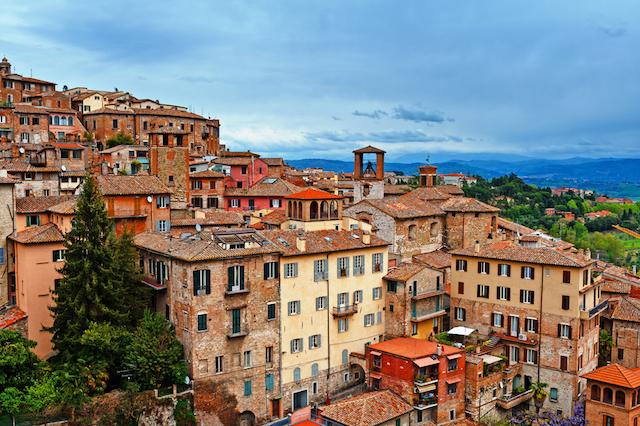 Perugia
Known as Italy's "Green Heart", Perugia is the capital of Umbria and is a fun and loveable city that is a perfect stop during your Rome to Florence day trip. Situated on a hill above a stunning valley, the city is unexpectedly beautiful, with a maze of cobbled streets that fill its center. The city is not just full of cobbles, it's also filled with history on every corner. Spend some time enjoying its ancient past and getting to know its modern present, which now involves a fun student population, a great nightlife scene, and some of Europe's best jazz.
---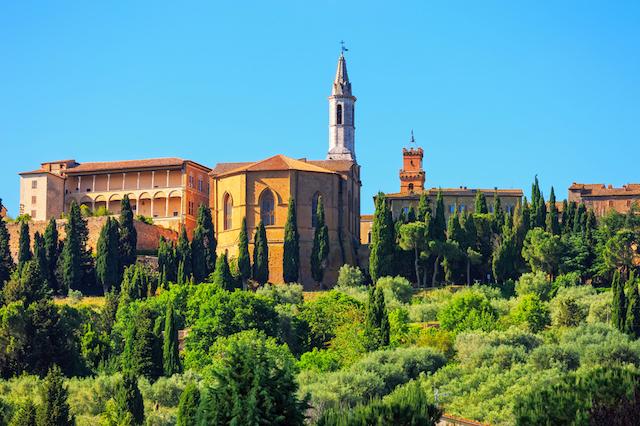 Pienza
Pienza has a very unique story - it was established as a model Renaissance town by Pope Pius II during the 15th century. The pope commissioned a gentleman named Bernardo Rossellino, who built a cathedral, a papal palace and a town hall for the town from scratch. The architect combined both Renaissance and Gothic styles to create the town, as well as influences from contemporary Sienese art. It's center, however, is very different from the rest of the village, which is very relaxed and unassuming. However, both sides of this curious town are well worth a visit.
---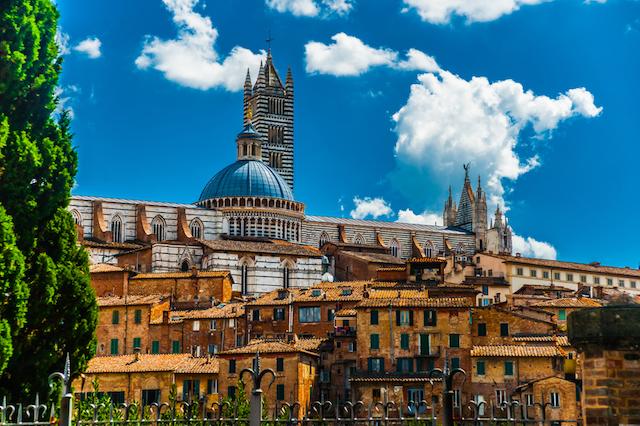 Siena
Siena is another Italian city that is picture perfect, and a must-visit destination when exploring Rome to Florence by car. Every building tells a story with bricks that date back to the Roman, Medieval, Gothic and Renaissance periods. The city is also a great place to enjoy Italian food, partly due to its location in central Tuscany, which is great for wine and olives. If you can, try to spend more than a day enjoying this city where there is so much to see and do. Make sure you enjoy a coffee or two in the piazza II, one of Italy's most beautiful squares, visit the Siena Cathedral, and discover the Palazzo Pubblico's impressive architecture. The city is also well-known for its exquisite collection of paintings, particularly at the Museum Civico and the Pinacoteca Nazionale.
---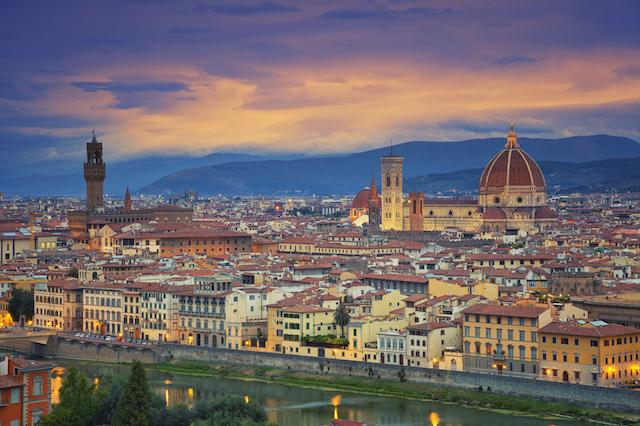 Florence
The capital of Italy's Tuscany region, the city of Florence is ripe with worldly attractions. Not only for being the home of some of the world's most renowned masterpieces, such as Michelangelo's "David", Botticelli's "The Birth of Venus", and Leonardo Da Vinci's "Annuciation", but also for its romantic architecture. Florence is said to have some of the finest masterpieces in the country, and the Florence Cathedral is just one example of this across the city. Located among the beautiful Tuscan hills, the city is a cultural hub that won't fail to amaze, even walking along the narrow streets will see you stumble upon an ancient sculpture or two. It's romantic, bustling, and very, very Tuscan.
---
A Rome to Florence Day Trip with Auto Europe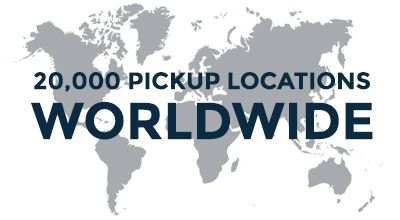 Get ready to embark on the road trip of a lifetime and explore Italy from Rome to Florence by car. Numerous destinations, attractions, and scenic vistas are packed into this Rome to Florence day trip itinerary, offering travelers a detailed guide to exploring the country's best regions. When you're ready to hit the road, give Auto Europe a call, at 1-888-223-5555, and speak to one of our expert reservation agents for everything from
luxury car rentals in Italy
, to
palatial hotel accommodations
.