We're not only passionate about traveling here at Auto Europe; we're also enthusiastic about traveling with our pets! If you're a pet parent who shares our love for including your furry friend in your travels, you already know sometimes there are numerous hoops you have to jump through in order to make it possible. These preparations get especially tricky if you're traveling internationally with your pet. So we'll skip over that chapter for now, and go straight to the importance of pet travel safety a little closer to home. Here are a few tips for safely
enjoying your next road trip
with your four-legged companion!
Keeping Your Pet Safe While Driving
According to a recent AAA study, approximately 56% of Americans travel with their dog in the car at least once every month. That statistic isn't surprising to us, but what is rather alarming is that 84% of those pet parents do not restrain their dog while driving. It's true, dogs do look incredibly adorable with their heads poking out the car window, but a free-roaming pup can lead to a number of unwanted consequences. These risks are even more prominent when you're driving on unfamiliar roads, when your full attention should be on the road ahead. The last thing you want during your road trip is to be involved in an accident. I don't think I need to go into too much detail about what can happen to unrestrained pet during a car crash, your imagination will likely paint a vivid enough picture, but the fear of something bad happening should only fuel your eagerness to be better prepared.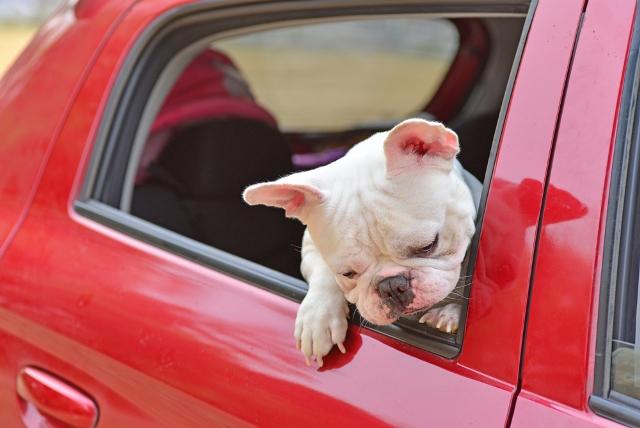 Finding the Best Car Safety Restraint for Your Small Dog
I set out on a mission to nail down a safe and effective way to help my two-year-old Yorkie, Biscuit, feel comfortable riding in the car. Even though he's never been a nervous dog by nature, and is certainly no stranger to traveling in the car (he's already been to 11 states!), he is still a very anxious rider. Normally his anxieties come out in the form of pacing, wanting to be in my lap, and occasionally trying to burrow under the seats. He may only be six pounds, but these actions are distracting nonetheless.
In all the research I did beforehand, it seemed like dog booster seats were one of the best (and safest) ways to go for breeds weighing less than 20 lbs. While I was scouring the internet for the best small dog booster seats, it seemed like every product picture of these car seats I found contained a well-behaved dog, looking like they were absolutely loving life, so naturally I was curious to see how my wiggly, pint-sized pup would react to being in a similar situation. Now the task was finding the right brand.
Small Dog Booster Seat Review
A few months ago we wrote a post about choosing the best pet carrier for your next trip, so during my quest to find the perfect car restraint for my dog, I turned to one of the best performing pet travel brands for advice. Kurgo has a solid reputation of being a leading supplier of high-quality dog travel supplies and accessories, and I felt confident that they'd have the perfect
dog booster seat
for my Yorkie. It was important to me to find a pet car seat that was not only sturdy, durable and safe, but also easy to set up and break down.
After reading numerous product reviews, I decided that the
Color Splash Dog Booster Seat
was probably the best choice. The booster seat's metal supports made it look sturdy, which lead me to believe that it wouldn't collapse when in use, and users said it was easy to disassemble and store when not in use. The fact that the booster seat is waterproof and has a machine washable liner and a reversible pad was also a plus.
When the Color Splash Booster Seat came in the mail, I was pleasantly surprised by how big it actually was. There was plenty of room for Biscuit to sit up and look out the window, but also enough space for him to stretch out and take a nap when he feels so inclined. It's easy to assemble and it can be used in either the front or the back seat, depending on your preference or number of other passengers in the vehicle. Being able to see out the window has noticeably eased Biscuit's nervousness, and the fact that he's safe and secure puts my mind at ease.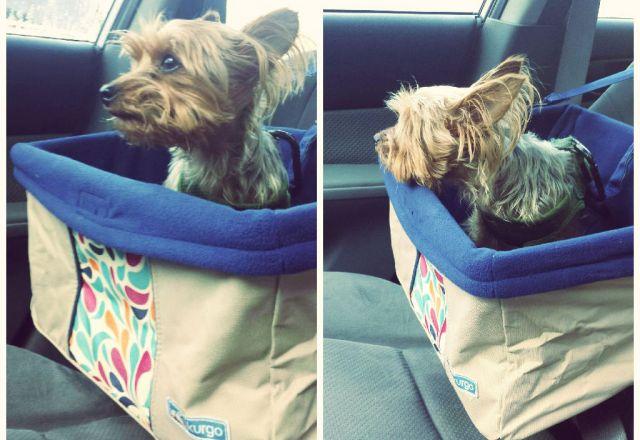 Let Auto Europe Help You Plan Your Next Road Trip
Wherever the road ahead takes you, keeping your pets safe while traveling is the first step to having a successful adventure. With over
60 years of industry experience
, Auto Europe is committed to ensuring your next road trip unfolds seamlessly. From
affordable car rentals
in over 180 countries, to an array of other services including
one way car rentals
, motorhome rentals, airfare, hotels and more - we have all the
travel tips
and tools you'll need while traveling with your pet. Call us toll-free today at 1-888-223-5555 for more information about planning the perfect road trip.