Renting a car is a great opportunity to experience driving a car that you wouldn't normally drive. That's where luxury car renting comes in. Renting a luxury car gives you a chance to feel the power and drive of some of the world's best cars, without having to buy them! It's like going on a two-week long test drive.
There are so many benefits to
renting sports cars in Europe
- you get to drive without really trying, you can live out your driving fantasies, and you can take the corners and bends on windy European roads with ease.
What's more, most of these cars come with the latest technology and safety features, which means you won't have to worry about the bigger things. Everything is taken care of - all you have to do is plan your trip and drive.
We must have convinced you that renting a sports car is the right thing to do by now? If so, then it's time to decide which one. With so many incredible long-lasting brands on offer, we've made a brief summary of the top luxury car brands to highlight their features, and decided on the best options between BMW vs Benz vs Audi.
---
BMW 5 Series Rental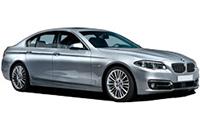 The BMW 5 Series is sleek, dynamic, and luxurious. Perfectly designed to fit the whole family comfortably, while maintaining a sporty power to weight ratio and plenty of drive, the BMW Series 5 offers a unique driving experience that is perfect for longer trips.
Able to seat five passengers comfortably, the BMW 5 Series is a four-door sedan with all of the latest technologies and safety features to keep you and your family happy on your trip of a lifetime. Like any BMW model, the vehicle is powerful with plenty of torque and uses an intelligent energy management system to manage its alternator and battery, reducing the strain on the car and the need to refuel, and increasing performance!
BMW 5 Series Features:
Snap-in adapter for smartphones
Dynamic Damper Control for extra comfort
Spacious and family-friendly
Extremely fuel efficient
BMW 5 Series Specs:
Passengers: 5
Doors: 5
Layout: Rear-Wheel Drive
Horsepower:
240 to 445 hp
Engine Options:
2.0 L 4-cylinder, 3.0 L 6-cylinder, 3.0 L 6-cylinder diesel, 4.4 L V8
Transmission: 8-speed Automatic with Overdrive
RESULT:
The best for long trips and money saving fuel economy
---
Mercedes Benz E Class Rental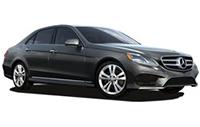 A smooth and slick ride, a
Mercedes Benz E Class rental
is definitely a class above the rest. It has some fantastic safety features, such as road-scanning radars and alerts, to ensure that you and your loved ones are always in safe hands. While it's not as sporty as other Mercedes Benz models, the E Class still packs a punch and drives fluidly and capably around sharp corners and turns.
Some variants also boast a 3.0-liter V6 diesel engine, which is great for the environment. The E Class has a solid and sturdy interior, as well as ample space and leg-room for passengers and drivers alike. The trunk is also enormous and provides plenty of room for all of your vacation luggage and souvenirs.
Mercedes Benz E Class Features:
Solid and sturdy interior
540-liter capacity trunk
Ample leg room for passengers
Environmental benefits
Mercedes Benz E Class
Specs:
Passengers: 5
Doors: 5
Layout: Rear-Wheel Drive, 4-Wheel Drive
Horsepower:
195 to 402 hp
Engine Options:
2.1 L 4-cylinder diesel, 3.0 L V6, 3.5 L V6, 4.7 L V8
Transmission: 8-speed Automatic
RESULT:
The best for comfort, safety and luggage capacity
---
Audi A6 Rental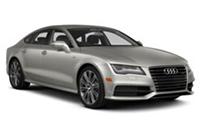 The Audi A6 is the ultimate in the arena of luxury sports cars. It has the stylish look you've come to expect from a sports car, and is premium inside and out. Enjoy the luxury leather interior combined with the crafted wood inlays, and state-of-the-art technologies as you cruise with your family and friends in the sports car of your dreams.
A high performer in city driving situations, such as heavy traffic, as well as on windy countryside roads, the Audi A6 allows you to switch driving modes, from dynamic to all-road depending on the type of terrain you are driving on. Dynamic mode allows you to increase performance and accelerate quickly, while all-road mode increases suspension and absorbs bumps better, making it better for rougher roads.
Audi A6 Features:
Tiptronic transmission
Two power-changing driving modes
Four-wheel drive
Sports car feel
Audi A6 Specs:
Passengers: 5
Doors: 5
Layout: Front-Wheel Drive, 4-Wheel Drive
Horsepower:
240 to 333 hp
Engine Options:
2.0 L 4-cylinder, 3.0 L V6, 3.0 L V6 diesel
Transmission: 6-speed Manual, 7-speed Automatic, 8-speed Automatic
RESULT:
The sportiest car in terms of performance, with the most visual impact.
---
BMW vs Benz vs Audi: The Choice is Yours
All three cars have some incredible benefits to offer a renter in Europe. They can all handle the European roads and all terrains, offer variety of performance specs, and are equally comfortable for traveling families and small groups.
When you're ready to embark on a European road trip adventure, and wish to enjoy the luxury car driving experience, trust Auto Europe to get you the best deal, with our best-rate guarantee! No matter which make or model you prefer when comparing BMW vs Benz vs Audi, Auto Europe offers a variety of
luxury car rental options
to choose from.