As the time draws near for frigid weather to fade and for the days to grow longer, the desire to get outside and discover some new scenery is a strong one. With lively seasonal festivals in full swing, blooming flowers setting cities across the Northern Hemisphere ablaze with color, and the swarms of sun-seeking tourists still months at bay, springtime is often touted as being the premier season for travel. Auto Europe has compiled a list of seven destinations to consider when planning a trip during the first of 2014's "shoulder seasons."
France
Although it will likely still be chilly in early spring, March is typically the last month until the late fall when you can travel through France on a tighter budget, and experience the sights without herds of eager tourists close at your heels. Reserve your
car rental in France
today in order to take advantage of favorable low-season prices, and witness how the entire country awakens and stretches sleepily from its winter slumber. The air is refreshingly crisp, flowers start peeking out from their branches, and menus start featuring the savory seasonal delicacies you've been craving for nearly a full calendar year.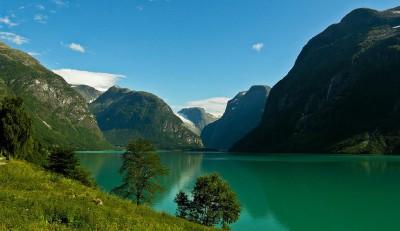 Norway
Traveling with children this spring, but searching for a destination with a little more culture than
Orlando
? The "fairytale-like" city of
Bergen
, Norway might be the perfect option. Tailor your itinerary around your children's imaginations, as you discover the natural beauty and cultural heritage of this dramatic Scandinavian region that served as the inspiration for the setting of Disney's
Frozen
. Step into the blue waters of Lake Loen for a fishing excursion that will have you feeling like a local, as you use nets to catch native trout. Or participate in a folk-dancing lesson for an inside look into one of the region's most beloved pastimes. An enchanting array of family-friendly activities will leave you and your family feeling relaxed, rejuvenated and inspired.
Germany
Pull back the layers of history on your next trip to
Germany
, and you'll find a country with a strong sense of cultural heritage. While fall gets most of the glory for German travel, thanks to the country's highly publicized Oktoberfest celebrations, the German pub scene, otherwise known as Kneipekultur, is an important way of life in many communities that travelers are able to experience throughout all seasons. During late spring, this illustrious taproom milieu begins to spill outside into atmospheric beer gardens, and is considered by some to be at its finest. Some of these outdoor venues, like Munich's Chinese Pavilion, are iconic staples in their own right, while others offer travelers a more casual experience, in the form of quiet open-air cafes in backyard gardens, nestled under lofty chestnut trees.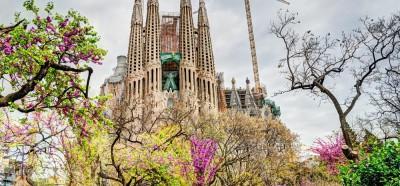 Spain
Springtime paints Spain's stunning Costa Brava region with a palate of vibrant hues. Red umbrellas shade sun-drenched sidewalk patios, turquoise waves lap the pearly pebbled shoreline, and budding flowers delicately tumble down cathedral steps during
Girona
's Temps de Flors, held every May. The images of irregular white-washed buildings, flowing skirts of flamenco dancers, and flamboyantly dressed matadors are all alive and well this season, and virtually every inch of this country offers up a unique set of scenery for visitors. The soaring spires of
Madrid
add drama to the region's legendary nightlife, and the Catalan city of
Barcelona
is saturated with art and design, influenced by some of history's most creative minds: Dalí, Picasso and Miró.
Italy
Brimming with culture and life, it's undeniable that
Italy
has plenty to offer visitors year-round, but given the country's international popularity, worthwhile attractions may be crowded during peak travel seasons, completely detracting from your memorable experience. Foodies should consult with the country's seasonal culinary calendar as they begin to draft their travel plans. During the springtime, markets fill with fresh, local produce, making springtime the prime time to sample some of Italy's most delicious and unusual vegetables. Art exhibits are another great reason to travel during the spring. Museums throughout the country traditionally have two major temporary exhibitions per year; one opening in the fall (typically running from September or October through December or January), and one in the spring (running from February or March through May or June).
England
England
is the one of the best places to be in
the UK
this spring, as it plays host to an array of festivals and exciting events over the course of several months. When
traveling to London
, it's best to plan both indoor and outdoor activities, so you are able to make the most of your days, whatever the weather! If you happen to get caught in an April shower, cozy up to a local bar for a hearty meal, accompanied by a pint of ale or cider, reminiscing about the day's events with your travel companions. If pubs aren't really your thing, there are charming tea rooms sprinkled throughout the country, serving up homemade pastries and light lunches that are perfect for friendly conversation and reflection.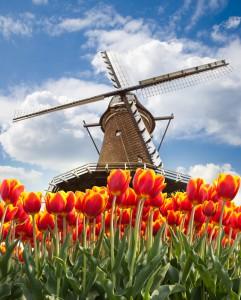 The Netherlands
You'll be hard-pressed to find a more iconic "spring image" than the vibrantly colored tulip fields scattered throughout
the Netherlands
. Flowers throughout Holland reach their peak in April and May, making this the ideal time to plan a European spring drive. Rent a car in the Netherlands and embark on sightseeing excursion of a lifetime. Driving your car rental along the Bloemen Route (Flower Route) from Haarlem to Leiden, will offer the densest concentration of flower fields, with alternating strips of brightly colored blossoms cascading off into the horizon. Many first-time travelers are surprised to discover that Holland is more than just a land of windmills, tulips and canals; this country also manages to be a progressive, forward-thinking nation, filled with both large and small cities that are all rich in character.
Amsterdam
, for instance, is famous for its waterways and easy-going atmosphere.
Auto Europe
has been helping clients arrange affordable car rentals in destinations around the globe for nearly 60 years. We have over
20,000 convenient international pick-up locations
, so no matter where you happen to be traveling this season, we'll be able to help you rent a car. Reserve your car rental online today using our secure, three step booking engine, or dial 1-888-223-5555 to speak with a member of our award-winning customer service team directly.