History has shown that couples in love will always find a way to creatively express their feelings, whether they choose to send their significant other flowers, carve their initials into a tree, tattoo their loved one's name on their body, serenade their sweetheart with a song, or more recently, seal their feelings with a metal lock, there is no suppressing one of the greatest human emotions.
One part controversy, two parts international symbol of everlasting love and devotion, love lock walls are a popular travel trend that can be traced back as far as World War II, some even believe the custom started in ancient China. The ritual can most recently be attributed to the 2006 bestselling Italian novel
I Want You
by Federica Moccia. Over the past several years, these walls have sprung up in some of the most romantic cities around the world, with some visitors venturing to these locales for the sole purpose of seeing these structures up close.
If you happen to be traveling through Europe this Valentine's Day, or are looking for the perfect way to make an over-the-top pledge of commitment in the future, the key to securing love in the 21st century might be as simple as chaining a padlock to one of these walls, gates or bridges. But use caution before placing a lock on any piece of public property, or you may find yourself being hit with a hefty fine. Once you've sealed your endearing promise with a master lock, or admired these colorful mosaics from afar, rent a car with Auto Europe and continue falling in love with these enchanting cities.
Paris
The city of
Paris
has long been synonymous with romance, and is virtually overflowing with lover's lairs, from atmospheric sidewalk cafes and secluded benches near the Seine, to trendy wine bars and captivating night clubs. The city's fascination with love locks is seemingly entwined with its image as an amorous destination, but despite travelers' best intentions, this ritual and its tiny markers of affection are causing a number of very large issues. In addition to being described by some as being an eyesore and "excessively showy", the weight of the thousands of locks that decorate the Pont des Arts (as much as 330 pounds on a single grate) is now becoming a concern of public safety for people in the boats and barges that pass under the bridge. One possible solution that has been suggested by city officials is to remove locks every six months or one year, depending on the concentration; lightening the load on the structure, while making room for new couples to hang their locks.
London
Somewhere down the line, the love lock movement made its way to England, as padlocks began appearing on numerous public landmarks, including Tower Bridge in the
winding streets of London
. Although these displays certainly add an intriguing element to the city's already pleasing aesthetic, the ritual has been discouraged by authorities, and plans to cut down existing locks are already underway. Couples with their hearts set on participating in the trend while visiting the United Kingdom should turn to a local love lock manufacturer, such as LoveLocks UK, a company that has created an innovative solution to reducing the environmental impact of the tradition. Public spaces called "Lovescapes" are popping up across the region, giving couples a place to leave their mark, while lowering the amount of 'rogue locks' that appear on well-known landmarks.
Venice
Yes, it's true, gondola rides are a little on the pricey side, but to share a moment beneath the Bridge of Sighs at sunset with the person you love might actually resonate as a more significant memory from your
trip to Venice
than opting to place a lock among the hundreds that already reside on the Ponte dell'Accademia. It might also keep you from being on the receiving end of a €3,000 fine, or having to endure an extended stay in an Italian prison. Yes, critics of this ritual are pushing for significant fines and jail time for love lock offenders, and local authorities are constantly in pursuit of catching individuals in the act. Our advice? Figure out an alternative (and legal) way to express your feelings while traveling in Venice; we're sure your sweetheart will understand.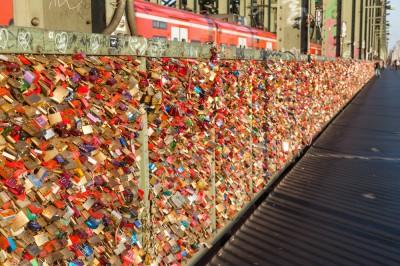 Cologne
In contrast to Venice, one city that embraces this tradition is
Cologne
. Every year an increasing number of travelers venture to the city, placing padlocks on the railings of the Hohenzollernbrücke Bridge. As proof of their commitment to one another, couples then throw the key into the Rhine River below, a sentiment that is thought to seal their promise forever. Created piece by piece by couples who have come to the bridge to publically honor their love, nearly 40,000 padlocks now decorate this space, each inscribed, painted and personalized by the individuals who hung them. What once served as one of the most important bridges in World War II has since transformed into a symbol of peace, acceptance and love.
Edinburgh
Local authorities in
Edinburgh
are also on board with the love lock trend, and have taken things one step further by adding in a charitable element. Visitors are encouraged to purchase their locks locally and place them on a dedicated area of the Forth Road Bridge; any profit that is generated from sales and engraving services will cover material costs, and what is leftover will then be donated to local charities. Organizers of this specific movement hope this trend will attract more traffic to the city, as well as giving couples a unique way to leave a personalized memento on the bridge before returning home.
Will Love Locks Stand the Test of Time?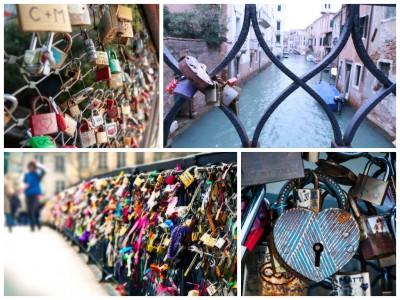 Over the years in cities around the world, entire sections of padlocks have been stolen in the name of art, and several destinations have even started removing locks from popular bridges, walls and gates in order to restore historic landmarks back to their original state, as well as in an effort to maintain public safety. As with many trends, there are positives and negatives associated with this travel phenomenon, and it is important for everyone to understand the pros and cons of this custom so that correct decisions can be made while visiting a foreign city. Despite attempts to discourage the trend, this movement is still allowed in many European countries, and in addition to the cities we've mentioned here, travelers can also see love lock walls in cities throughout
Poland
,
Austria
,
Belgium
and
Spain
.
Renting a car while traveling abroad is one of the best additions you can add to your trip's itinerary, and reserving one has never been easier!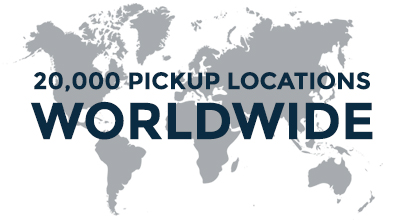 Auto Europe has been helping clients arrange affordable car rentals at over
8,000 convenient pick-up locations
in cities around the globe. Reserve your car rental online using our secure, three-step booking engine, or contact one of our travel experts directly by dialing us toll-free at 1-888-223-5555.
Auto Europe urges travelers to use caution before placing a padlock or other personal artifact on a bridge or another public space, as it is often seen as a form of vandalism and can detract from a location's natural beauty. We do not endorse or encourage such behavior, unless it is openly allowed by local authorities.