This scenic drive takes you from Los Angeles to San Francisco and everything in between. Experience the laid back culture of California by stopping in small surf towns and artist-run villages. Feast and drink your way through endless restaurants and bars. This road trip driving time takes around 7-8 hours and perfect for just about anyone
Start: Los Angeles
Finish: San Francisco
Duration: 3 Days (742 km)
Please note: Due to numerous natural causes in early 2017, parts of Highway 1 are currently closed, however, most access has now been restored. Even though you can't currently drive the full stretch of Highway 1, the detour (which takes about 30 minutes more than the original route) is filled with scenic views, incredible wine, and historic attractions worthy of exploring. Click here for more information. Updated 15 Aug 17.
Day 1: Los Angeles to Santa Barbara
Duration: 155km - 1.5hrs

Start your west coast adventure by leaving Los Angeles on the US-101 N. Along the way, stop at the coastal town of Ventura for a seaside lunch with sparkling pacific views. After lunch, catch a wave, do a spot of shopping or visit a local gallery and chat with an artist or two. In the afternoon continue on the 101 to Santa Barbara where you'll be spending the night. Santa Barbara is home to Spanish colonial-style buildings, upscale boutiques and fine-dining restaurants; the city has a distinct atmosphere of both history and luxury.

We Recommend: Visit the nearby town of Solvang, a Danish-style village that enjoys good wine.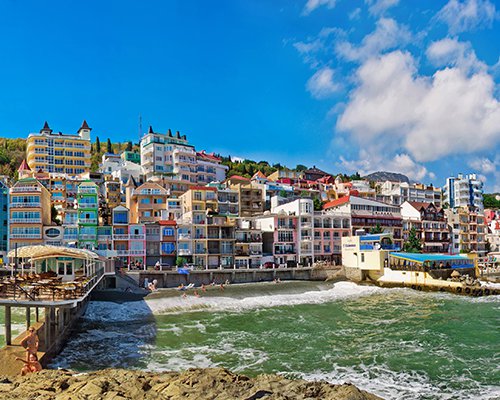 Shores of Santa Barbara
Day 2: Santa Barbara to Carmel
Duration: 387km - 2hrs

Wake up early for a big day of driving, sight-seeing and fun. Continue on the 101, heading north towards San Luis Obispo. It takes about 1.5 hours to drive to San Luis Obispo, with spectacular views of the ocean along the way. San Luis Obispo marks the half-way point between LA and San Francisco and is known for being a romantic spot, with wine tasting and trail rides. Whether you have lunch here or just have a stop-over, you'll be sure to enjoy yourself.

Drive from San Luis Obispo via Highway 1 to San Simeon, where you cannot miss visiting the splendid Hearst Castle. This stately home is truly a sight to be seen. In its heyday, media mogul William Hearst would invite the rich and famous from San Fran and Hollywood to come mingle in 'Great Gatsby' style (think weekend long parties and luxurious escapades). As you could imagine, Hearst Castle can get quite busy so we recommend booking tickets in advance. For more information, click here.

Hop into the car and merge back onto the 101 which will take you to the picturesque town of Carmel-by-the-Sea. This charming village was founded just over 100 years ago and is home to many artists and free-spirits. You'll see charming fairy-tale buildings, restaurants and boutique stores lining the streets. A number of celebrities have called this place home over the years; including Clint Eastwood who was the mayor for 2 years in the 80s. Stay the night in one of the locally-owned hotels or B&Bs.

Fun Fact: There are no chain restaurants in Carmel, which makes every dining experience truly unique. Ask a local for their favourite.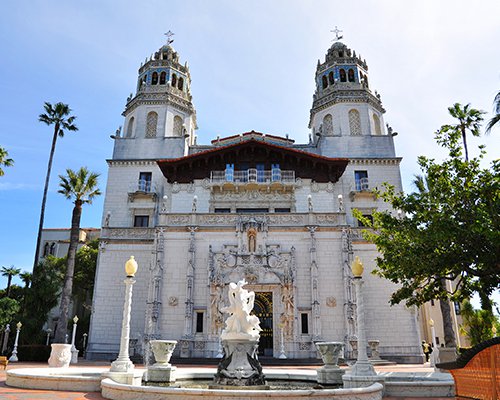 Entrance to Hearst Castle
Day 3: Carmel to San Francisco
Duration: 200km - 2hrs

Today you say goodbye to Carmel and head for San Francisco via Highway 1. This route takes slightly longer than the 101 N; however you'll get amazing views of the Pacific Coast. You'll also pass towering Redwoods, and may even be lucky enough to spot elephant seals lounging on the beach.

Once you arrive in San Francisco, we suggest going on one of the many interesting and entertaining tours available. For a fantastic day-long excursion filled with both intriguing history and yummy food, book the Ferry Building Food Tour and Alcatraz Excursion. The Ferry Building is a historic landmark that was renovated a few years back, it's now a buzzing hub of foodies and artisans of all kinds. Alcatraz Island was home to a federal prison from 1934-1963, keeping infamous convicts such as Al Capone under lock and key. When visiting the island, you can expect a tour of the cell house where the prisoners would have been kept. We hear it's one of America's most haunted spots, so prepare yourself for a chance encounter.
Exploring San Francisco
If shopping is more your style, San Francisco definitely has you covered with a plethora of options to get your fashion fix. For a large range of brands, Westfield San Francisco Centre is the place to be. If you're in search of international designers, head up-town to Union Square; here you'll find luxurious brands such as Prada and Hermès. If you're after a unique shopping experience, stroll along the streets of Haight-Ashbury. In the 60s, this district was also a 'hippie-hub' and you can still find shops from that era dotted between high-end vintage clothing stores and exclusive boutiques.

San Francisco is an incredibly culturally-diverse city with over 45% of the population speaking another language apart from English at home. Its impressive Chinatown and Japantown are some of the largest and best in the USA. We suggest visiting the Golden Gate Fortune Cookie Factory in Chinatown to see where this famous Asian treat was invented.

At night, San Francisco comes alive with a true sense of enjoyment. Explore the best joints with a bar crawl or try your hand at a cocktail making class. Maybe a late-night art gallery viewing, or a theatre performance? Whatever you feel like, this city has the answer.

We Recommend: If you're planning to use the Muni transit system, we recommend buying a visitor passport. This will allow you to ride Muni buses, light rail and cable cars as much as you want. A 1-Day visitor passport costs $21.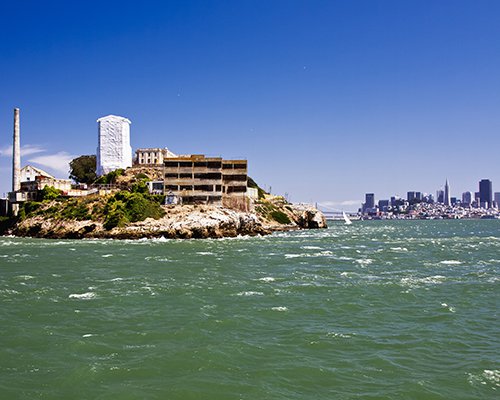 Alcatraz Island with San fran City in the background