As you're narrowing down the search for the ideal backdrop for your holiday plans, the notion of postcard-perfect villages steeped in old-world charm seem to be the most prominent in your mind. You have your heart set on making this trip one your family will never forget, but you're looking to go beyond the
busy city streets of London
,
Paris
and
Rome
. You're getting creative with your trip's itinerary and are searching for those quintessential seasonal characteristics that make a city unique. Whether you're interested in visiting Santa's hometown, listening to carolers in old historic quarters, or are simply ready to soak in the beauty of a white Christmas with your loved ones by your side,
Auto Europe
can help arrange a car rental that will best suit your travel needs. These five frozen-in-time European villages will help you appreciate the beauty of taking it slow this holiday season.
Tallinn, Estonia
The month of December is one of the best times to
visit Tallinn
, as the holiday season offers an array of exciting activities for residents and visitors alike. Spend some time touring the city with your rental car and make your way to Tallinn's Medieval Old Town, with its cobblestone streets, gabled roofs, soaring towers and ancient walls, you are likely to feel as though you have stepped back in time and straight into a fairytale. The atmospheric streets and secret courtyards are especially magical during the winter months when they're accented by a fresh layer of snow and outdoor candles fill the lanes with a soft, flickering glow. Tallinn is further illuminated by a full list of scheduled events, like festive concerts, jazz performances, film screenings and other engaging cultural events.
Lapland, Finland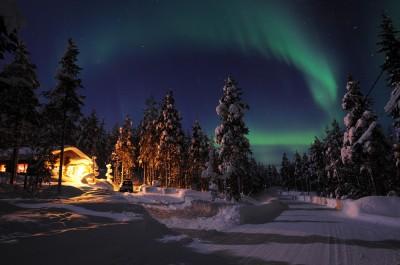 There are few destinations in the world that are as quintessentially festive as Lapland,
Finland
. This picturesque realm and unofficial residence of Santa Claus, sprawls across the arctic regions of northern Norway, Finland and Sweden, creating the perfect setting for your holidays abroad. Drive your rental car to Santa's village in Rovaniemi, a tiny town in Norway, and watch Santa's Elves hard at work. Give your friends and family back home a souvenir they'll never forget when you get your postcards stamped at Santa's post office and your children will love a cooking lesson with Mrs. Claus. Later in the evening, view the iconic aurora borealis (northern lights) from a guided snowmobile tour, or from a once in a lifetime dog-sledding excursion in nearby scenic Tromsø,
Norway
.
Ljubljana, Slovenia
Ljubljana
is Slovenia's vibrant capital city, brimming with cultural creativity and offering a truly authentic holiday experience. Sometimes referred to as a mini-
Prague
, the city provides central European charms and a medieval presence filled with Baroque and Art Nouveau lusters, but without the crowds. Spend some time exploring the historic city center, where local artisans sell authentic crafts and the mingling scents of winter delights float through the air. There are several resorts in the region with plenty of amenities to offer ski enthusiasts. In addition to outdoor activities, Slovenia is also well known for its spa and wellness centers, which are ideal avenues for combining rest and relaxation with traditional holiday activities.
Amsterdam, Netherlands
Believe it or not, there's always an abundance of family-friendly events happening every year in
Amsterdam
. From Christmas Markets to live performances, winter festivals to ice skating; the city comes alive with vibrant village charm, and invites travelers from all over the world to participate in the wintry fun! Twinkling lights shine bright above the city, as visitors snuggle up in warm cafes, waiting for the annual winter parade to begin. Traditional Christmas markets are also a great place to experience the yuletide atmosphere. Park your rental car and browse through stalls of hand-crafted goods, as spicy aromas of cinnamon stars, baked apples and roasted almonds tempt you around every turn.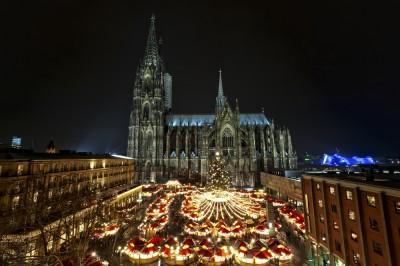 Cologne, Germany
When the air is crisp and the streets are covered in glistening snow, drive your rental car to Cologne's city center to bask in the glory of the Cologne Cathedral. The Dom, as it is referred to by locals is credited as being one of the greatest Gothic structures in all of Europe. This remarkable mass of chiseled stone, soaring spires and stained glass, survived the Second World War mostly intact, and the medieval heart of the city still beats within its walls. Outside of The Dom, visitors will find advent magic spread throughout the Old Town when the local Christmas markets open their illuminated gates in late November. Young and old can immerse themselves in local culture and tradition when they help pewter pourers, wreath binders and glassblowers practice their craft at one of the many seasonal demonstrations happening throughout
Cologne
during the holiday season.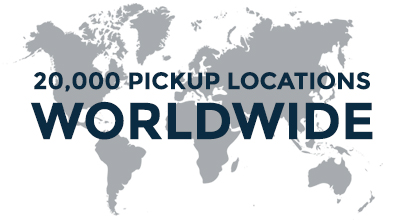 From caroling to Christmas markets, Europe is filled with atmospheric holiday havens, and wherever you happen to be traveling this season, any time spent with your loved ones is guaranteed to be special. Create memories for years to come and rely on Auto Europe for all your car rental needs while traveling in Europe. We are committed to providing you with the best rate on a rental car and ensuring that planning your trip is as hassle-free as possible! Contact us toll-free at 1-888-223-5555 today to make your reservation!