The sand is golden, the water is clear and there is a kaleidoscope of color waiting peacefully below the surface, but what really sets each European beach apart from the next? There are hundreds of beaches in Europe, so naturally it's going to be a challenging task to find that one perfect spot that will be worthy of staking your umbrella for the day, so we've compiled a list of ten of Europe's best beaches.
---
Lampedusa, Sicily
Considered to be the most unspoiled beach on the planet, Rabbit Beach on the Sicilian island of Lampedusa is one of the few places where travelers can go to escape from it all (beach-side trinket peddlers included). Watch loggerhead sea turtles scurrying to shore to lay their eggs, dive into the turquoise waters to snorkel, or simply relax on land and discover hidden grottoes and secret swimming spots filled with mineral-rich waters that are tucked along the shoreline. On the eastern part of the island, travelers will find rocky coves such as Cala Creta, where you're able to dive off the jagged cliffs into the crystalline waters below.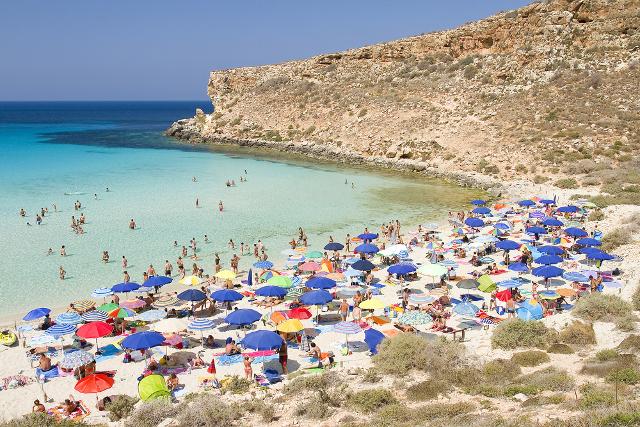 ---
Formentera, Balearic Islands
Located just south of the party island of Ibiza, you'll find the Balearic Island of
Formentera
. Although considerably smaller (and quieter) than its neighbor in the north, Formentera harbors an array of stunning beaches perfect for swimming, sunning and splashing. So kick off your sandals and sink your toes into the sand, dive into the inviting waves, or watch a pod of dolphins cavorting not far from the shore. Your travel options may be varied, but there's certainly no "wrong way" to spend your days in the Balearics!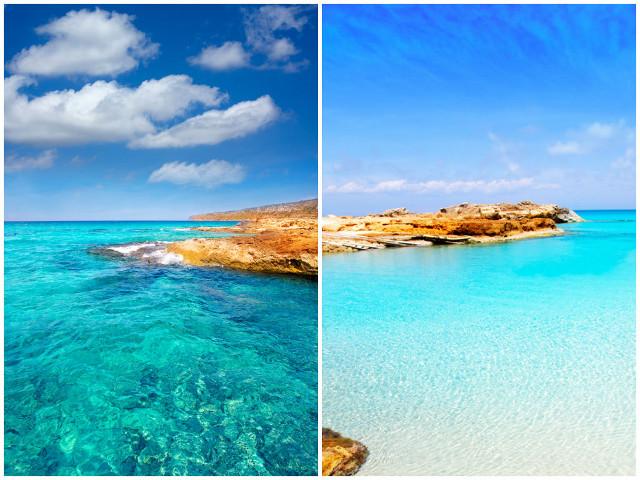 ---
Rhossili Bay, Wales
Travelers looking to unwind on their next trip to the United Kingdom will find sanctuary in Swansea,
Wales
, home to the beautiful Rhossili Bay. The three-mile expanse of Rhossili Beach is a beautiful curve of white sand, enclosed by steep limestone cliffs, attracting visitors with a varied set of interests. Rhossili Beach is a haven for fishing, windsurfing, hang-gliding, paragliding, rock-climbing and birding. Views of the bay from the surrounding cliffs provide panoramic views of the Rhossili's awe-inspiring landscape.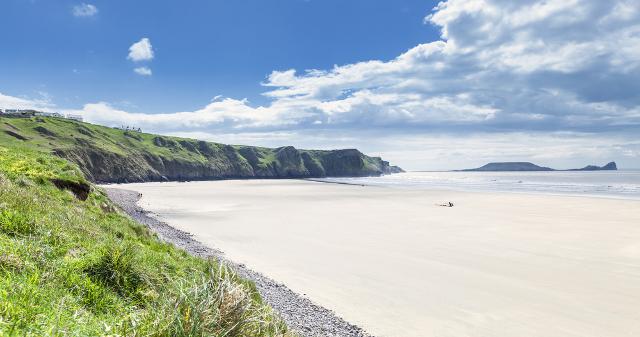 ---
Playa de las Catedrales, Ribadeo, Spain
Appropriately named "Beach of the Cathedrals" in honor of the extraordinary natural rock formations that resemble soaring arches of a large church, the coastline of Playa de las Catedrales in Ribadeo is an unusual mixture of naturally formed spires and sea caves. Over the years, the beach's magnificent set of cliffs have been carved by fierce winds and crashing waves, forming towering arches and spectacular vaults, which have ultimately created one of the most breathtaking beach landscapes in the entire world. Particularly alluring during the Noche de San Juan in June, a celebration that coincides with the summer solstice, travelers will be able to see thousands of bonfires lit along the coast and countless beach parties lasting through day break.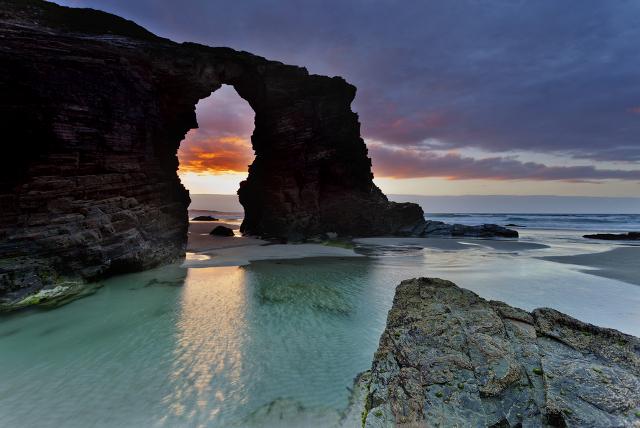 ---
Elafonissi, Crete, Greece
The beaches on the islet of Elafonissi are an enchanting composition of white sand and turquoise waters, creating a masterpiece that can only be described as paradise. Complete with pink coral sand and some of the clearest waters on Earth, this magical place was deserted for a number of years, but has now become a popular attraction during the summer months. Elafonissi is connected to the rest of
Crete
by a shallow reef that can be crossed when the sea is calm, and while it may seem like a hassle to actually get to, we promise it'll be worth it!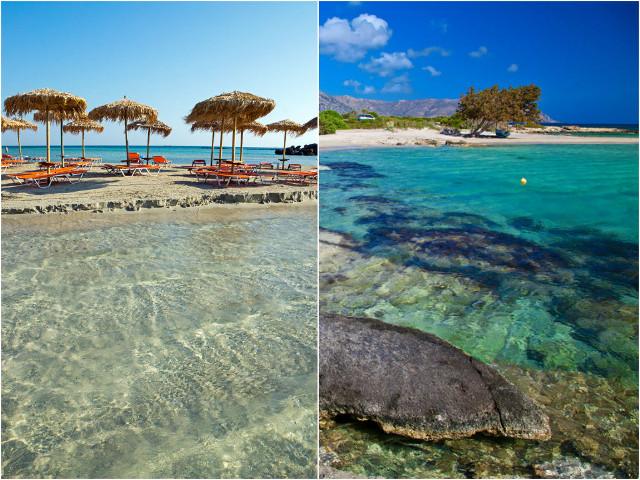 ---
Protaras, Cyprus
Nestled along the sandy coastline of
Cyprus
's Fig Tree Bay, the postcard-worthy beaches of Protaras are the region's main attraction. In addition to the beaches of Fig Tree Bay, there are five other quality stretches of sand nearby, with several boasting prestigious Blue Flag status. The criteria for a beach to obtain the Blue Flag are based on the quality of the seawater, a beach's access to safety and services, environmental education and information, as well as environmental management, which are all categories that are well represented in Protaras!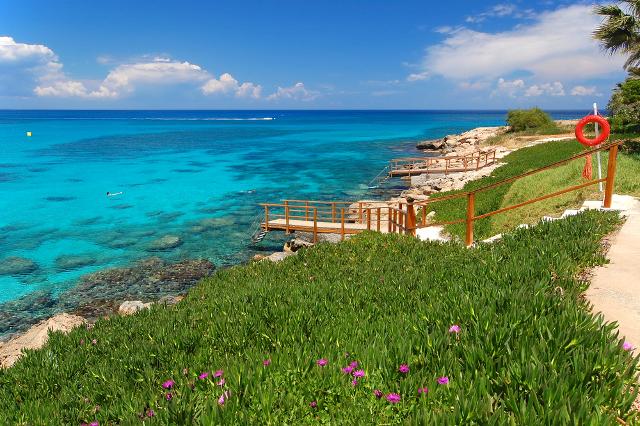 ---
Biarritz, France
With a name as classy as
Biarritz
, it's not surprising that this stylish beach city was once a favored vacation destination for nobility. Over the years, this seaside community has transformed into Europe's surfing capital, where flip-flops are just as common as six-inch Louboutins. The old promenade along the Grande Plage leads past the Casino Barriere and the Museum of the Sea, where travelers can watch shark-feeding sessions during designated seasons. If you'll be traveling with a golfer, they'll appreciate break from the beach in order to tee off at any of Biarritz's eight phenomenal golf courses. The city's mild climate and sheer beauty of its coastline, punctuated by curved inlets and rocky outcrops, make Biarritz a destination of enchantment during practically every season.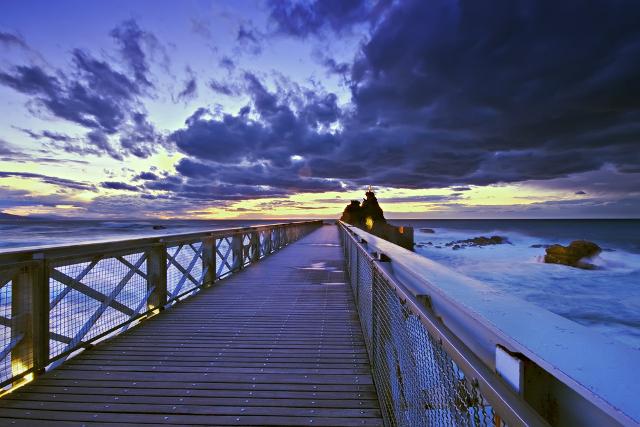 ---
Albufeira, Portugal
The
Albufeira
Coastline extends for roughly 18 miles and is divided into 25 different sections of beach. The fine sand is gently lapped by crystal-clear warm water that captivates bathers from all over the world. Not only notorious for their serenity and cleanliness, the Albufeira shores are also praised for their supporting facilities. From small secluded beaches surrounded by walls of rock, perfect for private picnics, to bustling stretches of sand, brimming with plenty of fun, there's a beach in Albufeira that will impress every member of your travel entourage!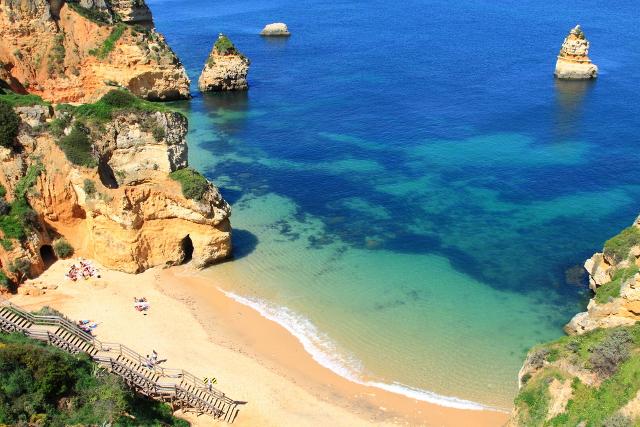 ---
Brela, Croatia
Every cove along Brela Beach is like a private hideaway, lined by pine trees, and completely invisible to any road. Located between the mountain of Biokovo and the Island of Brae, the alluring town of
Brela
possesses an earthly beauty that is truly second to none. Charming pebbled beaches are accented by pine forests, while clear seas and beautiful seaside promenades guarantee a completely unforgettable vacation. Kick back, breathe in the fresh air and fully immerse yourself in the relaxed atmosphere of this colorful seaside escape.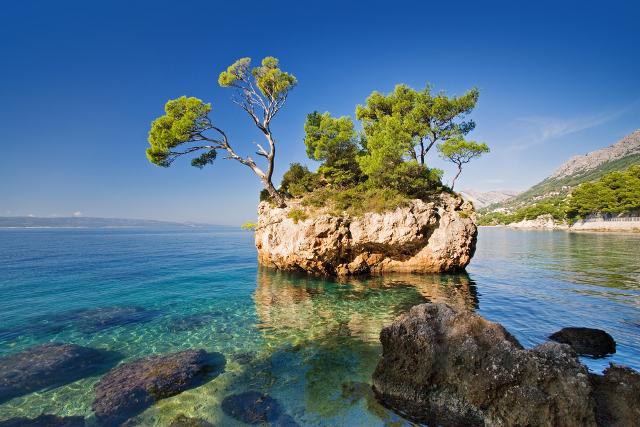 ---
Make the Most of Your European Beach Vacation
Blend in with the beauty of your surroundings on your upcoming trip to Europe and see your host city from behind the wheel of a
luxury car rental
. Auto Europe has been helping clients arrange traditional car rentals, as well as helping travelers secure the guaranteed best rates on a number of other travel services since
1954
. We strive to make planning your upcoming trip as hassle-free as possible, and our unbeatable car rental rates are always backed by award-winning customer service. Reserve your car rental online using our secure, three-step booking engine, or call one of our reservation specialists toll-free 24/7 at 1-888-223-5555. To stay up-to-date on the latest travel deals and promotions, sign up for our
newsletter
today!