Cowboy culture in the U.S. and Canada is well documented, but what many people don't know (or simply forget) is that Latin America has a storied relationship with horseback riding which predates the start of "Western" riding by several centuries. North American riding draws influence from the gaucho way of life found south of the border - a cowboy lifestyle and riding tradition which traces its roots all the way across the Atlantic to Spain. You need look no further than the language used in modern day riding (lariat, chaps, rodeo) for proof of this Latin influence.
This is one reason horse lovers from around the world are connecting with the history of their favorite sport through travel. Equestrian tours to Central and South America have surged in popularity in recent years - allowing both beginners and accomplished riders to experience a new culture and to see a new part of the world. More than this, horseback riding in South America is a spiritual journey - it scratches a deep spiritual itch all horse-lovers feel. It deepens your relationship with your family and, most importantly, it allows you to better-know yourself.
Today there are numerous destinations which offer first-class recreational horseback riding in South America - a continent where horse culture remains strong even as cowboy culture here in North America is slowly being replaced. Whether you're hoping to ride the native Criollos and Peruvian Pasos through the awe-inspiring ruins of the Inca Empire in Peru, hope to tour the glaciers of southern Chile by horseback or you plan to tour the pampas and Andes of Argentina - South America has something unique and necessary to offer horse lovers of every shape, size and experience level.
In this article we'll take a closer look at three of the best destinations for horseback riding in South America. We hope you leave inspired to enjoy the trip of a lifetime.
---
Horseback Riding in Argentina
Horseback riding in
Argentina
is an integral part of this nation's history, folklore and economy. As majestic and recognizable as the American cowboy, the Argentine gaucho is a symbol of riding tradition - a tradition that is alive and well in Argentina.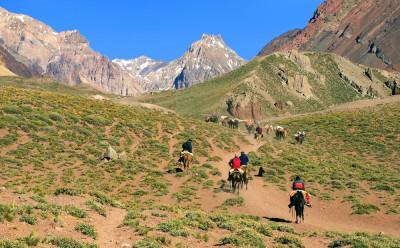 Argentina offers travelers a huge and varied landscape to explore by horseback. In the north the Iguazu Falls cascade in spectacular fashion - painting rainbows with brilliant spray. The rugged glaciers of Tierra del Fuego stretch across southern Argentina, spanning a territory the length of America's east coast. But perhaps the most popular horseback riding in South America is found in Patagonia where expansive estancias (guest and cattle ranches) sprawl at the foot of the Andes. Visitors to these ranches are welcomed by cattle ranching gauchos whose families have worked the land by horseback for generations.
One of the most popular ranches in this area is Estancia Los Potreros (a 6,000 acre cattle ranch in the mountains just north of Cordoba). Estancia Los Potreros has been in the same Anglo-Argentine family for four generations and they do an excellent job of welcoming guests from North America by blending an authentic glimpse of local Argentine horse culture with first-class hospitality, food and accommodations. To offer some insight into what one of these once-in-a-lifetime trips might cost: an 8 day, 7 night stay at Estancia Los Potreros starts at $2,520 per person and visitors can expect to spend 6 of those days riding (approximately 5 hours per day on horseback). The trip welcomes families and riders just starting out but will also be enjoyable for advanced riders and groups with mixed riding abilities.
---
Horseback Riding in Chile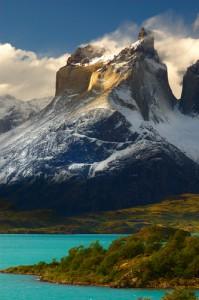 Horseback riding in
Chile
is the ideal way to see the most beautiful corners of this gorgeous country. The mountains and glaciers of Torres del Paine National Park in south Chile provide photographers and travelers with some of the most spectacular views in the world. Rising almost vertically from sea level to nearly 10,000 feet the cliffs in Torres del Paine enjoy a more dramatic rise than even the Tetons in Wyoming. The region has been named a World Biosphere Reserve by UNESCO and this region of extreme South America was most famously observed by Magellan as he sailed to reach the Pacific in 1520.
The Criollo cross horses common in Chile are renowned for their wonderful endurance and the terrain in this part of the country is well-suited to long, galloping rides. Though remote, this is a beautiful region and travelers are invited to either camp or stay in haciendas during their stay. Hardy farmers have raised sheep on huge estancias for centuries in Chile and during your horseback rides you'll enjoy views of uncommon wildlife like rhea, guanaco and condor (the largest bird in the world with an imposing wingspan of nearly 12 feet).
Travelers hoping to explore the beautiful extreme south of Chile should be experienced riders comfortable in the elements (it often gets very windy). Visitors who match this description are guaranteed one of the most memorable horseback adventures of their lifetime.
---
Horseback Riding in Peru
Horseback riding in
Peru
allows travelers to explore the Sacred Valley of the Incas, nestled high in the Andes, from a unique vantage point. This valley served as the heart of Incan civilization - one of the most highly developed of its time. With control over an area which extended from Ecuador down the Chilean coast. Exploring the Sacred Valley by horseback allows travelers to take in the monolithic remains of this powerful empire against the backdrop of the towering peaks of the Andes.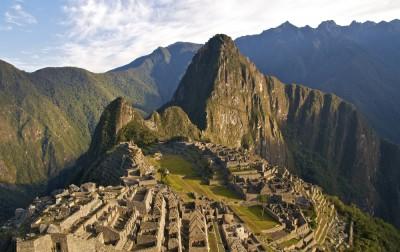 Peruvian Paso horses are beloved by both residents of and visitors to Peru because they are reliable, rugged and fun to ride. Mounted on a native horse, your guide will introduce you to parts of this historic region that are rarely seen by tourists (who often go straight to Machu Pichu). Travelers who book trips horseback riding in South America rave about the region's delicious cuisine and nowhere is the dining better than on the trail in Peru. Here the food is a perfect blend of Peruvian and Spanish Colonial offerings, relying heavily on fresh, local produce.
During your trip through the Sacred Valley you and your party will be invited to reflect on how advanced this ancient civilization was. Imagine the skill required to move huge stone slabs which weighed over a hundred tons, positioning them in a way which has allowed them to remain in place for years without the use of mortar or any modern binding agent.
Depending upon your budget and the duration of your stay in Peru there are numerous options for horse-lovers hoping to explore the Sacred Valley by horseback. Short 3-day rides in the Sacred Valley start at just $820 per person (for groups of 5-8 riders) and feature 3 days and 2 nights on the trail with an average of 5 hours in the saddle each day. Longer tours are also available and for $4,600 per person you can enjoy an 11 day, 10 night trek through the Sacred Valley of the Incas. During your trip you'll enjoy 6 days of extended rides (up to 7 hours on your horse each day) and you'll also have the opportunity to enjoy day trips and hiking trails ... working up an appetite for the superb local cuisine.
---
Explore More of South America with Auto Europe
For your next trip consider horseback riding in South America - a unique and memorable opportunity to bring the whole family on a one-of-a-kind vacation, learn about a new country and culture and bond with native gauchos as you spend the day alongside them on horseback.
With
discounted rates
on
car rentals
, and
hotels
throughout South America, Auto Europe is ready to help you start planning your horseback riding getaway today. Call us toll-free 24/7 at 1-888-223-5555 to get started!