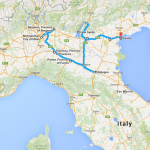 Driving Milan to Venice:
The great Italian landscape is best seen by car. Endless fields, stunning vineyards and quaint villages are just waiting to be explored and discovered. There are a number of excellent driving routes you can take in Italy, but driving from Milan to Venice is a great way to really take in the Italian countryside and see some of the country's most enticing destinations. Learn
How to Get to Venice by Car
, and enjoy driving Milan to Venice as you explore one, or all, of these incredible Northern Italian Destinations along the way.
Click map
for driving directions with stops in Bergamo, Piacenza, Parma, and more.
By taking to the road with a
Milan rental car
, you get to explore at your pace, enjoying the sights and sounds of Italy off-the-beaten-path, by allowing you access to many of the places that public transportation simply can't get to. If you see a restaurant on the side of the road or a local museum that you like the look of, you can make that detour! - You get to visit real Italian gems that many people simply overlook.
---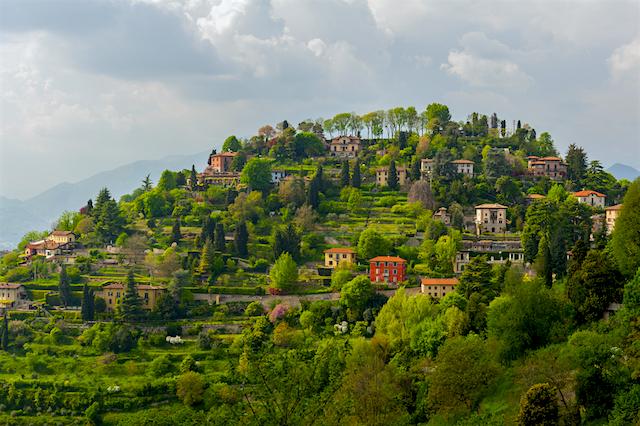 Bergamo
Visiting the ancient town of Bergamo is like taking a step back in time. The city is jam-packed with gorgeous baroque and Renaissance architecture, and plenty of places to enjoy fine Italian cuisine. Built on a hilltop, the city also offers some of the best views of Northern Italy in the region. Climb, or drive, to the upper part of the town to take in the panoramic views at this unforgettable stop while driving Milan to Venice.
---
Piacenza
Translated, the name of this city in Northern Italy means "Pleasant Place", and thanks to its river and beautiful surroundings of vineyards and lush green fields, the name rings true. Piacenza had a powerful past, which you can learn more about in its medieval castles that surround the city. Be sure to visit the Palazzo Farnese of Piacenza, and the surrounding aristocratic palaces. Aside from Piacenza's prolific history, you can also explore some of the smaller surrounding villages, such as Bobbio, a village that dates back to the middle ages and is centered around the Abbey of San Colombano.
---
Parma
You may recognize the name of this Italian city thanks to its famous culinary exports, such as Parma ham and Parmesan cheese, and it's definitely one of the best spots to stop off for a delicious Italian lunch - yum. However, Parma is much more than just a culinary capital of Northern Italy, it's also known for its music, art, and culture, which can be seen and heard across the city's architectural landscape. Everything here appears aged and beautiful, with elegant cobbled streets lining the way through the cities stunning structures. Be sure to visit the city's 12th century Romanesque cathedral, which overlooks the a large piazza.
---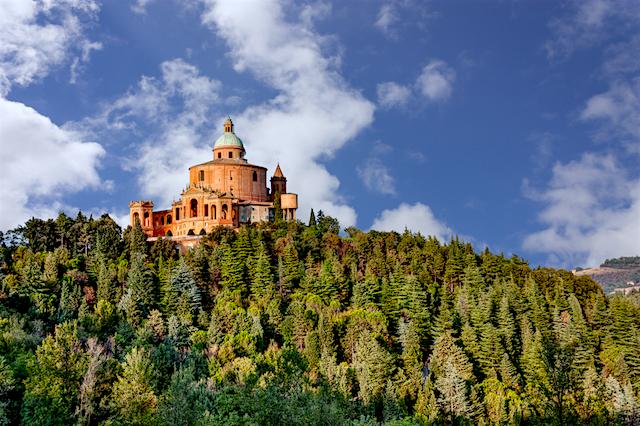 Bologna
The beautiful city of Bologna is a must-see on your route to Venice by car. Enjoy the city's quaint cafes and fine-dining restaurants, as well as the sight of one of the oldest universities in the world. Much of the city's famous architecture can be found in the Piazza Maggiore, a plaza that has a relaxed atmosphere and plenty to see and do. Add the leaning Asinelli tower, an old medieval tower to your must-see list (which is available for climbs – if you dare!) and the Basilica of San Petronio, the largest dominating church in the city.
---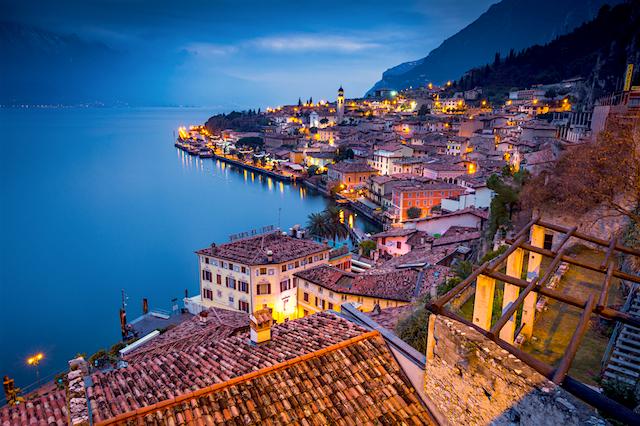 Lake Garda
You cannot drive from Milan to Venice without stopping off at the impressive Lake Garda - the largest lake in Italy. Here you can find the town of Desenzano del Garda, as well as some other small villages which are accessible by ferry or car. Be sure to check out Sirmione, an old town with some relaxing spas and hotels as well as its 13th century castle, and the ruins of a Roman villa.
---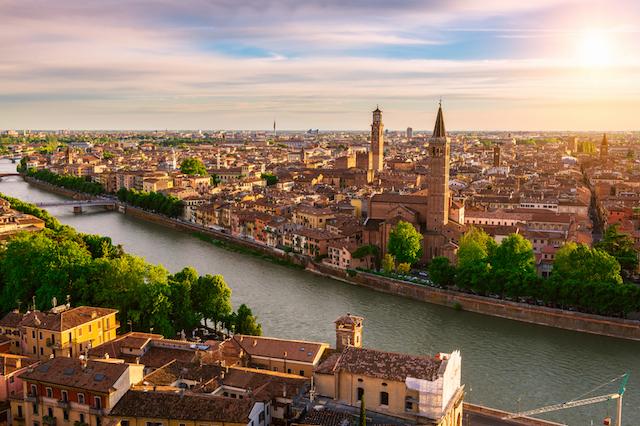 Verona
The large city of Verona is not only known for its unbelievably impressive 1st-century Roman amphitheater, but it's also known for being the setting of William Shakespeare's classic tale of Romeo and Juliet. Visit the real-life balcony of Juliet from the notable work of fiction before exploring some of the city's historic sites. A World Heritage Site, Verona has so many landmarks to see and discover, you might want to spend at least a few days in this iconic city.
---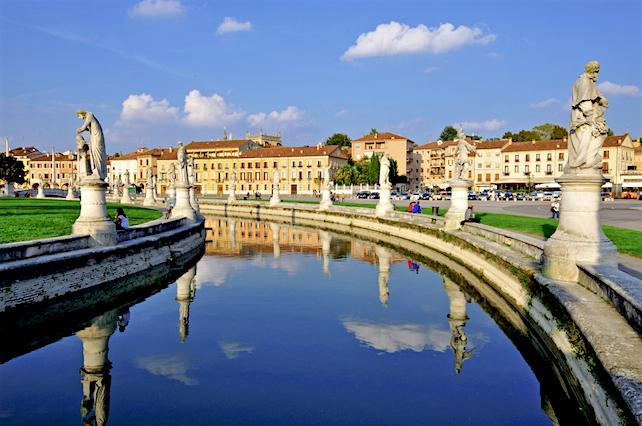 Padua
Padua is a very modern city, and the region's premier communications hub, but if you delve beneath the surface, and are eager to explore the city's impressive history, there is much to be found. Just an hour away from the city of Venice, Padua is easily reachable and accessible by car. The city is also home to Italy's second oldest university and some ancient Venetian villas that are well-worth a visit - there's tons of history here waiting to be discovered. Most visitors head to the Scrovegni Chapel thanks to its collection of invaluable frescoes by Giotto.
---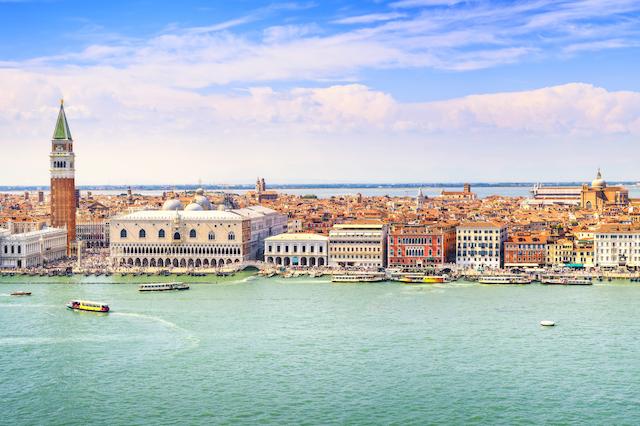 ---
Driving Milan to Venice with Auto Europe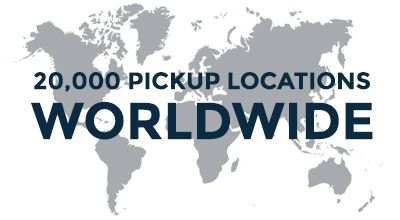 Now that you know how to get to
Venice
by car, you can enjoy the wealth of natural beauty and historically significant city destinations found in Northern Italy. Driving Milan to Venice affords you myriad opportunities to explore some of the region's best "undiscovered" attractions along the way, and experience the vast scope of Northern Italy's unique regional culture, all while traveling at a pace that best suits your itinerary. Give Auto Europe a call or click today to
reserve an Italian rental car
and
hotel accommodations
, and prepare to hit the pavement on the road trip of a lifetime.