Few places surpass Europe when it comes to Christmas. Ancient walled cities bedecked with seasonal decorations are enhanced by Christmas markets (Christkindlmarkts) in the shadow of centuries-old cathedrals. The spicy aroma of hot mulled wine and chestnuts roasting on a brazier draw Christmas shoppers from afar. The sound of sleigh bells, church bells, ice skaters and Christmas carolers make everyone pause and smile amidst the seasonal rush.

With ice-skating, shopping, concerts, palaces and hearty peasant food and drink, these are just a few of our favorite Christmas destinations to tempt you from your favorite armchair and enjoy the holidays with a more international flavor this year.
Save money on your:
Rental Car in Europe | Hotels in Europe
---
Vienna - One of 2019's Best European Christmas Destinations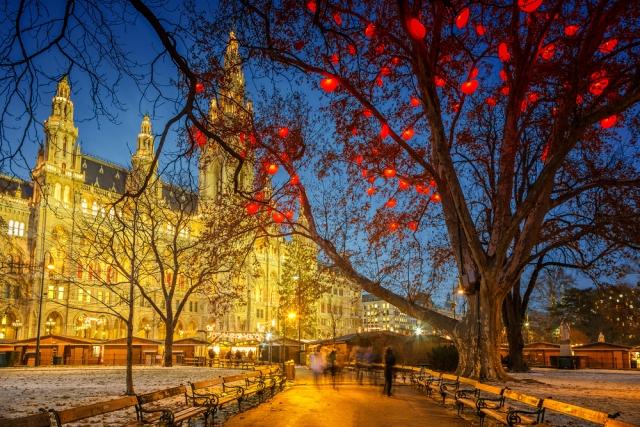 Top of the list for best Christmas destinations has to be Vienna, Austria, a classic city to visit at any time of year with its exceptional baroque architecture. There has been a Christkindlmarkt in the Austrian capital for over 700 years - and they have not one, but five! The oldest and best is in front of the Rathaus where rows of wooden chalets are lit with twinkling fairy lights around the Christmas tree. Stalls are laden with handcrafted wares, blown glass and hand-carved nativity figures which are a specialty of this market.

Even if your holiday shopping is complete you can still indulge in scrumptious fruit cakes, ginger cookies and colorful candies done up with pretty ribbons, making a visit to the Christmas markets in Vienna an absolute must for eager revelers. There's even a live advent calendar counting down the days to Christmas. After Christmas, explore the beautiful Old City with its Habsburg heritage or head out to the excellent ski slopes nearby, stay in a cute Alpine village and enjoy skiing, skating, tobogganing and snowboarding.
---
Germany's Top Christmas Travel Destinations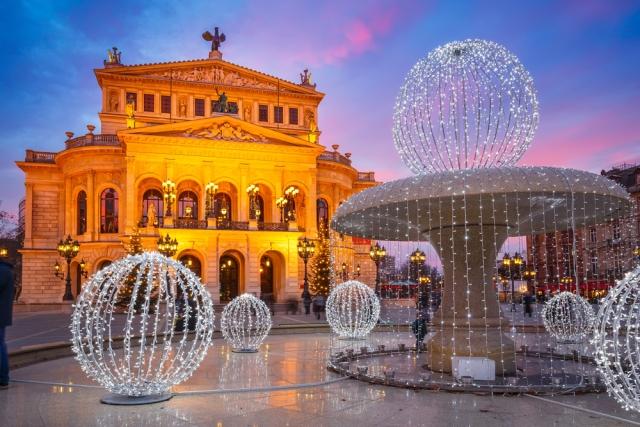 It's hard to beat the city of Munich for winter entertainment. The high-end shops along Maxilianstrasse are brightly lit and alluring to fashionistas and international shoppers in search of luxury branded goods.

The baroque Schloss Nymphenburg, the glockenspiel at Marienplatz, the Viktualienmarkt and the former Royal Residence offer plenty of things to see and do during the day. After dark, head to one of the Bavarian beer halls such as the Hofbrauhaus for hearty food, steins of beer and rousing entertainment to join in.

In contrast, the UNESCO World Heritage listed town of Rudesheim could not be a more picturesque choice in winter. Located beside the romantic River Rhine, the Christmas lights and music add to the old-world atmosphere of the cobbled streets of Dosselgasse. Medieval houses with their half-timbered architecture are occupied by small family businesses, pubs and restaurants. Every traveler should experience the atmospherics and beauty of Christmas in Frankfurt, Germany at least once in their lifetime!

Visit the Asbach Distillery for a warming taste of Asbach Uralt brandy, explore Bloemser Castle or go hiking and cross-country skiing in the nearby forests of Rhein-Taunus Nature Park. It may be a little chilly for a Rhine cruise, but the Rechte Rheinstrecke train offers scenic views as it runs between Neuwied, Wiesbaden and Frankfurt.
---
Tasty Food and Drink in Stockholm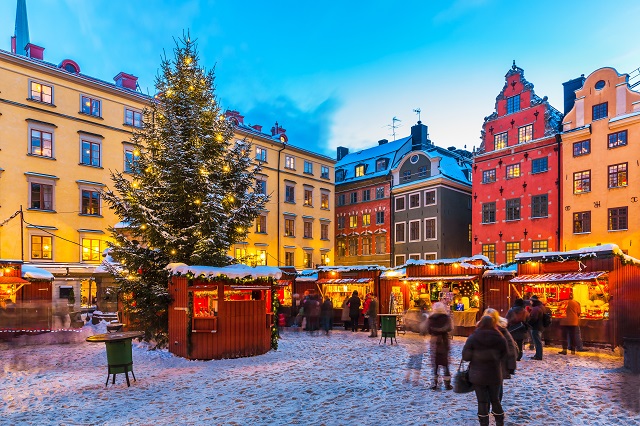 The Swedish capital of Stockholm is built on 14 islands, all linked by romantic bridges. The Old City is one of the best European Christmas destinations to visit with charming architecture and upscale shopping. Take a break at the famous Ice Bar where you snuggle in furry wraps and sip vodka from glasses made out of ice (read more about driving in Sweden).

In the Gamla Stan market you will find stallholders dressed in traditional 19th century costume adding to the charm of the experience. Dine on reindeer meat, tasty sausages, fresh salmon, meatballs and lingonberries with gingersnaps and saffron buns for dessert accompanied by a glass of warming glogg.
Travelers searching for perfect gift will be able to view an array of ceramics and a variety of other goods from the workshops of local artists and craftsmen.
---
Prague in Winter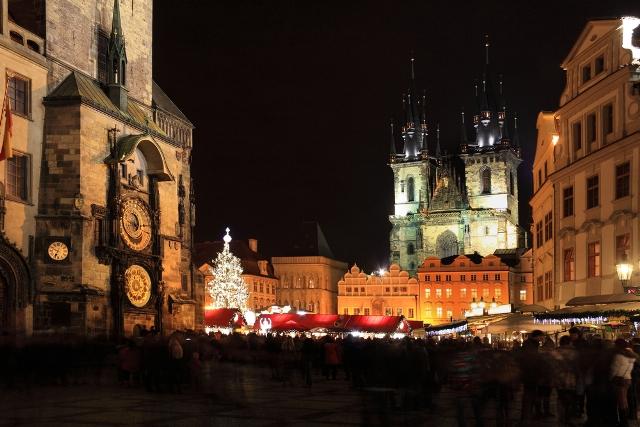 Home of 'Good King Wenceslas' himself, Prague, Czech Republic is one of the best Christmas destinations in 2019 for indoor and outdoor activities. The Prague Christmas market runs from November until the first week in January and offers many crafts and traditions with an Eastern European appeal.

Nativity scenes are in evidence everywhere and on Epiphany (January 6th) the scene comes to life with the Three Kings Procession re-enacting the biblical journey of the wise men. The procession ends at the nativity scene outside the Prague Loreto, a baroque pilgrimage church also known as the Church of the Nativity. Ice skating, concerts and warming Czech food make this a delightful place to choose as a top Christmas destination in 2019.
---
Making the Most of Your Time in Europe this Holiday Season
Wherever you choose to spend Christmas in 2019, we will be happy to provide you with a competitively priced car rental for your vacation. Will you be traveling with the entire family this holiday season? We are able to book a spacious rental van that will be able to comfortably accommodate every member of your travel entourage. With more than 20,000 convenient pick-up locations in some of Europe's busiest airports, rail stations and downtown offices, we're sure you'll find us the convenient and reliable choice, from economy options to family car rentals. Reservations can be made in three, easy steps when you use our three step online search form at the top of the page, or by calling us toll-free 24/7 at 1-888-223-5555.
Save money on your:
Rental Car in Europe | Hotels in Europe