Rent a Car with Hertz in Florence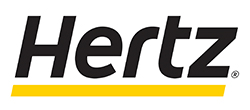 Hertz Florence makes it easy to get the car of your choice so that you can experience this beautiful Italian city and all that it has to offer without hassle. Hertz has rental cars in Florence for all walks of life and for all needs, so if you're a family visiting the city or going solo on a business trip, you can always count on Hertz to have your back. With a name you've come to trust and guaranteed low rates through Auto Europe, you simply can't go wrong!
Auto Europe: The Name that you Know
Hertz is certainly a name that you are familiar with. The company is a leader in car rentals, with hundreds of different locations around the world. Hertz first began offering car rentals back in 1918 and has become one of the most trusted names in car rental since. You can always get a fantastic quality car at a great price when working with Hertz, and they throw in all of the extras for an all-around fantastic experience.
A selection of cars suitable for any occasion
Low prices
Superior Customer Service
Complimentary child/infant seats
Almost a century of car rental experience at your service
Auto Europe can help you get all of the perks above and many others by booking your Italy Hertz car rental reservation. Auto Europe has been providing car rental service for over 60 years and we've worked with more than 8 million travelers who wanted a great deal and great service to match. We've also worked with Hertz directly which has led to a great business relationship. We rent so many cars with Hertz each year we get great discounts on car rentals, which we pass on to you. We guarantee that we have the lowest price out there.
When you book with Auto Europe, you can always get in touch with someone whenever you have the need. Our agents are available around the clock, 7 days per week. We are based in the U.S. and have English speaking reps who will work between you and Hertz to facilitate fast and efficient communication. We never let you down!
What's your Car Choice?
Hertz has tons of vehicles for your rental. You can rent by the day, the week or even by the month. If you want to help protect the environment, check out the 'green car' selection that Hertz offers. You can also impress the best when you rent a prestigious car such as a Bentley or an Aston Martin. Hertz has cars for every traveler and every need!
While you are in Italy you can use your Florence rental car to visit all of the great attractions that the city has to offer. You can confidently have an amazing trip with plenty of memories to take back home with your rental car at your side. You will be glad that you worked with industry pros to make your car rental reservation. No one can do it better than us!
---
Book with Hertz at the Top Airports in Florence
At Florence Peretola Airport, Auto Europe with Hertz at their convenient on-site car rental office. From this location, our clients can pick-up their rental car with ease and be on their way soon after landing. Avoid the hassle off public transportation and taxi services, find a great rate and book with Auto Europe for your next trip to Florence.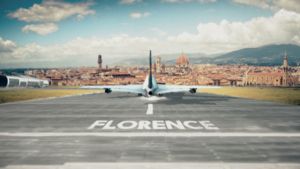 Hertz at Florence Peretola Airport
Location At Florence Peretola Airport:


Amerigo Vespucci Airport, Firenze Aeroporto - Via del Termine 11

,


Firenze FI

,

Italy

50127
Local Telephone Number:


+39 055 307 370
Hours of Operation:
Mon - Sat: 8:30 AM - 11:30 PM
Sun 9:30 AM - 11:30 PM
Book a Rental Car at Florence Peretola Airport
---
Book with Hertz at Popular Train Stations in Florence
If you arriving to Florence by train, you are in luck! Auto Europe works with Hertz at their rental car office in close proximity to Santa Maria Novella Railway Station. From this office, you can conveniently pick-up the ideal rental car for your travel plans and take to the streets of this historic city. Use our booking engine to find a great rate from Hertz at Florence Rail Station and take advantage of Auto Europe's excellent savings.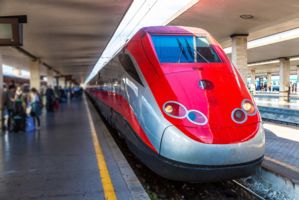 Hertz at Santa Maria Novella Railway Station
Location At Santa Maria Novella Railway Station:


Via, Borgo Ognissanti, 137

,


Firenze FI

,

Italy

50123
Local Telephone Number:


+39 055 239 8205
Hours of Operation:
Mon - Fri: 8:00 AM - 7:00 PM
Sat - Sun 8:00 AM - 1:00 PM
Book a Rental Car at Santa Maria Novella Railway Station
---
More Hertz Car Rental Pick-Up Locations in Downtown Florence
Hertz offers a select of car rental offices in downtown Florence for our clients to choose from. We recognize that picking-up a rental car from the airport or rail station is not always the most convenient and cost-effective location, so we offer these additional options to best meet the needs of our clients. Compare rates from Hertz's downtown offices to find the best deal on a rental car for your next trip to Florence.
Hertz Florence Downtown Office
Location at Hertz Florence Downtown Office:


Via Giorgio Ambrosoli, 30

,


Firenze FI

,

Italy

50136
Local Telephone Number:


+39 055 095 0022
Hours of Operation:
Mon - Fri: 8:30 AM-12:30 PM & 2:30 PM-6:30 PM
Sat: 9:00 AM - 1:00 PM
Sun: CLOSED
Hertz Florence Downtown Office
Location at Hertz Florence Downtown Office:


Via del Sansovino, 53

,


Firenze FI

,

Italy

50142
Local Telephone Number:


+39 055 713 5172
Hours of Operation:
Mon - Fri: 8:30 AM - 6:30 PM
Sat: 8:30 AM - 12:30 PM
Sun: CLOSED