Taking a road trip through Italy is always a good vacation idea, but with such a vast breadth of exciting attractions found throughout the country, choosing
just one
region to explore can be fairly difficult. As one of the most popular tourist destinations in the world, many of Italy's culturally unique regions have been well-traversed, explored, and documented, leaving little to "discover."
For all the guides, advice columns, and blogs out there covering traveling in Italy, one portion of the country often goes unmentioned despite being absolutely rife with exploratory opportunity and cultural intrigue - Le Marche. Described by locals as, "all of Italy in one province," the Marche region is often compared to Tuscany as possessing an equally exciting history, culture, and travel-worthy attractions, but without all the tourists.
Tucked away between the Adriatic coastline and base of the Apennine mountains, Le Marche epitomizes all of Italy's splendor, from sun-soaked beaches and coastal vistas to crisp mountain summits and ancients hillside hamlets. To make the most of your vacation time, and experience all of Italy's magnificence in a single place, a road trip through the Marche region is an absolute must:

Click map for more information on the attractions found in Ancona, Macerata, Fermo, and Ascoli Piceno.
---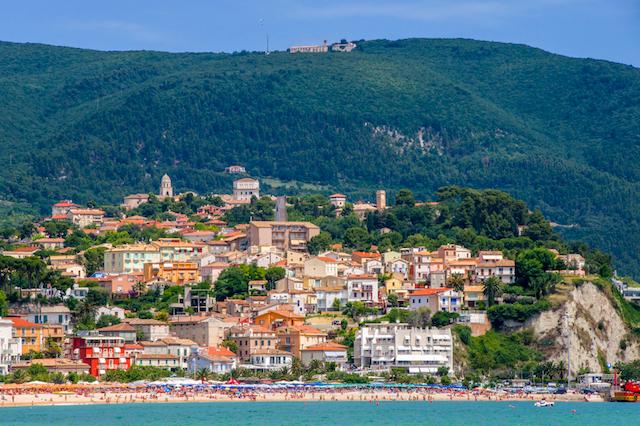 Ancona
Your Le Marche road trip begins in the region's capital, Ancona - a trading port city with ferry access to neighboring countries across the Adriatic, including Croatia, Greece, and Turkey, as well as a popular seaside getaway for locals. Despite the majority of its medieval city center being destroyed during World War II, there are still many exciting historical attractions to be visited today, including the Ancona Cathedral built in the 11th century. The Ancona Cathedral was built atop Guasco Hill overlooking the city, in mixed architectural styling - influenced by equal parts Romanesque, Byzantine, and Gothic architecture - and is a perfect destination for visitors to experience not only intriguing history, but also hands down the most panoramic views of Ancona and the Adriatic coastline. Elsewhere in Ancona quite a few other uniquely interesting historic attractions can be found, including the Arch of Traiano and the Church of Santa Maria della Piazza. Of course, no visit to Ancona is complete without a trip down to shoreline where you will find myriad incredible restaurants, shopping venues, and white sand beaches.
---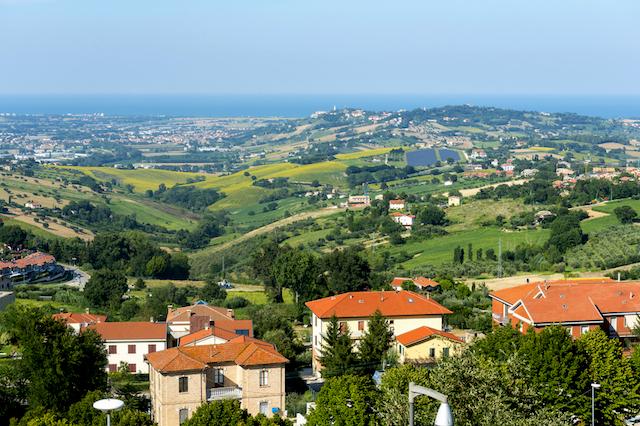 Macerata
About 30 miles south-west from Ancona is the quaint city of Macerata. The city's origins date back to pre-Roman times, and as such, contains a wide breadth of historic attractions from nearly every century - truly exemplifying the Le Marche claim of being "all of Italy in one place."
One particularly interesting attraction found in Macerata is the Macerata Cathedral - a Renaissance era cathedral adjacent to the remains of a 15th century Gothic architecture bell tower. Designed by famed Italian architect Cosimo Morelli, visitors to the cathedral can tour the inside and bask in the awe-inspiring, meticulously designed interior styling, while surveying numerous works of art, from paintings to sculpture.
Elsewhere in Macerata many unique Palazzo's (Palace's) can be explored, as well as a variety of museums, featuring collections of 18th to 20th century Italian art, historic documents from the unification of Italy, and a small smattering of modern art venues. If you happen to be road tripping through Macerata during the summer months of July and August, be sure to check out the Sferisterio Opera Festival for a truly authentic Italian operatic experience.
---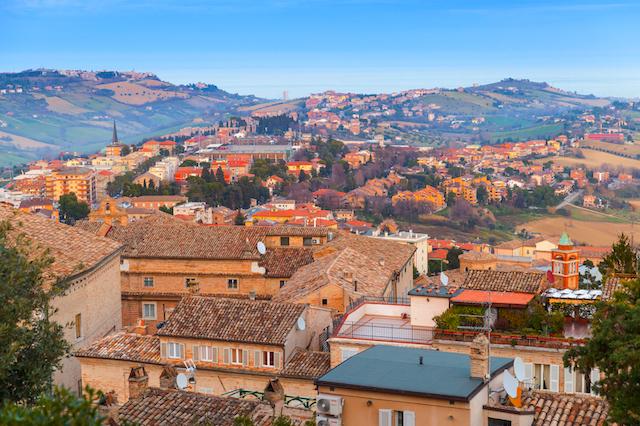 Fermo
Leaving Macerata and traveling nearly 30 miles south-east will bring you back to the coast, and the ancient city of Fermo. The earliest remains of human settlement found in what is now modern day Fermo dates back to 9th century BC, so it's safe to assume the city has some serious historic provenance worth exploring. What's more, Fermo sits conveniently nestled between beautiful rolling foothills and the Adriatic coast, making it a perfect destination for travelers looking to enjoy the outdoors and the city's historic interior.
One of the most notable attractions in Fermo is the Duomo di Fermo, a 13th century cathedral exemplifying asymmetrical Romanesque-Gothic architecture, and a highly detailed and decorated interior. Outside you can bask in breathtaking views of the city and coastline from the elevated cathedral gardens.
In the center of the city visitors will find the Piazza del Popolo, a large plaza cited as the city's social center, and surrounded by 16th century palaces, including the Palazzo Communale, home to Fermo's art collection. Throughout the year numerous events and festivals are hosted in the Piazza del Popolo.
Travelers eager to take to the beach for a relaxing day under the sun should definitely check out Lido di Fermo (translated "Beach of Fermo"). The water stays relatively warm year-round, making it perfect for swimming, and the beach is fairly wide so it usually isn't an issue to find your own secluded spot to throw down a towel and relax.
---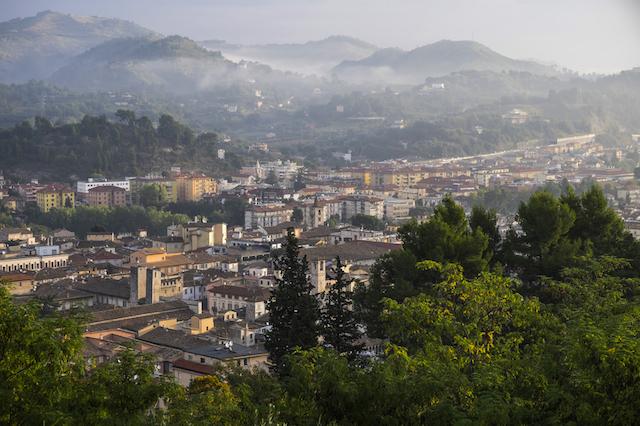 Ascoli Piceno
Once you've had you fill of Fermo's intriguing historic attractions and relaxing coastal scenery, drive nearly 50 miles south to the town of Ascoli Piceno. Much like Fermo, Ascoli Piceno was founded in pre-Roman times and contains numerous examples of historic architecture from a variety of ancient and modern eras. With over 10 churches and cathedrals, 50 medieval towers, and many ornate palaces, Ascoli Piceno will leave history buffs and art lovers completely satisfied.
Beyond the many historic attractions found in town, one of the most enchanting places to visit in Ascoli Piceno is the Giardino Botanico - a botanical garden and agriculture school, with many rare species of flora and fauna, serene walking trails, and myriad scenic vistas.
---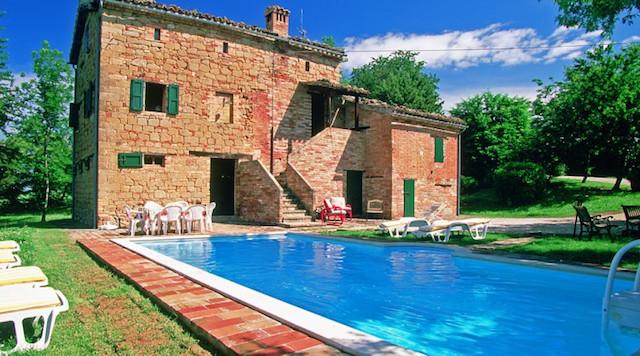 Villa Rentals in Le Marche
With such an abundance of exciting and relaxing attractions to explore on a Le Marche road trip, you'll definitely need some top-notch accommodations to make the most of your travels. Fortunately, you can rent an idyllic Italian villa in Le Marche from
Le Marche Holiday
- an ever-expanding Agency founded and owned by Moreno Moretti who grew up in the real side of Le Marche, fostering a great interest for the endless natural beauty, historic provenance, and culinary delights found in the Marche region. What better way to enjoy the region, then with expert recommendations from a local?
Le Marche is the perfect location to discover the real ancient Italian traditions, since many of them are still maintained throughout the Region. These traditions include a variety of practices, but the most developed is certainly the culinary arts. Beyond renting wonderful villas, Le Marche Holiday also arranges hands-on culinary and winery tours to supplement your vacation itinerary.
---
Enjoy a Le Marche Road Trip with Auto Europe
The Le Marche region's historic, culinary, and recreational offerings are highly diverse and locally celebrated with something for every traveler to enjoy. Explore Ancona, Macerata, Fermo, and Ascoli Piceno, basking in the incredible cultural heritage found in each, before finding the perfect Italian villa to enjoy the evening. Rent a car at nearby
Peretola Airport
and let Auto Europe provide you with all you need to make the most of your vacation in Le Marche! Give us a call today, at 1-888-223-5555, and speak to one of our reservations agents and prepare for the road trip adventure of a lifetime.
---