Imagine spending a week in a place so diverse that scientists have yet to name thousands of species. Picture sunning yourself on a private terrace, surrounded by a lush jungle teeming with curious monkeys, stately toucans and brilliantly colored macaws. In the distance the turquoise waters of the ocean are pulled by wind and tide, stretching out and away; into the horizon.
Costa Rica lays claim to only 0.3% of the earth's surface but in this tiny corner of our planet nearly 5% of the world's total plant and animal species reside. Inspired by this diverse and beautiful nation, nature lovers treasure Costa Rica as a place to visit, but also as a location worth protecting.
Ecotourism is defined as responsible travel to natural areas - travel which conserves the environment and improves the well-being of local people by adhering to low-impact travel practices and investing in the tourist industries that value and protect indigenous wildlife. Riding the surge of the "green" movement, Costa Rica has quickly emerged as the top travel destination in the world for nature-lovers. Adventurous globetrotters interested in observing and protecting wildlife via sustainable travel flock to Costa Rica each year and leave feeling renewed and replenished - the beauty of this vibrant country nourishing a deep and ancient need.
If you're thinking about a trip that's big on fun and light on environmental impact, Auto Europe has you covered. Here's our list of the top 3 Costa Rica Ecotourism resorts: destinations which will help you make lasting memories while supporting and preserving the world's most bio-diverse region.
---
#1 Lapa Rios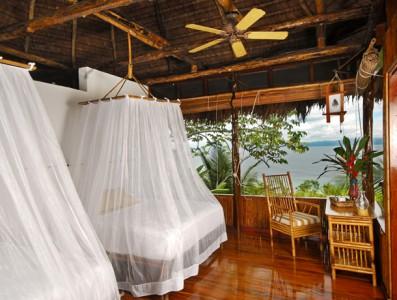 The first on our list of the best Costa Rica ecotourism resorts is a no-brainer. Lapa Rios, considered the premiere eco-lodge in the world, is the winner of numerous international awards for its union of conservation efforts and top-notch comfort.
Travelers who stay at Lapa Rios are rewarded with sweeping views of the Pacific from the resort's high, breezy jungle ridge. Lapa Rios is nestled in the heart of an expansive private nature preserve and visitors can expect to receive world class service that comes with a world-class price tag. While Lapa Rios isn't cheap, small luxuries like having gourmet coffee delivered to your private cabin at 6am and stylish bathrooms which feature showers overlooking private stretches of jungle and coastline make the cost of this resort easy to justify.
Relax on your private teak terrace and you'll have the opportunity to view passing monkeys, toucans and numerous scarlet macaws (for which the resort was named). Lapa Rios also offers travelers an infinity pool, massage hut and a yoga deck. The resort's rates include 3 meals a day and foodies will treasure delicious seafood and sustainably harvested exotic fruits and vegetables served under a soaring thatch roof.
But perhaps what's best about this Costa Rican resort is that Lapa Rios offers guests exclusive access to resident naturalists who lead guided tours through the acres of pristine wilderness and to the nearby beach. These tours can be enjoyed on foot or on horseback.
Visitors can expect a 45 minute trip by jungle taxi from the Puerto Jimenez Airstrip to Lapa Rios. The ride is exciting (though sometimes bumpy) and includes several river crossings. Though many of the residences at this hotel are remote, travelers who aren't comfortable with stairs can still enjoy their stay at Lapa Rios. We recommend that you request accommodations close to the main eco-lodge if you have limited mobility.
---
#2 Arenas Del Mar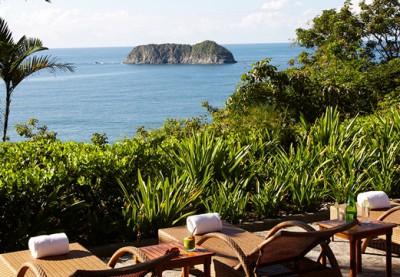 Making its mark in the number two spot on our list of top Costa Rica ecotourism resorts is Arenas Del Mar - a new enterprise in the Central Pacific region of Costa Rica. Arenas Del Mar is a luxury hotel from the owners of the Finca Rosa Blanca (one of the first lodges to achieve coveted "five-leaf" status on their certificate of sustainable tourism). The goal with Arenas Del Mar was to marry the comfort and luxury of a 5-star hotel with the sustainability of a five-leaf sustainable lodging. To us, Arenas Del Mar has emerged as a perfect union of these efforts and we find it to be a glowing success story.
The most obvious eco-aspect of the Arenas Del Mar is the open-air reception area which is located in the center of a forest clearing. Leave your rental car behind and hop into an electric golf cart, which will ferry you to the outdoor reception desk. It's likely that you'll spy plenty of wildlife in the trees during your ride to reception.
Once the site of aggressive deforestation, the forest here has been allowed to re-grow for the past 20 years. During construction of the Arenas Del Mar Resort the integrity of the land was a constant priority and many of the hotel's terraces wrap around established trees, creating a one-of-a-kind natural landscape which has become home to an abundance of wildlife. Today the resort stands as a true success story of eco-tourism and preservation efforts in Costa Rica.
Visitors seeking privacy will be happy with a stay at the Arenas Del Mar - an eco-tourism destination which offers nearly-deserted beaches, private terraces and zero traffic from automobiles. A spa and two pools provide ample space for rest and relaxation and the forest which surrounds this secluded resort is filled with birds, wildlife and butterflies.
---
#3 Almonds & Corals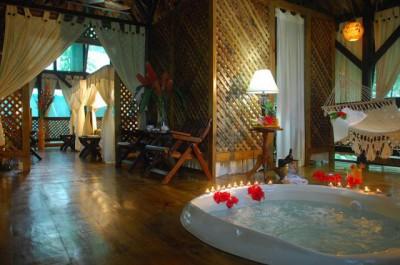 Rounding out our list of the top three Costa Rica ecotourism resorts is Almonds & Corals - a Caribbean coast destination which offers guests rustic charm and plenty of eco-friendly activities. Nestled within a dense beachfront jungle in the heart of the Gandoca-Manzanillo Wildlife Refuge, this hotel is a nature-lover's dream. Almonds & Corals offers a collection of charming bungalows sprinkled throughout the jungle on freestanding platforms. Each platform is raised on stilts and connected to the other buildings by rustic boardwalks lit by kerosene lamps.
Each bungalow offers visitors beds, hot water, electric lamps, hammocks and plenty of mosquito netting. Guests have access to a restaurant which serves three meals a day and the dining room is nearby, hidden in the greenery halfway down the hillside. If visitors continue past this restaurant they will arrive at the property's magnificent secluded beach.
Unlike many of the popular resorts on the Pacific coastline, Almonds & Corals provides a charming, rustic alternative on the Caribbean shore. Guests rave about the experience of spending the night in the dense forest and often enjoy wake-up calls from their neighbors: howler monkeys and chatty parrots which visit from the nearby trees.
While you'll certainly want to rent a car to travel from San Jose to this hotel's remote beachside location, one advantage of Almonds & Corals (and one of the reasons this made our list of the top three Costa Rica ecotourism resorts) is the hotel's package specials which include meals and offer reduced rates for multi-day stays. For us, this makes this nature lover's paradise one of Costa Rica's most attractive eco-tourism destinations.
No matter which of these three Costa Rica ecotourism resorts you choose to call home during your trip, you can rest easy knowing that your vacation dollars will go a long way toward sustaining, preserving and protecting a global treasure. Whether you're interested in zip-lining, surfing or exploring Costa Rica's rain-forest on a guided tour, a trip to Costa Rica is a dream vacation for nature lover's - one you'll never forget.
If you are planning a trip to Costa Rica we'd like to help! Get started by reading our green travel tips and when you're ready to make a reservation give us a call.
Our award-winning representatives are available toll-free, 24/7 at 1-888-223-5555 and we'll be happy to provide hotel, airfare and auto quotes as you plan your trip. If you decide to book a room in one of our recommended Costa Rica ecotourism resorts please check in with us on
Twitter
- we'd love to hear about your Costa Rica getaway!