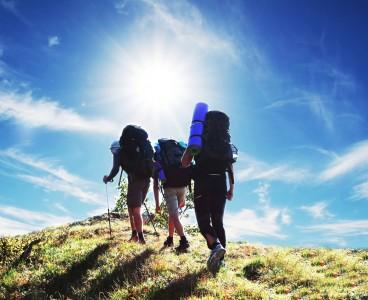 When I go camping, my first goal is to be prepared for whatever nature might throw at me, and secondly, I try to travel light. These goals seem to be incompatible, but there are options to satisfy both. The following are a few essentials needed for packing a light load that suits your basic needs:
Shelter
Unless you know of a lean-to or cabin along the way, you'll obviously need to bring a tent on your trip. Bring a tent appropriately suited to your needs. Ask yourself questions like:
How many people are coming?
(You can find tents for one person, or up to ten.)
What time of year is it?
(Depending on where you plan to hike, you may need a tent that allows more or less air in.)
I find the Freelight 2 tent by MRS to be the most practical; it sleeps two comfortably and it can be adjusted to the weather. There is also an awning under which you will find enough room to cook in the unfortunate event of rain or snow. The tent is lightweight and you can also use your trekking poles as supports, cutting a little more weight off your back.

Water
Food and water are going to be among the heaviest items in your pack, but are both requirements for staying energized while hiking. If camping with other people, I suggest having each person carry what they will need. 2-4 quarts of water is the perfect amount initially, though if you're going on a multi day trip, you'll want to bring a water purifier or germicidal tablets. To carry water, I always use an over the shoulder canteen to keep my pack as light as possible. (Remember to try at all costs to find moving water as opposed to a stagnant pool… parasites will always louse-up a camping trip.)

Food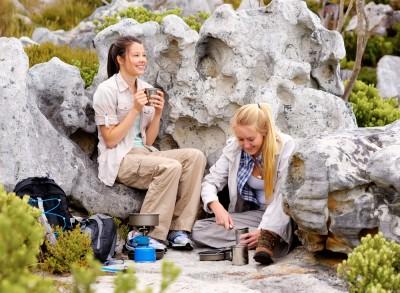 Though granola and dried fruit are delicious while on the trail, they are not exactly what you would call a hardy meal (something I need after exploring the great unknown.) Depending on how long your camping trip is, taking frozen meat is always an option, at least for the first day. It stays frozen for a while if it's well-insulated and satisfies the hunger of a tired hiker. I also suggest taking an egg carrier. With this device you can carry eggs without the risk of breaking them; either cook them hard boiled or keep them raw. Eggs can stay unrefrigerated for a while, and if you question their freshness you can always try to float them in water. If they float throw them out, if they sink, they're good to go.

Tools
Everyone has heard the old adage "use the right tool for the job" and while camping, the phrase couldn't be truer. Improvised tools worked great for our Paleolithic ancestors; but when I try to hone a piece of rock to use as a cutting device, I end up bruised and/or bleeding (this is why you should always bring a First Aid Kit). I always carry a multi-tool, some rope, extra tent stakes, a lighter and matches, as well as a compass and map, if available. These items are essential in the case of an emergency.

Hiking Boots
Your entire hike can be ruined if you hit the trails in ill-fitting or low quality footwear (believe me, I've done it!) You need a boot that will keep you dry, provide you with adequate support, and not weigh you down. You will also need extra socks! There are plenty of options out there depending on your budget. As a Mainer, I prefer LL Bean's Waterproof Trail Model Hikers; the high-top design provides protection from ankle rolls and the middle-of-the-road price is always appreciated. They are especially light-weight to "boot."

Cooking System
With a Jetboil Premium Cooking System you don't have carry a cumbersome stove with a heavy fuel tank or trudge around looking for dry wood and kindling; neither do you have to wield a heavy hatchet. Amazingly, the higher-end versions of this revolutionary product can weigh less than .25 kg, much to the relief of your back and knees. All things considered, my favorite part is that you can leave nature the way you found it. Prices on their website range from $69.95 to $199.99 USD.

Sleeping Bag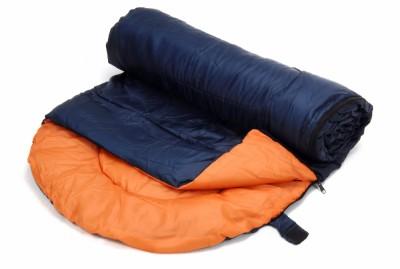 Traditional sleeping bags can weight up to 5 pounds. They also tend to be big and bulky, something that makes the task packing much more difficult. An ultra-light sleeping bag can be rolled up to reach dimensions of 6" x 12" and they often weigh between .6 and 1.0 kg. Prices can vary drastically depending on your preferences and temperature requirements. More affordable bags can begin at $40 and others can reach $350 USD. As far as a sleeping pad, it's up to you; I just fluff-up the leaves under the tent.
Hiking and camping can be unpredictable, so make sure you stay safe and prepared. Taking a car rental with you will allow for a quick getaway, if needed. Never take to the woods without telling someone where you are going, and always stay on the trail. Be responsible and don't leave anything behind; "leave nature the way you found it" is my motto. Remember, aside from all the boring safety tips, having fun is of the utmost importance!