The life of the starving artist: does it make you think of a creative mind and their day-to-day struggles just to make ends meet? Masterful works of genius that are often overlooked and under-appreciated during a lifetime, only to be celebrated after the loss of such great talent? Of course, there is some truth to the stereotype. But, if you dig beneath the surface of this stigma, you just may discover colorful lives that have been lived to their fullest and uncover stories that are even more intriguing than say, seeing the original
Mona Lisa
or
Starry Night
up close and in person. The following 5 famous painters devised a unique strategy to pay for their medical, everyday, and even leisure expenses, and they did this by bartering with their art.
---
Picasso's "Au Lapin Agile"
Located in the Montmartre district of Paris, France is a cabaret renowned for its artsy, Bohemian clientele who frequented the nightclub during the early 1900s. At the age of 25, Picasso paid off his food and beverage debt with a painting titled after the establishment,
Au Lapin Agile
. Fast forward 84 years, and we see that this very piece fetched an auction price of $40.7 million.
photo courtesy of toutfait.com
Duchamp and "The Tzanck Check"
Duchamp is notorious for his ready-made artistic style. He would take common objects and coin them as masterpieces. Like his
Fountain
piece, which was nothing more than a urinal flipped on its side and placed upon a pedestal. When Duchamp found himself in need of some dental work and without the means to pay for this service, he drew up a personal check featuring a fabricated a bank by the name of "The Teeth's Loan and Trust." Dr. Daniel Tzanck realized the $115 check was a Duchamp one-of-a-kind. The artist later bought the composition back for more than the forged amount of $115.
Van Gogh's "Café du Tambourin"
Similar to the Lapin Agile cabaret in Montmartre, Café du Tambourin was another popular hangout amongst the artsy Parisian crowd. Van Gogh had traded several paintings in exchange for meals here during the late 1880s. When the café fell behind on bills and was forced to close down, the artwork was stripped from the walls and sold in crude bundles of 10. At the time, Van Gogh's work was declared by debt collectors "as waste canvas," including the
Agostina Segatori Sitting in the Café du Tambourin
shown above.


Matisse and La Colombe d'Or Boutique Hotel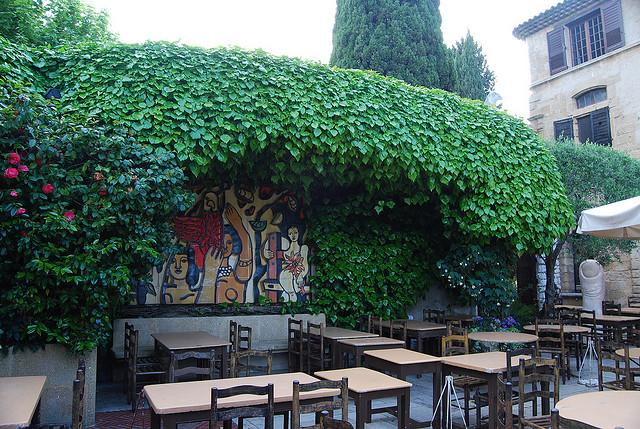 Just inland from the lovely Côte d'Azur's shores and perched atop the craggy cliffs overlooking the Mediterranean, is one of the region's oldest medieval villages, Saint-Paul-de-Vence. Now a posh boutique hotel, La Colombe d'Or was once a favorite haunt to numerous accomplished painters, such as Matisse, Picasso and Chagall. It is rumored that the hotel acquired its personal collection by allowing the visiting artists to exchange these pieces in return of hospitality. An extensive assortment of art can be found adorning the walls here, but if you want to see the original works, you will need a reservation to dine or stay at La Colombe d'Or. This is because 20 Matisse paintings were stolen from the boutique in the 1960s; fortunately they were all later recovered from a storage facility at the Marseille train station, where they had been stashed.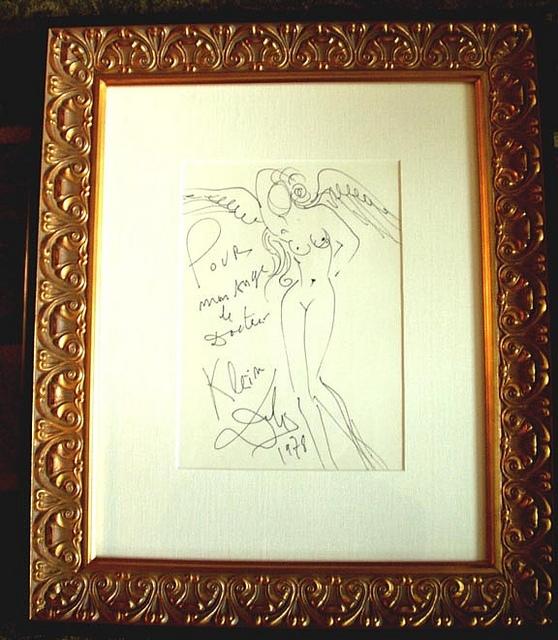 Dali and The Dr. Edmund Klein Collection
Dali had a reputation of paying his restaurant tabs with personal checks. He would typically sketch a little something on the check so that the payee would be unlikely to ever consider cashing it. A dermatologist by the name of Dr. Edmund Klein, who was renowned for his research and leading-edge treatment of skin cancer, provided Dali with exclusive medical care. Clearly the artist was extremely appreciative of the doctor's expertise and even praised him as a guardian angel. The artist paid and thanked Dr. Klein for his services with several sketches and a few other original works.
When you find yourself mesmerized by a piece of artwork, take a moment to think about why a particular piece piques your interest. Why is
Mona Lisa
smiling? Did Van Gogh really paint a brilliantly star lit sky while in Arles, or were the yellow spots he intensely detailed in
Starry Night
a visual side affect to the medication he was being prescribed at the time? While we may never know the answers to these questions, you can set off on an inquisitive journey of your own when you
rent a car in Paris
. Follow in the footsteps of any one of these great artists, and you just may get a glimpse into the world as they once saw it.