When you come to Italy for a vacation, you have to visit the country's most famous city - Rome. Filled with some of the world's most iconic architecture and historic landmarks, Rome is truly a destination like no other. While Rome's historic streets, awe-inspiring architecture, and wealth of culinary prowess embodies the countries diverse spectrum of regional cultures, it can be a good idea to get out of the city for a day trip, and explore the myriad exciting destinations while driving from
Rome to Pompeii by car
. You can simply take the road straight to Pompeii, and start exploring what remains of the ancient city, or you can take a more leisurely detour to some of Italy's incredible villages, cities, and natural landscapes, to experience the country's rich history and unique culture to the fullest.
Looking for itinerary ideas for your upcoming trip to Rome? Take a look at the recommendations below, and enjoy these incredible
One Day Trips from Rome
:
---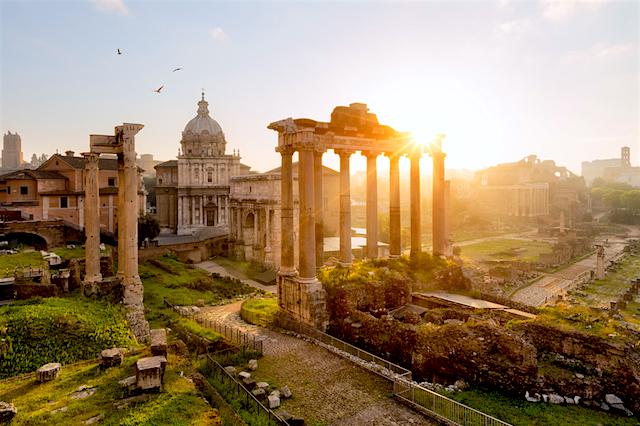 Rome
The vast city of Rome has nearly 3,000 years of history to be explored, and features some of Italy's most well-known landmarks and attractions, including the Colosseum, Vatican City, the home of the Roman Catholic Church, and St. Peter's Basilica. The city is also the home of a number of Baroque and Renaissance masterpieces, including Michelangelo's Sistine Chapel. Dine at one of the city's many restaurants, and let lose in some of the city's great bars and clubs afterwords, or spend some time just taking in the monumental energy of this incredible metropolis at the one of the city's many piazzas. Either way, you are sure to get a feel for the fun Roma lifestyle.
---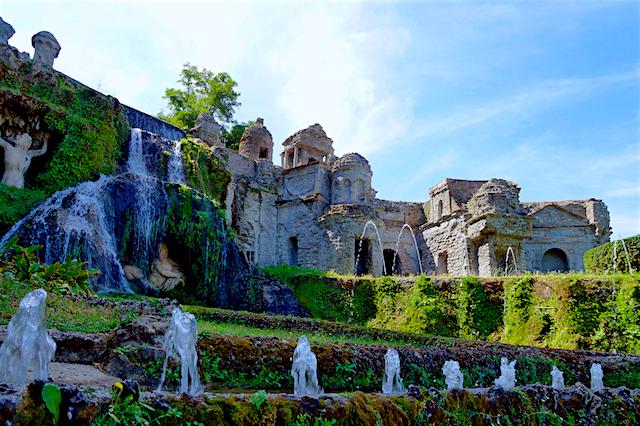 Villa d'Este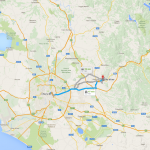 Rome to Villa d'Este Day Trip:
32.1km - 48 min
Just outside of the city, you will find the incredible historic Villa d'Este. The palatial estate encompases a beautifully maintained mansion, and formal gardens, which include many unique water features. Take a tour of the villa and its gardens to discover its majestic collection of statues, fountains and waterfalls, all connected by a labyrinth of cobbled walkways. Villa d'Este is also surrounded by a number of exquisite fine-dining restaurants, cafes, and boutiques, so once you complete your tour of the villa, there is still plenty you can do and see here.
Click Map for Directions >
---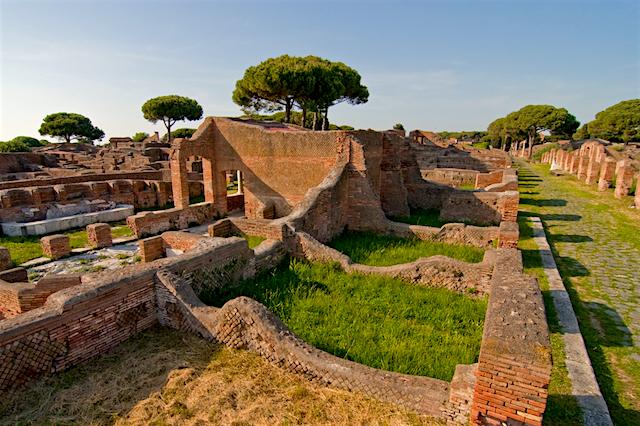 Ostia Antica
Rome to Ostica Antica Day Trip:
26km - 42 min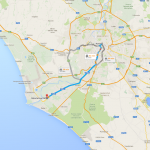 On the opposite side of Rome's city borders, nestled on the mouth of the River Tiber lies the famous site of Ostia Antica. These legendary ruins are famous for being some of the oldest, and most well-preserved remnants of the Roman empire. Originally the site of an ancient Roman harbor city founded around 4 BC, Ostia Antica has remained surprisingly intact, featuring numerous archaic apartment blocks - known as an
insula -
an outdoor theater, and myriad immaculately maintained frescoes and murals. Walk through the many building foundations and walled apartment blocks, through narrow stairways and thin corridors, and catch a glimpse into ancient Roman life. You can also visit some of the wealthier houses in the neighborhood, such as the House of Cupid and Pysche, which features impressive marble details throughout.
Click Map for Directions >
---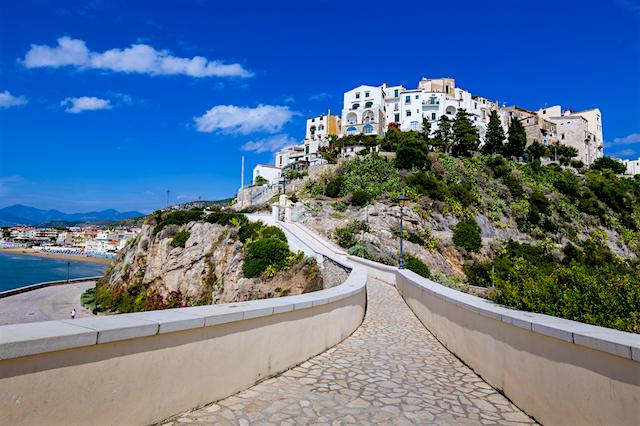 Sperlonga
t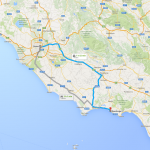 Rome to Sperlonga Day Trip:
149km - 1 hour 52 min
Tucked into the hills overlooking the picturesque Gulf of Gaeta sits the seaside town of Sperlonga - the perfect place for a mid-day rest stop while driving from Rome to Pompeii by car, as it's located roughly halfway between the two destinations. Sperlonga is a quiet and peaceful town with a palpably tranquil energy, and has two absolutely wonderful beaches to enjoy. These popular beaches are cleaned meticulously and are long enough that you can often find a fairly private spot to yourself. Stroll through the small neighborhoods of white-washed Mediterranean-style homes, and watch the sunset slide below the horizon from their unforgettable roof terraces, while enjoying an authentic Italian meal.

Click Map for Directions >
---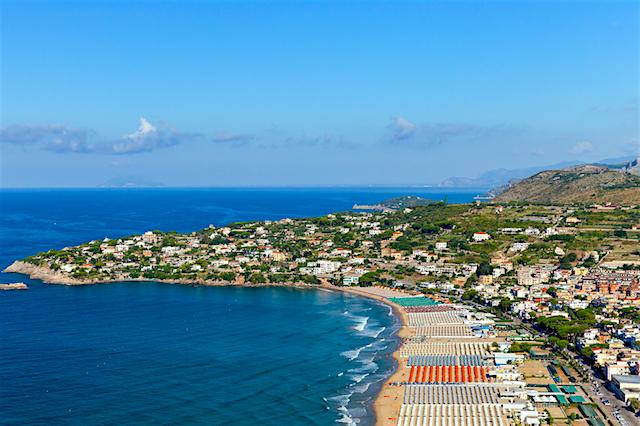 Gaeta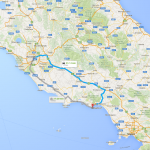 Rome to Gaeta Day Trip:
174km - 2 hours 14 min
The paradisaical seaside village of Gaeta is a must-visit destination for travelers eager to experience the cultural diversity and rich history of Italy. Not many international vacationers manage to reach this quaint beach town without a
car rental in Italy
, so it's quickly become less of a tourist attraction and more of a "local secret" Italian village. Gaeta boasts seven pristine beaches, each as beautiful as the next, and has quickly become a hot destination for local Italian holidaymakers and city slickers looking for a getaway. Hike the nearby Monte Orlando or visit the town's impressive ancient ruins, before grabbing a bite to eat and doing some shopping in the city's historic center. The town has some great seafood eateries, pizza spots, and some excellent hotels if you are planning to stay the night.
Click Map for Directions >
---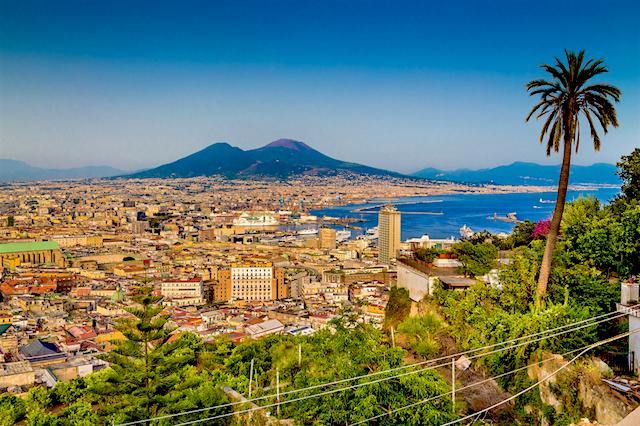 Naples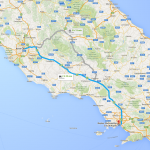 Rome to Naples Day Trip:
226km - 2 hours 23 min
Naples is a city that is great at so many things. As one of Italy's oldest cities, Naples is credited as the home to some of the country's most "Italian" food (including the internationally-renowned, Margherita pizza), a litany of impressive, and historically relevant art, and even has a UNESCO World Heritage Site designation for a historic city center. You cannot leave Naples without sampling the city's coffee, pizza, and pasta – which are said to be some of the best in the world. On every street corner you will come across sweet snacks, seafood delights and tantalizing coffee, so there really is no excuse. The large city also has a number of interesting neighborhoods to explore, but its historic center, filled with palaces, castles, and churches is the best place to begin your Naples adventure.
Click Map for Directions >
---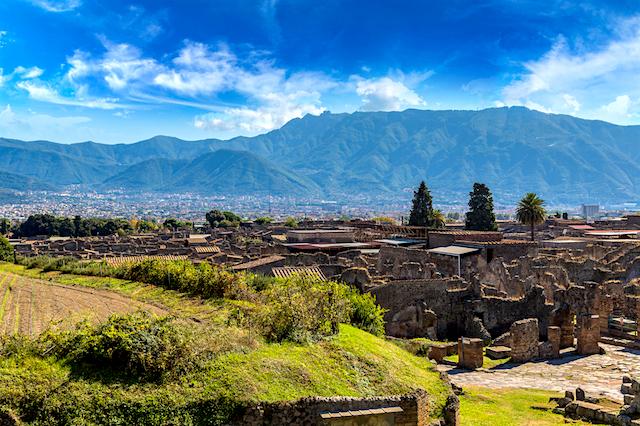 Pompeii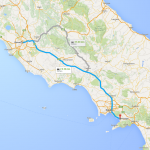 Rome to Pompeii Day Trip:
240km - 2 hours 29 min
The vast archaeological site of Pompeii is one of the most iconic UNESCO World Heritage sites in Italy, and rightfully so, as its been a tourist attraction for over 250 years, averaging nearly 2.5 million visitors a year by 2008. A once thriving and prosperous city, Pompeii was destroyed in 79 AD by a violent eruption from nearby Mount Vesuvius that suffocated the city and its inhabitants under nearly 20 feet of volcanic ash and burning pumice stone, preserving the human and structural remains as they stood. The destruction of Pompeii was so swift that the buried city was lost to history for over 1500 years after the eruption, when it was re-discovered in 1599 by famed Italian architect, Domenico Fontana. Today you can walk the ancient streets and gaze at the old shops and houses, affording visitors a visceral experience of what life was once like in this storied locale.
Click Map for Directions >
---
One Day Trips from Rome with Auto Europe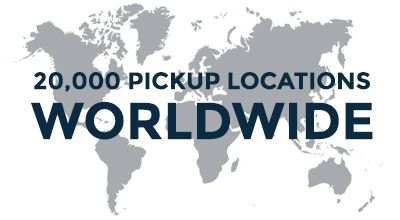 Embarking on a day trip from Rome to Pompeii by car affords vacationers not only a cost-effective means of travel, but also the convenience of forging your own path, on your own schedule, and having access to a wide variety of off-the-beaten-path destinations that you might not explore otherwise. When you're ready to start your vacation, book online or call Auto Europe, toll-free at 1-888-223-5555, to take care of all your travel needs, from a comfortable and fuel-efficient
car rental in Rome
to a
luxury hotel accommodation
in Naples, we can do it all.