This drive goes through the beautiful Rocky Mountains - one of Canada's pristine attractions. Winter or summer, experience soaring mountains, pristine lakes and frozen glaciers. And be sure to pack your camera so you can capture these stunning landscapes.
Start: Banff
Finish: Jasper
Duration: 5 Days (366 km)
Day 1: Calgary to Banff
Duration: 136km - 1.5hrs

This self-drive adventure starts in Calgary - a Canadian town renowned for its pleasant and laid-back lifestyle. If you're visiting in June or early July, the town goes crazy for the annual cowboy Calgary Stampede. The snow-capped mountains of the Rockies will start to emerge in the distance heading towards Banff on the Trans-Canada Highway. Upon arriving in Banff you will discover its a quaint, yet mighty town lined with colonial buildings and boutiques. Soar above the town on the Gondola or take a dip in the famous hot springs. Banff is beautiful in summer or winter and the majestic soaring Rockies in the backdrop will leave you breathless.

We Recommend: As you arrive into Banff National Park, remember to buy your park pass from the Parks Canada booth. This must be displayed on the left hand side of the vehicle. The pass is free in 2017 to celebrate Canada's 150th birthday.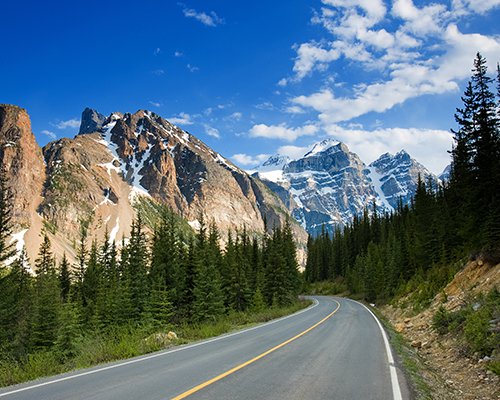 Banff National Park
Day 2: Banff to Lake Louise (via Johnston Canyon)
Duration: 90km - 1hr

Leave Banff behind and head north east towards Lake Louise along the Bow Valley Parkway. This winding stretch of road takes you to the Johnston Canyon Hiking Area. Lower falls is hidden away from the road, accessed via an easy 1km hike along canyon-clinging catwalks and cliff-mounting staircases. The rock has been carved away over hundreds of years by the mighty power and force of the rushing water - a magnificent sight. Keen hikers can continue a further 1.5kms up the steep cliff face for a peek at the 80m high falls. In the colder months, the surrounding rivers and gorge freeze over - a truly breathtaking sight!

Continue on to Lake Louise - this glacier fed lake is home to the Fairmont Chateau Lake Louise and has one of the most picturesque views in the world. Stay and spend a night in the stately chateau to experience true luxury, or walk around the lake on one of the many hiking trails. In winter, the turquoise lake is frozen over (a magnificent example of the winter experienced in the Rocky Mountains). Moraine Lake is less busy, but is another stunning picture perfect lake which embraces the beauty of Banff National Park. There's plenty to do in the Lake Louise region including skiing, snowboarding, hiking, snowshoeing, sleigh rides and much more.

We Recommend: Avalanche season is a thing in the Rockies and can result in road closures. Be sure to stay up to date on road closures before you head off on your journey with Canada's Road Reports
Day 3: Lake Louise to Emerald Lake
Duration: 40 km - 35 min
Leave the province of Alberta, and enter Yoho National Park in British Columbia. Covering 1,313 km2, the word Yoho comes from a local indigenous language meaning for awe and wonder. This certainly rings true in Yoho National Park. Tonight's stop is at Emerald Lake Lodge, another impressive lake fed by a large glacier sitting in the middle. Consider stopping at the historic town of Field, which was first established as a base for builders of the Canadian Pacific Railway. Today it is home to the visitor information centre with local rangers offering advice on the region and interesting exhibits.

We Recommend: Be sure to try a warm mulled cider or hire a canoe from the gift shop at Emerald Lake to get up close to nature.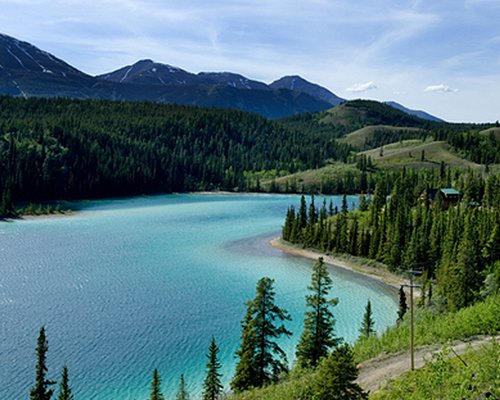 Emerald Lake
Day 4: Emerald Lake to Columbia Icefields
Duration: 160 km - 2.5hrs

Continuing north of Emerald Lake Lodge, head along the Icefields Parkway to the Columbia Icefields. The experiences in the Columbia Icefields are truly magical and something you'll never forget.

Your first stop in the Icefields must be the Discovery Centre, where you will board the Ice Explorer. Designed for glacier travel, this all-terrain vehicle drives (ever so slowly) directly on to a 10,000 year old sheet of ice known as the Athabasca Glacier. Take the time while on the glacier to take plenty of pictures, and bask in the glory of this truly spectacular 360 degree view. Once you have returned to the 'mainland', we suggest experiencing the Glacier Skywalk. Here you will step out on a cliff-edge walkway where giant glaciers perch above you and the sweeping Sunwapta Valley spreads out below.

We Recommend: Remember to take warm clothes and sunglasses, as even in the warmer months temperatures, out on the ice are lower and the sun reflection is blinding. Don't forget to bring an empty drink bottle as you may have the opportunity to fill it up with crystal clear glacial water.
Day 5: Columbia Icefields to Jasper
Duration: 100km - 1.5hrs

Say farewell to the glaciers as you head towards Jasper on the final day. For your first stop, we suggest Athabasca Falls, located against picturesque backdrop of surrounding Canadian mountains and forest. The falls can be safely viewed from various viewing platforms and is very popular in summer so its best to arrive early.

If you are a winter sports enthusiast a stop at Marmot Basin Ski Resort is a must. Considered the premier ski resort in Jasper National Park, Marmot offers a range of ski slopes for the novice to the seasoned pro & even a great kids program!

Continuing North into Jasper, be sure to make a detour to the Jasper SkyTram, the highest and longest aerial tramway located in Canada. Offering panoramic views of Jasper, take a walk along the interpretive boardwalks, or for the more adventurous step off onto a sign posted hiking trail. Make your way into town at your own pace as Jasper is the end of the road trip, but it doesn't have to be the end of your Rocky Mountains adventure!

We Recommend: Jasper National Park is the planet's second-largest dark sky preserve. Light pollution is so minimal here that conditions are ideal for viewing the night sky, which both professional and amateur astronomers can do!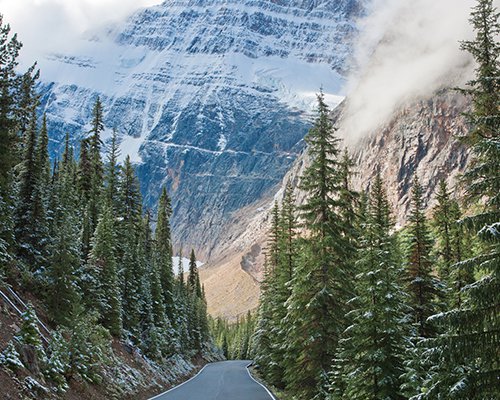 Jasper National Park