In a city like Barcelona, a place that receives more sunlight hours than most destinations in Europe, it would be a shame to not take advantage of the numerous outdoor recreational spaces available in the city's many parks and gardens. Worried that you'll miss out on culture? Don't! Many of Barcelona's parks are also epicenters of art and culture that attract locals and tourists alike. You can absolutely find that balance between R&R, and getting your tourist "fix" on.
---
Parc del Laberint d'Horta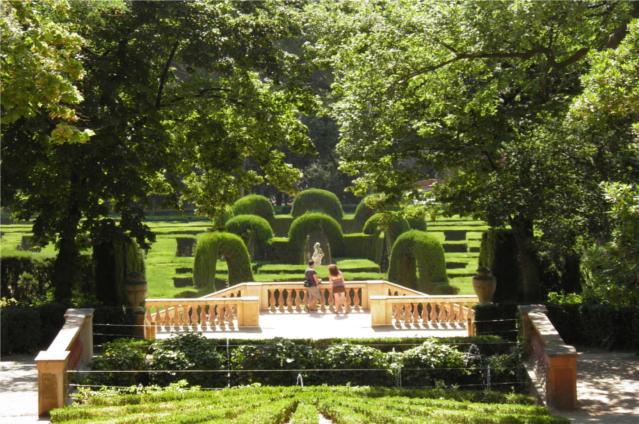 Parc del Laberint d'Horta is an exceptionally picturesque spot, to spend a sunny afternoon. Stroll through the tree-lined walkways, past ancient sculptures and pavilions of Grecian and Roman design. There are two primary sections of this lovely park area. In the neoclassical garden, the labyrinthian maze is guarded by the marble likenesses of Ariadne and Theseus. While in the romantic garden, streams of dappled sunlight are sifted through the branches overhead, alighting on the delicate flowers along the footpaths that you tread. If you're visiting with children, the puzzle of the garden maze will easily inspire a game of hide-and-seek among the carefully cultivated and manicured paths of cypress trees.
There is a small fee assessed to access the park (money well spent!), and there are no more than 750 visitors allowed at a time - a rule enforced to preserve the pristine grounds and magical atmosphere.
---
Carretera de les Aigues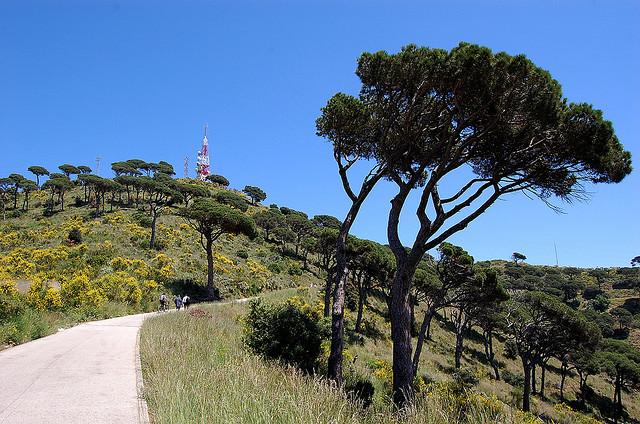 Carretera de les Aigues, the Road of Waters, is a 20 km dirt pathway on the outskirts of Barcelona that winds along the Serra de Collseroia mountain range. It offers a myriad of benefits; providing respite from the press of peak season crowds, terrain suited for athletes of all fitness levels to train, and—the icing on the cake—Carretera rewards hikers with sweeping scenic views over Barcelona and the Mediterranean Sea. There are vantage points where you can see the length of the Ramblas cutting a swath through the city. This green space has an abundant array of flora and fauna which brighten the landscape and provides a home to many wildlife creatures. Go ahead, indulge your tourist instincts and bring a camera—even if it's just the one that's part of your smart-phone...you won't be sorry.
---
Parc de Montjuic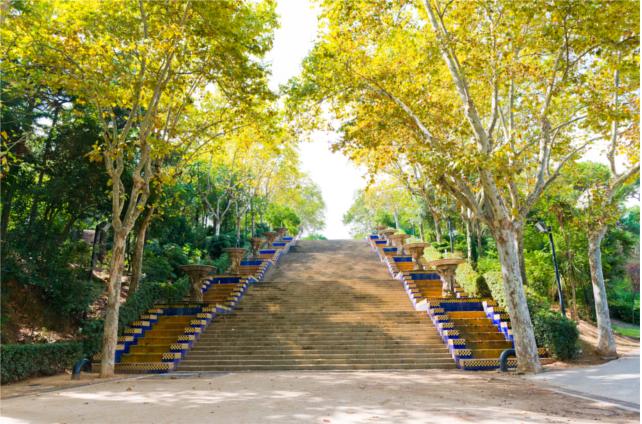 Another pleasant area to enjoy some leisure time is in Parc de Montjuïc. Occupying an expansive hill top space in Barcelona's city center, overlooking the harbor, there are numerous attractive features incorporated into the parks makeup. The 17th century edifice, Montjuïc Castle, is only a gondola ride away—splurge for the cable car and take in panoramic views of the skyline en route, or earn an extra tapa by hoofing it up the hillside. Yes there's probably a queue for the gondola, but ultimately it's worth the wait as the hike is a bit steep. Admission to the castle is free, and you can save a few more clams by walking back down. Gain yet another stunning, visual perspective of Barcelona from the castle ramparts before beginning your descent.
Cultural facilities like the Miró Foundation, Catalan Art Museum, and Museum of Ethnology are also located on the grounds.
Another point of interest in the park is the Olympic Stadium which, though inspiring, sadly has not received the same tender ministrations as other aspects of the park. Look past its forlorn visage and you can imagine the area once packed with cheering crowds and aspiring Olympians. Embrace and revel in this sense of tension and excitement, dejection and victory. A visit to Parc de Montjuïc provides not only engagement and entertainment, but it also offers an education to all who enter.
---
Cervantes Parc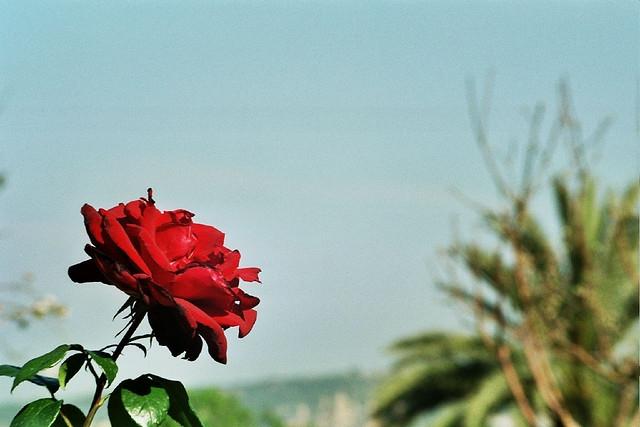 Follow the botanical kaleidoscope of color that is the rose garden in Cervantes Park. Brilliant scarlet and golden yellow, light pink and deep purple—these are only a few of the hues that imbue these fragrant blossoms. Over two hundred varieties of roses from around the world grow in Cervantes Parc, flowering in the friendly temperatures of Barcelona between April and September. Breathe in the delicate and heady scent as you meander through this floral haven, particularly grand within the perfume garden, where rose strains most highly regarded for their exceptional aroma can be found. Take a siesta in the shade beneath the widespread arms of one of the numerous tree species that also share the calm serenity of Cervantes Park, or indulge in a little sun-worship on the lawn.
Should you be in Barcelona in May, the annual Barcelona International Competition for New Roses is hosted in the gardens of Cervantes Park. Horticulturists vie for a series of seven prizes that are judged for the beauty and hardiness of their buds and blossoms—keen to receive the ultimate award; having their bloom chosen for the "Barcelona", and offered a home in the world-renowned rose garden.
---
Parc de la Ciutadella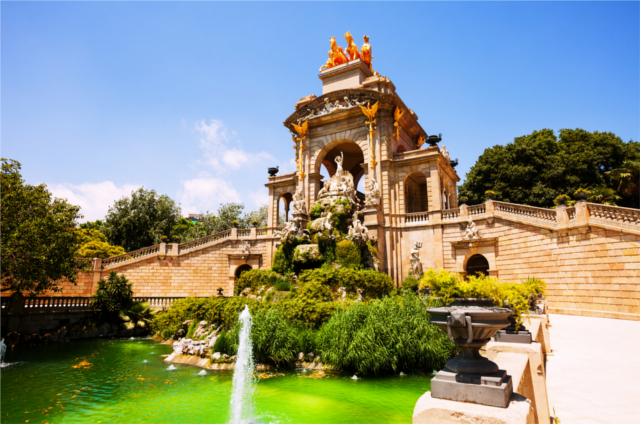 Travelers will find Parc de la Ciutadella the most suited for a day away from their official sight-seeing itinerary. The park combines familiar recreational activities with acres of spaces which are ideal for those seeking deep relaxation.

Rent a rowboat, try a round of table tennis (BYOB&B – bring your own bat and balls), and stop by the bandstand to see if it's hosting any free performances. Make sure you bring a blanket and a picnic, and prepare to refuel while indulging in some casual people-watching.

Parc de la Ciutadella is one of the most family-friendly parks in Barcelona. A park center for children is staffed with folks who organize children's workshops and monitor the distribution of outdoor toys provided by the center for kids to play with while they're in that area of the park. There's a duck pond, and even bicycles that seat family-style groups for hire. Even the Barcelona Zoo and Museum of Natural History and Science are conveniently accessible from the park grounds.
---
Parc Guell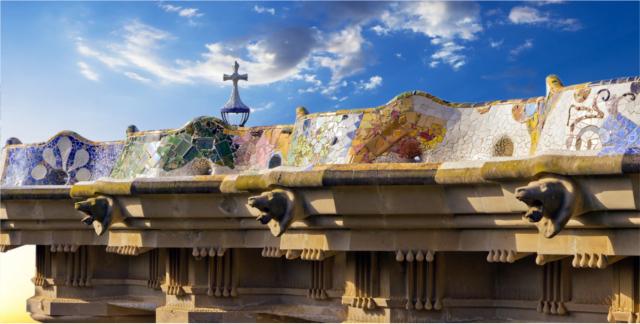 It is (practically) inevitable that you will pay a visit to Parc Guell without any prompting from me, but because of its singular nature, this fantastic destination deserves at least a nod of acknowledgment when discussing the parks and recreation in Barcelona, so here it is: Park Guell has earned its reputation. Don't miss it.
---
See More of Spain with Auto Europe
Your travel experience is what you make of it and Auto Europe's knowledgeable reservation staff is here to ensure that your car rental in Barcelona is one of many positive memories that you bring home.

If you have questions about renting a car in Spain we offer resources from informative travel videos, to relevant details regarding our large fleet of rental vehicles. Confirm your rental car online using Auto Europe's hassle-free, three-step booking engine 24/7, or call us toll-free at 1-888-223-5555.