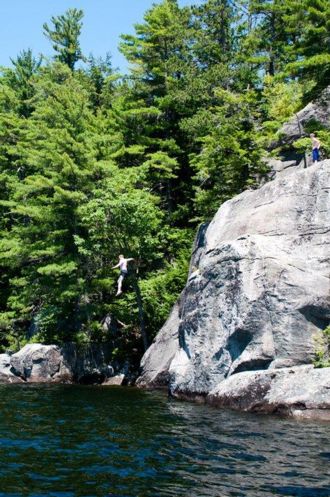 Frye's Leap, Raymond, Maine
"I am quite the vision, my lithe ginger form sparkling in the sun as I brave certain death with panache and bravado."
– Dave Zwickerhill
Fitzwilliam Quarries (New Hampshire)
Fitzwilliam Quarries is located in southern New Hampshire, near the Massachusetts border. It is the perfect place for people of all abilities to go cliff jumping due to its staircase like appearance with ledges ranging from 10 to 40 feet. The water below is spring fed which gives it a bluish hue, and there is no risk of hitting bottom as it is 40 feet deep.


Salmon Falls (Maine)
Salmon Falls is very popular swimming area in southern Maine, along the Saco River. On either side of the river, there are a number of ledges and rope swings off from which people jump during the summer months; people even leap from the bridge along Route 202 (not permitted by law). Although the water is deep enough, some rope swings and ledges are so high that a miscalculation would be dire.


Red Rock State Park (Vermont)
Located in Burlington, Vermont on the rocky shores of Lake Champlain, the Red Rock State Park attracts extreme cliff jumpers from all around. Some of these cliffs reach heights upward of 70 feet and will delight the avid thrill seeker. Unlike more beginner-friendly destinations, the only people you will see jumping from these cliffs are diehard adrenaline junkies.

Though it is a thrilling experience, jumping from cliffs is about as advisable as it sounds. There is a serious risk for injury, and in some cases death; it is done at one's own risk and should not be entered into lightly, if at all. This blogs intention is to highlight cliff jumping, not endorse it. So next time you book a car rental in Boston, or a car rental in Burlington be sure to observe these high-flying New Englanders from a safe distance.