While the UK and Ireland have many things to recommend themselves to the international traveler, the extensive number of golf courses throughout the five countries, lure a high percentage of leisure traffic year after year. There are many reasons golfers choose one course over another, and Auto Europe has put together a list of some of what we consider some of Ireland and the United Kingdom's most picturesque golf destinations for you to tee-off.

Sunningdale Golf Course, Sunningdale
Sunningdale has not one but two exquisite sites, the Old and the New golf courses. Players will access a combined thirty-six holes of spectacular green turf. Some exceptional rounds have been played on the Old course in particular. A perfect score of sixty-six, played by Bobby Jones in 1926, to qualify for the British Open, then, more than fifty years later, Nick Faldo came in close to Jones' record with a game of sixty-two during the European Open. The New course has been open since 1923 and between the two (New & Old), they are widely regarded as being in the top, if not the top, of places to play.
Manor House Golf Club, Castle Combe
The Manor House Golf Course may be in its infancy comparatively, having been established in the early 90's, and it may never see a PGA tour, but golfers of all skill-sets will still find their mettle tested on this 6500 yard course. The Cotswolds range and the charming village of Castle Combe are the perfect backdrop to this undulating terrain. The village of Castle Combe is a regular home to competitive motor racing, if you'd like to get your heart pumping watching a high-speed race after a sedate round of golf.
Swinley Forest Golf Club, Swinley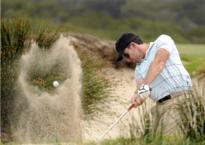 Golf is a game of patience and precision. Swinley Forest Golf Course was designed by golf course architect Harry Colt, who it happens also fashioned the prominent Sunningdale Golf Course. With an eye for aesthetics and seeing opportunity in the natural landscape, Colt created both an interesting and challenging terrain for golfers in any season, while lending an air of serene ambiance. The clubhouse also consistently receives high laurels for the tasty fare and friendly service. If you have more time, there are more activities such as the Go-Ape facility in the expanse of Swinley Forest that offers you the chance to explore the woods from above using a series of rope bridges and climbs. The ground trails are frequently used as a vehicle for mountain biking.
Aberdovey Golf Club, Snowdonia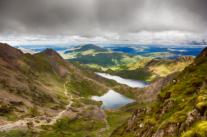 If you want get off of the grid so to speak, Aberdovey Golf Club is an excellent choice. Nestled within the dramatic beauty of Snowdonia National Park each play offers a real test of your acumen as the winds often playfully carry your ball off its intended path. From the 12th hole you have the Irish Sea to one side, and the Cambrian hills to another. An enchanting and challenging destination for your next golfing trip!
North Wales Golf Club, Llandudno
Some of the best golf in Wales can be found along its western border that touches the Irish Sea. The North Wales Golf Course is considered by many to be a top ten in Wales for its championship links that still provide options for all skill-sets. Llandudno itself is also in the crème de la crème of Welsh resort towns. It is home to Great Britain's last remaining cable-hauled tramway that deposits you upon the summit of the Great Orme for spectacular panoramic views as far as Isle of Man.
Cruden Bay, Cruden Bay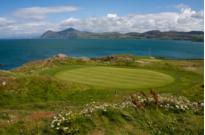 A day trip from Aberdeen to the Cruden Bay Golf Club involves an invigorating round of challenges on a classic if unusual golf course. Much like Swinley Golf Course in England, the designers observed the natural lay of the land and utilized it to great advantage. Attractive sweeps of green merge with curvaceous fairways, as stories-high dunes overlook pebbled turf. The course is at turns open and intimate. The town of Cruden Bay has amenities to meet basic needs as well as a few additional shops and a quaint beach. Slain's Castle nearby is a roofless ruin that offers a photo-friendly seascape.
St. Andrews, St. Andrews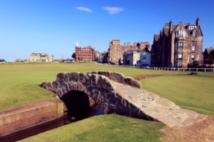 No one can mention gorgeous greens and great golf links in the United Kingdom without mentioning St. Andrews, the quintessential home of golf. The Old Course, after hundreds of years, is still highly regarded and regular host to the Open Championship. The course is set up to be played clockwise and counterclockwise, and if you finish the course to the 18th hole, it is typical to take a picture on the iconic Swilcan Bridge. Each of the hundred plus bunkers has an individual name and a tale to match it with select bunkers such as The Road Hole and Hell Bunker famous for offering an increased level of difficulty. While the St. Andrews is home to what is considered the oldest golf course, St. Andrews University is in the top-three, ancient centers of education in the English-speaking world. The architectural remains of the castle and cathedral rise up from the jagged coastline and give way to long stretches of sandy beaches. For such a small coastal village, St. Andrews has much to share in looks and activities.
Ardglass Golf Club, Ardglass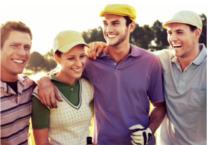 Just an hour's drive in your car rental from Belfast, or less than two hours north of Dublin, you'll find Ardglass Golf Club situated on the rugged western shores of the Irish Sea. The clubhouse is set in the 15th century Ardglass Castle and many elements of its original construction were preserved in the renovations. On the course itself you are met with no less than seven opportunities to take in the breathtaking views of the sea supplied by the breadth of elevation changes. Though there are arguably some holes that are more mundane, the majority provide a need for thoughtful inspection and technique.
Tralee Golf Club, Tralee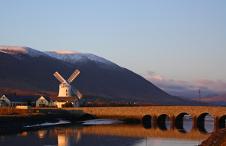 Arnold Palmer designed the Tralee Golf Course in Kerry County, and by all accounts, visitors find it to be a little piece of heaven in a country with more than its share of mind-bogglingly beautiful scenery. A blend of comely fairways, cliff tops views over the Atlantic Ocean, castle ruins and deep bunkers will ensure you're gaze falls on land that appeals to both your sportsman's and artistic nature at every turn. While the occasional winds and rain make for more interesting play, they are hardly considered detractors for the truly focused player or photographer. Within the town and surrounding area of Tralee, visit the Wetlands and Nature Reserve including the mudflats, lagoons and beaches, or the Blennerville Windmill, sample some traditional Irish fare, or if you're there at the right time in August attend the Rose of Tralee Festival.
At Auto Europe, we explore international destinations and pool information to provide a better travel experience for you! Check out our worldwide car rental destination guides, and travel videos for relevant details to assist in your travel planning. A car rental in the UK is always an invaluable accessory to any trip, and our simple three-step, online booking process makes it easy to confirm your vehicles with the touch of a button. Get the best rates and award-winning service from Auto Europe on your next European car rental.