Guest Blog Series - We've asked travel experts to provide their advice and insights on the best European road trips. This guest blog post is written by Katherine Belarmino of Travel the World. Find out below what she learned while driving in Scotland.
Unlike many places where the capital city is the star attraction, Scotland's most well-known attraction is the Scottish Highlands. There is a surprising shortage of rail service in Scotland, but the Scottish Highlands are best seen on a road trip anyways. Here are
10 tips for driving in Scotland
.
---
1. Be Ready to Drive on the Wrong Side of the Road
Scotland is part of the United Kingdom, so that means they drive on the wrong side of the road - I mean the left side of the road. Not only are you driving on the wrong side of the road, you're also driving on the wrong side of the car, so you might want to consider renting an automatic even if you drive a manual at home.
2. Use the Correct Fuel
You are just as likely to receive a rental car in Scotland that uses diesel fuel as you are to get one that takes petrol (unleaded gas). Pay careful attention to what kind of fuel your car takes and when grabbing a gas pump. In the United Kingdom, petrol has a green handle and diesel has a black handle, which is the exact opposite of the United States. Sadly we made the expensive mistake in Ireland of blindly grabbing the green handle for our diesel car. Pay attention! Don't rely on the color of the pump. Read what the pump says before fueling.
3. Prepare for Weather
Scotland is not known for its clear skies and sunny weather. Scotland is green, and that green happens because there's water, lots of water. It comes down from the sky in the form of rain, hail, and snow. While Scotland's weather can be a little wet, it is also beautiful as long as you're prepared.
4. Watch Out for Animals
In Scotland, there are animals everywhere! The most common animal seen on the side of the road is sheep and, in the spring, there are myriads of tiny lambs. The Scottish Highlands also have their own special type of cow, the hairy Highland cow (or heilan coo) with its long reddish hair and its very long horns. If you're lucky, you may even run across some red deer. And of course you'll want to keep an eye out for the famous Loch Ness Monster.

5. Brake for Photos
Scotland is picturesque, even when you're in the middle of nowhere and miles away from the nearest tourist attraction. While focused on getting to the next site, don't forget to stop, take a look around, and shoot some photos of the beautiful scenery provided by Scotland.
6. Don't Drink and Drive
Drinking and driving never mix, but Scotland has particularly strict drinking and driving laws. Not only is the alcohol limit for drivers lower than in the United States, it is also lower in Scotland than it is in England. Scotland's alcohol limit for drivers is 50 milligrams of alcohol in every 100 milliliters of blood (0.05% BAC) and 22 micrograms of alcohol per 100 milliliters of breath.
7. Follow the Malt Whisky Trail
Scotland is the birthplace of Scotch whisky and has over 100 distilleries, many of which are open to the public. Most of Scotland's distilleries are located in the Highlands, including along the Malt Whisky Trail, and offer tours and tastings. However, because of Scotland's strict laws, drivers should limit or abstain from tastings. Happily, distilleries allow drivers to take their tastings to go in single serving bottle packs.
8. Discover the Castle Trail
The Whisky Trail isn't Scotland's only trail. Scotland also has a Castle Trail that connects 19 of Aberdeenshire's castles. Scotland's Castle Trail only scratches the surface of Scotland's wealth of thousands of castles. No matter what part of Scotland you choose for your road trip, some of Scotland's best castles are sure to be nearby.
9. Plan Your Route
Unlike most European countries, Scotland is not peppered with rental car offices. When planning the start and end points of a Scotland road trip, be sure each end has a rental car office for the rental car company of your choice.
10. Build in Extra Time to Pick Up and Drop Off
Not only does Scotland have a shortage of rental car offices, those offices are small, sometimes only staffed with one person. Therefore, it is important to build in enough time for picking up and returning the rental car so a wait won't mess with other travel plans.
Bonus Tip: Book with Auto Europe
Why book with Auto Europe? Auto Europe works with multiple rental car providers, so you can choose from the best companies all in one place. This is especially beneficial when planning a Scotland road trip since there aren't a huge number of car rental companies and they don't all service the same cities and towns. Booking with Auto Europe makes the process simple.
---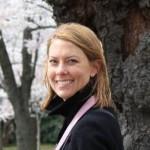 This guest post was written by Katherine Belarmino of
Travel the World
, a travel blog for the everyday working stiff who wants to see as much as possible with limited vacation time.
---
It's time to pin for your next road trip!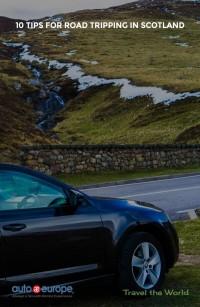 ---
Driving in Scotland is Easy with Auto Europe
Take your road trip adventure with a car rental in Scotland from Auto Europe. Whether you need car rentals, luxury or economy, incredible hotel accommodations, or international airfare, Auto Europe has got you covered, with everything you need to enjoy the perfect vacation abroad. Give us a call, toll-free at 1-888-223-5555 to speak to one of our helpful reservations agents, and prepare for the trip of a lifetime.