Special guest post this week...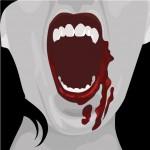 So, like, there are WAY more Vampires in the world than you probably realized. Even after we destroyed Sunnydale, California (sorry about that!), they're everywhere. All over the place, doing their vampy best to bring about the apocalypse, or whatever. Vampires suck, both literally and figuratively.
I would NEVER suggest you regular people hunt them, because that's so not safe and best left to us Slayers and chosen one. Ones. Vampires with souls will hunt their own too, but that's really complicated. So I'm just going to tell you where MY favorite places are to kick Vampire butt! Make sure you stay out of my way, and if the apocalypse comes send me a text!
1.
Transylvania
– this is a no-brainer. It's so old, and there are so many medieval castles and churches that a Vampire could lurk in. They do that a lot, you know: lurk. With their brooding and beady eyes and… wait. Where was I? Oh yeah – Transylvania! So anyway, you'll find Bran Castle in Transylvania, which is Dracula's Castle. THE Dracula (who I expected would be a lot taller). It was built back in 1212 and is now a museum which is so like a buffet for Vamps. There's also Densus church which is REALLY old, older than my Dad even. Built in the 7th century by Romans… I think?
2.
Salem
– right in the Unites States! Massachusetts, no less. I think that the Witches – oops, I mean Wiccans – totally have this place locked down, but you just know that Vampires are all over this place because like 100 million people go there every Halloween to see House of the Seven Gables (a colonial mansion) and the Witch House, which was actually used in the Salem Witch Trials back in 1692! I can NOT talk about this to Willow, because she FREAKS about that, so let's move on!
3.
Los Angeles
– Big city, even BIGGER vampire population. Don't let all the sunshine and tanned bodies fool you – this city is teeming with fangs. Even so… the beaches are amazing. And the shopping is to DIE for! Ha ha, get it? Also, there's so much to see and do: Disneyland in Anaheim, Hollywood, Dodger Stadium, Staples Center, Capital Records, Los Angeles County Museum of Art, Mann's Chinese Theatre… wow.
4.
Puerto Rico
– You probably think it crazy that I'd suggest this tropical country as a prime spot for Vampires, but hello, Chupacabra? That nasty beast has been spotted there, and I will so take it down. And hey, if I get to spend a few hours on Corcho Beach in Vieques or tour the remains of the Spanish forts and colonies in San Felipe del Morro, I'm down with that!
5.
Cleveland
– sorry Ohians, but that nasty Hellmouth that Sunnydale sat upon? You've got one too. You may be the Rock 'n' Roll Capital of the World, but there is major Vampire activity in "C-Town". Sure, you have some awesomely beautiful sites within your city – the Cleveland Botanical Garden, Museums for Art and Natural History, and teams for pretty much all the major sports (Baseball, Basketball, Football, Ice Hockey) – but you've got a dark side that's a magnet for bloodsuckers.
So, there you have it. If you go to these places, be warned. Enjoy your fancy hotels and
car rentals in Los Angeles
, Puerto Rico or wherever, but don't forget to pack garlic and a cross. Leave the Vampire slaying to me!