Tired of aching feet after days of downtown sightseeing? If your perfect vacation doesn't involve hoofing it over cobblestones until you can barely stand, then this article is for you.
We're lucky to live in a world filled with breathtaking scenery, and Europe's natural beauty is accessible by car. This year take a trip and check one of these memorable drives in Europe off your bucket list.
Here's our list of 1
7 hand-picked scenic drives in Europe
... the perfect starting point if you're planning the ultimate driving vacation. Whether you have a week or a weekend, there's a stunning drive for everyone on our list.
Enjoy!
---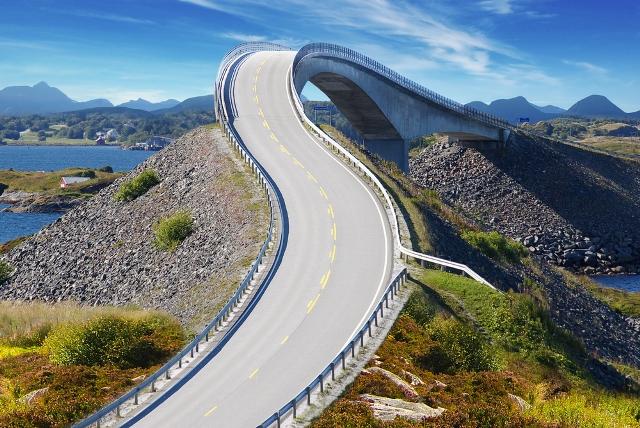 Atlantic Road, Norway
Just look at the picture! Norway's Atlantic Road transports drivers, making you feel like you're soaring out to the ocean's edge. In 2005 this gorgeous highway was voted Norway's "Engineering Feat of the Century," and it easily makes our list as one of the most beautiful drives in Europe.
---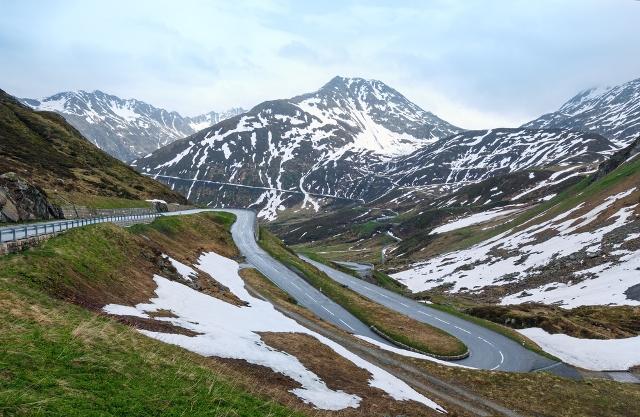 Oberalp Pass, Switzerland
Like alpine driving? There's plenty on this list to get your switchback-fix, but driving through Oberalp Pass in Switzerland will treat drivers to stunning views from an elevation of 6,706 feet! Drivers are rewarded at the top ... there's a terrific restaurant and "Beer Garden" which offers stunning views of the alpine road you've just conquered.
---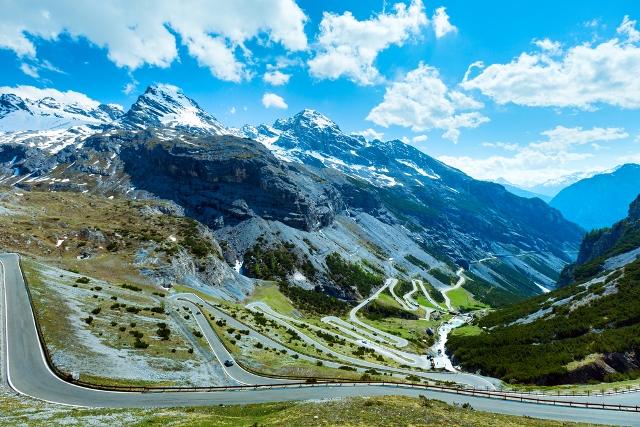 Stelvio Pass, Italy
The road through Stelvio Pass in Italy has to be included on any list of the best drives in Europe. As one of the most iconic roads in Europe, the road through Stelvio Pass, Italy is the third-highest road through the alps and offers drivers 48 hair-raising switchback turns up the north face. In 2008 this road was voted the best driving road in the world.
---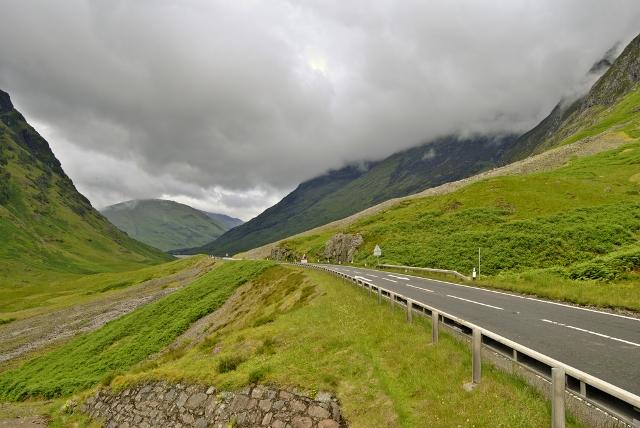 A82 Road, Scotland
Ah the rugged landscape of Scotland! There's just nothing like it. Pick up your rental car up in Glasgow and trace the scenic A82 Road toward Inverness. Drivers who follow this scenic road will skirt the shores of Loch Lomond and Loch Ness. Don't forget your camera - it's gorgeous from start to finish and you might snap a shot of "Nessy!"
---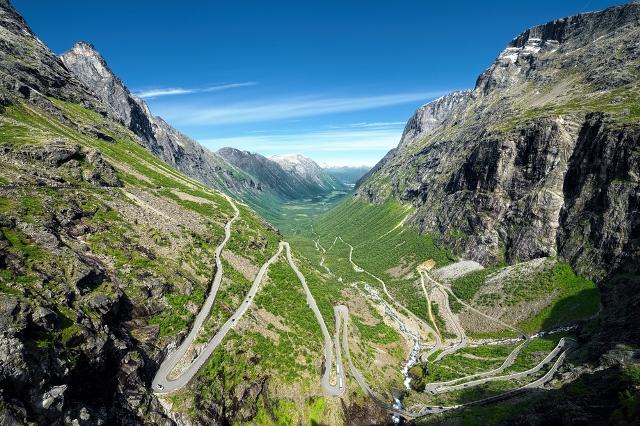 Tollstigen Road ("Troll's Ladder"), Norway
Any time you embark on a drive nicknamed "Troll's Ladder" you know you're in for something epic! Nestled deep within the mountains along Norway's West Coast, the Trollstigen Mountain Road is one of the most dramatic routes in the world - making it a top attraction in Norway and a must-drive for anyone interested in navigating the best roads in Europe. On this road drivers are treated to 11 heart-pounding hairpin turns and a steep, 9% grade which will take your breath away.
---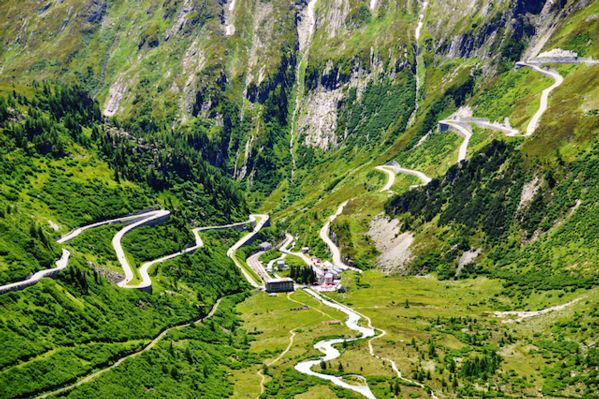 Furka Pass, Switzerland
Want to drive Furka Pass in the winter? Forget it. At an elevation of 7,976 feet elevation, This Swiss mountain pass is one of the snowiest regions in Europe so it's best tackled during the summer or early Fall. If you time your trip right, don't skip this route ... it's easily one of the world's most iconic, exhilarating and scenic drives in Europe.
---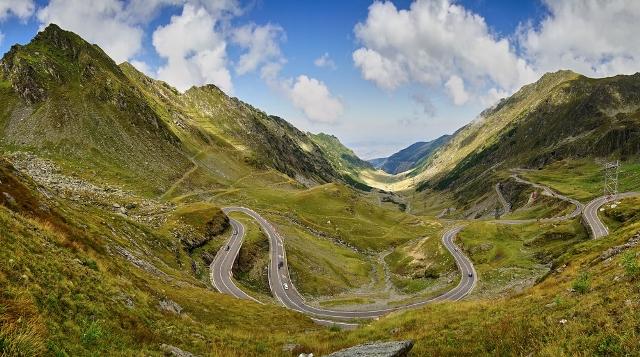 Transfagarasan Highway, Romania
With numerous stunning castles and plenty of naturescapes worth celebrating, Romania may be one of the best kept secrets in Europe. Drive the Romanian Transfagarasan Highway and you'll understand what so many people are missing. This epic route climbs through steep, hairpin turns, long S-curves and sharp descents to an altitude of 6,699 feet. It's one of the best drives in Europe for sure.
---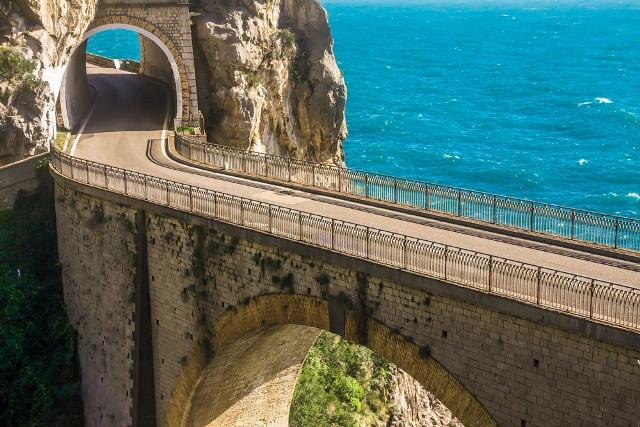 Amalfi Coast Drive, Italy
There's something about the hue of the ocean along Italy's Amalfi Coast that makes you feel refreshed, clear-headed and buoyant. Italy's Amalfi Coast Drive is one of the most popular destinations in the world for motorists, and for good reason. Follow the shoreline from Sorrento to Salerno Italy as you navigate a route recognized globally as one of the best coastal drives in the world.
---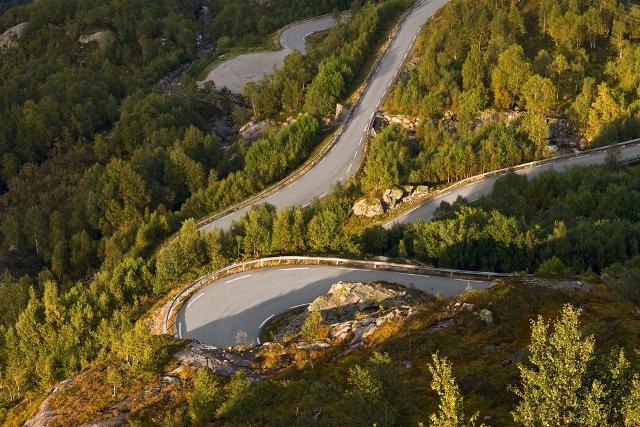 Lysebotn Road, Norway
Are you surprised that so many of these drives are in Norway? You shouldn't be. Norway's government has invested a lot into its scenic highway system and if you drive the Lysebotn Road you'll see that this was money well spent. Always popular with tourists, the Lysevegen or Lysebotn Road is one of the most famous roads in the world - renowned for its impressive natural scenery and thrilling hairpin turns.
---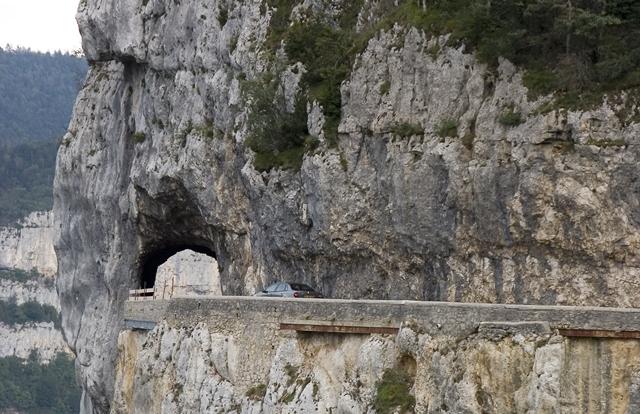 Combe Laval, France
Want a drive through the historic French Alps? Combe Laval is for you. Often labeled as the most magnificent route through this mountain range, the inspired road through Combe Laval was constructed in the last 1800s. The most spectacular stretch of the Combe Laval cuts into the side of a cliff, running through a series of short, narrow tunnels carved into the rock (the picture below is great, but it doesn't do it justice!).
---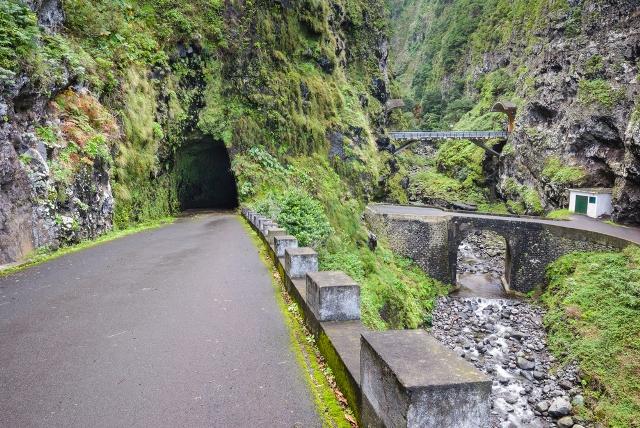 ER 101 Portugal
Madeira, Portugal's ER 101 is the oldest road on the island and if you drive it you'll quickly learn that it's also the most beautiful. Along this motorway you'll enjoy many curves, narrow stretches and thrilling descents and climbs, all while enjoying the dramatic Madeira coastline.
---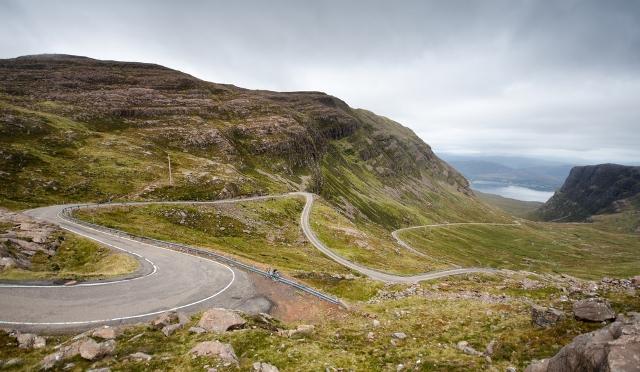 Bealach-na-ba, Scotland
Hankering for a drive through the Scottish Highlands? Discover Scotland's Applecross Peninsula as you navigate this historic pass. A twisting, single-track road, Bealach-na-ba, Scotland offers motorists one of the most famous driving routes in the world ... it was an obvious choice for our list of the 17 best drives in Europe.
---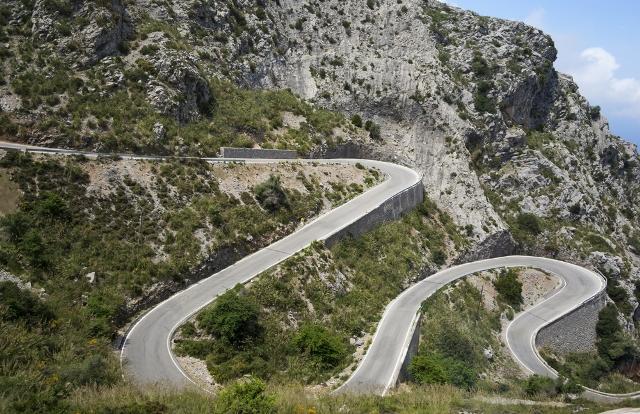 Carretera de Sa Calobra, Spain
You may not have heard of Majorca Island, but if you're visiting Spain and love a good drive, make sure to visit. The Carretera de Sa Colabra is only 13km long, but it's a thrilling drive which snakes through a stark and rocky landscape. Experienced drivers will revel in 360 degree turns, 7%+ grades and hair-raising passes through narrow tunnels formed by majestic neighboring cliffs.
---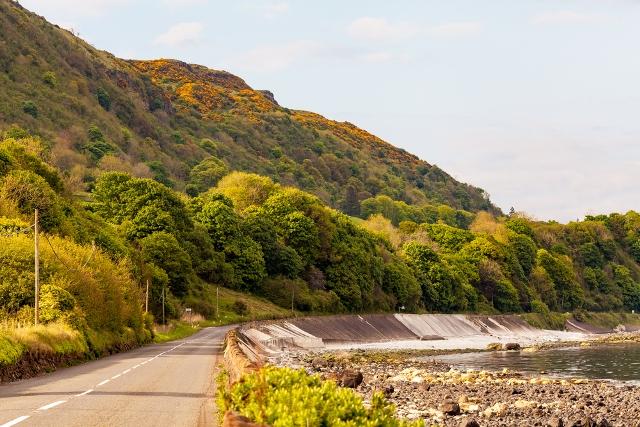 Causeway Coastal Route, Northern Ireland
Planning a trip to the Emerald Isle? The Causeway Coastal Route is one of the most famous and historic roadways which skirts the coast of Northern Ireland between the cities of Belfast and Londonderry. You'll enjoy amazing coastal views and get a real sense for the landscape and communities that makes this nation special.
---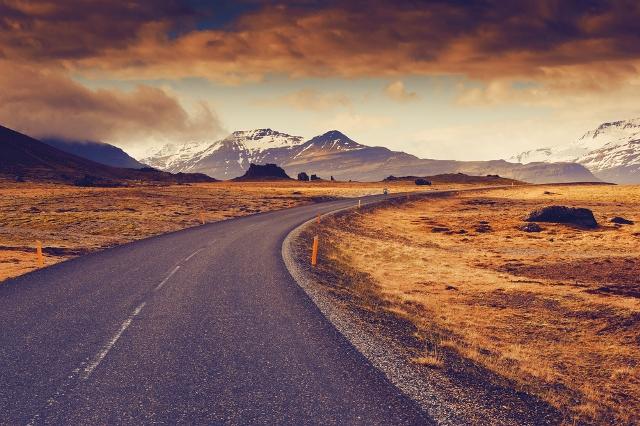 Ring Road, Iceland
Emerging as one of the most popular European destinations for North American travelers, Iceland is truly a fantastic driving destination. You won't find public transportation here ... a rental car is the best way to get around. Drive Route 1 (or the Ring Road) during your visit and you'll circle the island, enjoying stops at the most beautiful villages, overlooks and points of interest in this gorgeous nation.
---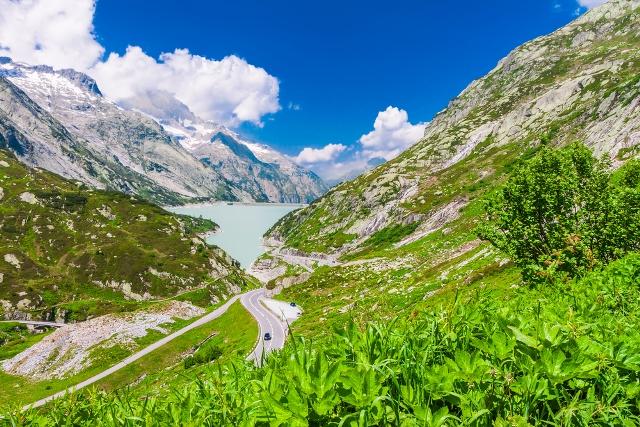 Grimsel Pass, Switzerland
The twisting road through Grimsel Pass in Switzerland treats drivers to amazing alpine views from an elevation of more than 7,100 feet. It's one of the highest roads in the Alps ... be sure to bring your camera. Just look at that view!
---
The Romantic Road, Germany
Germany's Romantic Road is actually not a single road, rather it's a "Theme" route which was created for marketing purposes by Travel Agents in the 1950's. This drive will take you through the most scenic sections of Bavaria where storybook villages, castles and picturesque countryside will provide you with a trip you'll never forget.
---
Did Your Favorite Scenic Drive in Europe Make the List?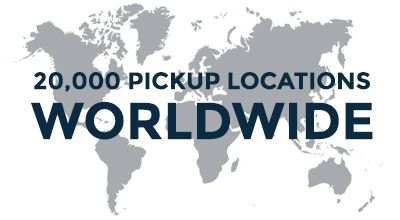 How many of these European drives are now at the top of your bucket list? Which looks like your favorite? Did we miss a scenic road or drive that you feel should have made the list? Let us know by leaving a comment!
Remember - wherever the road takes you, Auto Europe offers car rentals in destinations all over the world. Enhance your next great drive with a fantastic vehicle booked online or over the phone.