If you're in the process of planning an upcoming trip to Europe, packing can seem like a daunting task and is often put off until the last minute. Preparation for any trip is going to vary greatly depending on the length of your stay, as well as your itinerary. The contents of a suitcase filled with items for a two-day business
trip in Munich
will certainly differ from travelers who are packing for a ten-day
excursion in Milan
. Wherever you may be traveling this fall, these guidelines will help you avoid the stress of over packing.

Weather & Local Dress
Spend some time researching local customs for the places you will be visiting. This research will shed some light on apparel locals typically wear, and how visitors are expected to dress. It is important to note that people are less likely to wear shorts in Europe (although this standard is slowly changing), and tourists are expected to be modestly covered when entering certain churches and cathedrals. Keep an eye on regional weather patterns in the days and weeks leading up to your trip; this will ensure that you are packing the appropriate attire.

Toiletries
For travelers planning to carry-on their toiletries, remember the 3-1-1 rule: Each individual traveler is only allowed a single 1-quart, clear, re-sealable bag, filled with 3-ounce bottles. It's convenient to store this plastic bag in an outside pocket of your suitcase. You'll need to have this available when passing through airport security, and you'll appreciate its accessibility when you're feeling a time crunch. If you're checking your luggage, you are able to bring larger bottles and containers, but put some consideration into determining what you will actually need.
Electronics
The majority of hotels have hair dryers and irons, so it's probably safe to refrain from packing those. Make sure electronics like laptops, cameras, phone chargers, and hair curlers are dual voltage. If they're not, you will need to purchase an electric converter. You will also need an adapter because plugs in other countries have different pin configurations.
Color Coordinating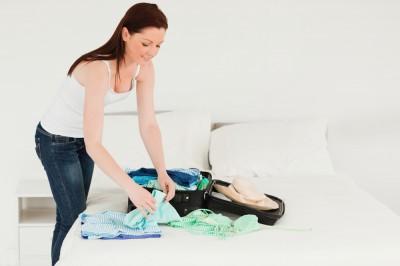 Nailing down a specific color scheme for your trip will allow you create more outfit choices with fewer articles of clothing. Every piece of apparel you bring should be easily paired with other items. Neutral base colors, like black, navy, brown and gray, are easy to build on. Darker tones are also less likely to show wrinkles, stains, and other general wear and tear of traveling. Once you have determined your color scheme, select articles of clothing that you feel the most confident in, so you are less likely to bring alternatives. Pack rolled socks into your shoes, this will save space and keep shoes shaped. Place each pair of shoes into a separate bag and line them along the sides of the suitcase.
Maximize Space
Once you have finalized the list of "must bring" items, figuring out how to fit everything into one suitcase should be a relatively easy task. How you choose to store your clothing comes down to a matter of personal preference. I'm a fan of rolling my clothes; it saves an impressive amount of space, leaving plenty of room for new purchases on the return trip. I've also experimented with layering clothing; this approach usually means fewer wrinkles, but not nearly as much additional space. Some travelers are also fond of using compression bags to reduce volume in their luggage.
Additional Items
Determining whether or not to bring larger items, like sporting equipment, can sometimes prove to be a challenge. For instance, if you are a golfer or scuba enthusiast, should you pack your own equipment, or choose to rent it locally? This decision is also a matter of preference, but travelers should expect to pay upwards of $50(CAD) per flight in order to transport equipment that is over 50 pounds. Travelers planning on bringing additional items should contact their airline in advance to avoid surprise "over size" baggage costs.
Do you have any helpful packing tips? We'd love to hear about them! Auto Europe is committed to helping our clients plan cost effective and hassle-free European getaways by providing access to over
8,000 rental car locations worldwide
. Contact us toll-free 24/7 at 1-888-223-5555 to start planning!