When it comes to delicious food, some of the most tempting aromas on earth come straight from Parisian kitchens. Passersby on cobblestone streets are treated to an array of gorgeous smells wafting out from neighborhood shops as the hours of the day progress. Rising with the sun and the first commuters, there's always a morning croissant fresh from the oven, all flaky and buttery. Grab a fresh baguette stick from the bakery to accompany a fragrant ripe brie or camembert as lunchtime approaches, or consider a bowl of the famous French onion soup. This is Paris, where it's not too early to start dreaming about tonight's dinner. Next time you're in Paris these highlights of French cuisine are bound to provide some yummy memories.

Here are our top 5 reasons to visit Paris:
---
Montmartre and Onion Soup Gratinée
The gleaming white domes and bell tower of Sacré Coeur basilica can be seen on several approaches by car and train into Paris. Lovers of French onion soup should make a mental note to include this neighborhood, known as Montmartre, in an afternoon itinerary. The French make this dish perfectly, caramelizing the onions by cooking them long and slow over a low flame. Of course, they know just what to do with a splash of Calvados added to the beef stock and how to present the just-right bubbling aged gruyère cheese atop a slice of French bread.

With a carafe of the house red wine, it's a meal in itself and a terrific way to address jet lag any time of day or evening. Find a classic soupe à l'oignon gratinée served at a bistro such as the historic La Mère Catherine overlooking Place du Tertre, a square where dozens of artists work from easels - just steps from where Van Gogh once painted. They'll happily provide a stool for you to do a sketch; you'll be smiling after that simple, superb meal.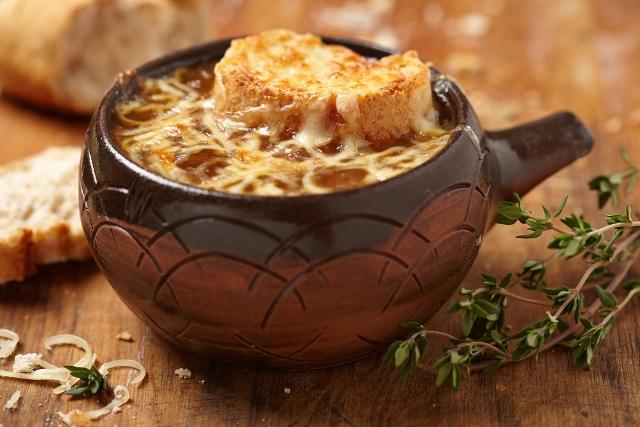 A Winning French Steakhouse
It may seem odd to go to a restaurant where only one dish is served. However, judging from the bustling custom at Le Relais de l'Entrecôte, you can be assured of the quality. In fact, the perfect steak with French fries and salad is served at three handy Paris locations: one just off the Champs-Elysées near the Arc of Triumph, another in the heart of the Latin Quarter and a third in the Left Bank's Montparnasse neighborhood. Just look for the ruby red awning with gold lettering. Your meal is based on a family recipe dating from 1959.

The filet steak is tender (they'll cook it to your specification but do not approve of well-done), the signature béarnaise sauce is a secret, the fries are skinny and addictive, the tasty green salad has walnuts on top. Service is prompt from servers in crisp black and white uniforms and portions are large - only a few folks make it to the dreamy chocolate dessert (profiteroles or crème brûlée). No reservations are taken here. In fact, some say that waiting outside under the awning is part of the tradition, as is the vin de pays (house red) to accompany.
Scrumptious Street Food
With such a strong culture of plentiful sidewalk cafés for lounging, conversation and people watching, it would seem that Paris doesn't really need any street food. But, it has some delicious and inexpensive options. Chief among these is the Crêpe Suzette, served from carts typically priced under $5. The most famous place to grab yours at a table also happens to be in one of Paris' oldest and most beautiful neighborhoods: the Marais District, where Victor Hugo's house is open for tours.

You'll not find better than at the appropriately named Crêperie Suzette, where your galettes choice can be sweet or savory, from a delightful spinach and cheese concoction to warm apple in a textured buckwheat envelope brimming with house made caramel sauce. For those who miss a trip to Le Marais (try not to), their second crêperie location is found 15 minutes' walk from the Champ de Mars, the park leading to the Eiffel Tower. Try yours with a chilled glass of cider or Belgian beer.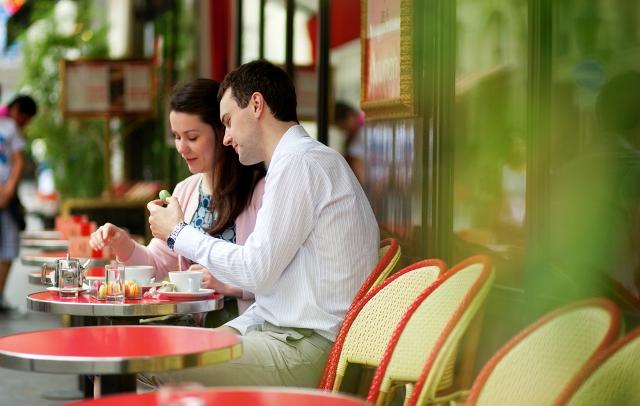 Stars in Your Eyes
Only the very best restaurants on the planet boast the coveted Michelin stars, the critical rating guide that began in France in 1900. From one star to three, only the most impressive places and chefs make it to Michelin star status. Naturally, Paris is one of the world's most decorated cities, with 70 Michelin-starred restaurants. As a certain highlight of any trip to Paris, a careful look at the choices is a good idea prior to making a selection.

Keep in mind that three-starred establishments run by celebrity chefs such as Alain Ducasse or Joël Robuchon, the most starred chef in the world, will cost more. To reinforce the meaning of high-end, take a private elevator 400 feet above Paris to the one star Le Jules Verne, offering panoramic views from halfway up the Eiffel Tower. A new six course tasting menu is 230 euros (about $320) per person -- fortunately inclusive of selected wine pairings and service. More wine can be ordered, of course, from 430 listings in the wine menu. Book well ahead for your memorable meal.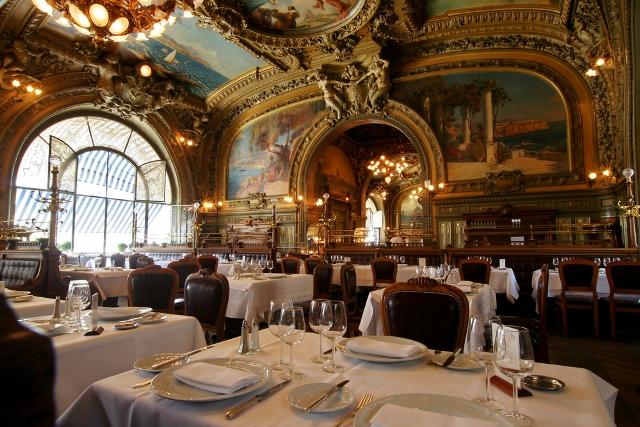 In the Shadow of Notre Dame
When it comes to top treats for both the stomach and the eyes, this location combined with this particular ice cream cone attracts swathes of visitors and locals to Ile Saint-Louis, a picturesque island behind Notre Dame. All in all, 60 natural-only ingredient flavors (which they call perfumes) are produced by the chefs of Maison Berthillon, the ice cream and sherbet selection changes with market availability.

Dominating a pretty corner beside the river since 1928, the shop is a mecca on a warm summer's day. Sightseeing boats glide up and down the Seine, fearsome looking gargoyles peer out from the heights of the ancient cathedral's massive bell tower as graceful flying buttresses effortlessly support its bulk. More importantly, you've got to choose between praline amaretto and pistachio. You've got until 10 p.m. to decide, as they're open late on Wednesday through Sunday evenings. Enjoy!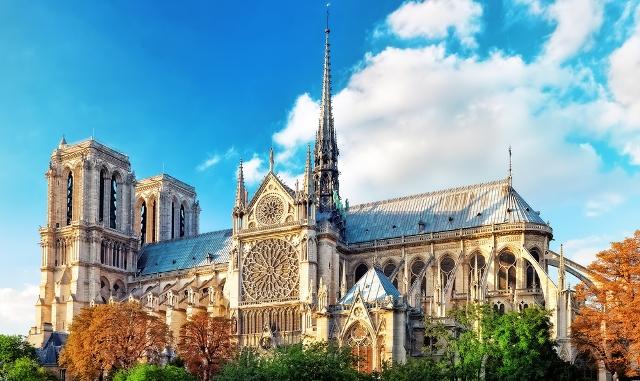 For over 60 years Auto Europe has guaranteed the lowest rates on rental cars in Paris. If your mouth is watering for one of the delicious offerings listed here, start planning your trip to Paris today. Book online in 3 steps using our secure booking engine or call us toll-free 24/7 at 1-888-223-5555.