They may seem a bit madcap to you and I, but these quirky events and festivals will undoubtedly increase your fun factor and give you some great stories to take home! It's never too early to start planning your next international vacation. Learn more about some of these out of the ordinary opportunities in cities across Europe to incorporate into your next trip!
---
Splat!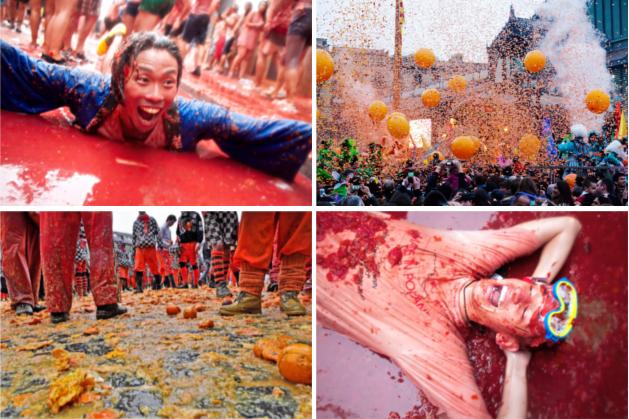 There is something infinitely satisfying about slinging food across a room. The sound and the action bring forth a childlike glee that lives just beneath the surface. Sadly, there are essentially three times in your life when it is moderately acceptable to get into anything resembling a food fight. When you're a small child, when participating in a pie throwing contest at a carnival, and when you smear cake all over the face of your new husband or wife. Beyond that, there is typically a low level of social acceptability when it comes to hurling edible items at others…or so you thought!
La Tomatina
Bunol, Spain
It may look like the aftermath of a cheesy horror film, but this is La Tomatina, Bunol, Spain's epic adult food fight. You've got one hour to send your red fruit ammunition sailing through the air at friends and strangers alike. The cannon is fired twice, once at the commencement of the food fight, and once to mark its juicy conclusion. Whatever you do, don't wear anything that you hope to use again. You'll be up to your ankles in tomato puree, not to mention the clumps and saturation level from head to toe by the end of this tomato tossing event. There are other festivities surrounding La Tomatina, but participation in the tomato throwing is primarily what people come for. As of 2013, La Tomatina is now a ticketed event, limited to approximately 25,000 participants, so get your tickets early as this is a sell-out event!
Ivrea Carnival the Orange Fights
Ivrea, Italy
If you prefer to watch from the sidelines, purchase and don a red Phrygian hat, the associated symbol of freedom, which also labels you as an observer. Then make your way to one of the designated "safe" zones. If you're made of sterner stuff, and don't mind the idea of squishy orange missiles being lobbed at your person, then by all means forget the hat and wade into the fray! The organized local teams are recognizable by their medieval styled garb. During this seemingly farcical reenactment, the "tyrant's" men take the high ground in carts while the "townspeople" (that's you), armed with oranges, stage the assault. As if there wasn't enough riotous entertainment during carnival, the Orange Fights add a layer of unconventional fun!
---
Squelch!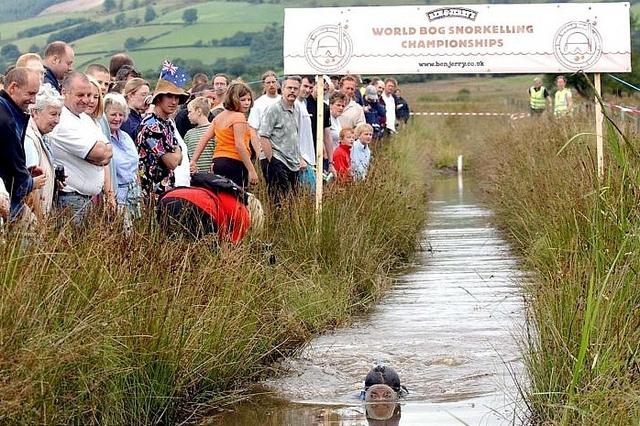 If fruity food-fights are not up your alley, here are some more athletic events to try—you just have to get through the muck and the mire
World Bog Snorkeling Championships
Llanwrtyd Wells, Wales
Have you grown bored with traditional swimming competitions, and long to test your fortitude against new odds? Are you comfortable when faced with environmental conditions that would require you to get a little down and dirty? Can you overcome your squeamish instincts when faced with noxious scents and brushes with creepy water critters? If you've said yes to these three questions you're a bog snorkeling champion in the making.
The annual World Bog Snorkeling Championships in Powys, Wales submerges snorkelers in odorous, muck-filled trenches dug from the Waen Rhydd peat bog. Snorkelers must work their way from end-to-end (60 ft.), propelled only by their flipper-ed feet and doggy paddling (all other swim strokes are strictly prohibited). Keep your head below the surface making full use of your snorkel or you'll have to start again from the beginning! Add a little flair to your segment of the race by wearing a costume.
Maldon Mud Race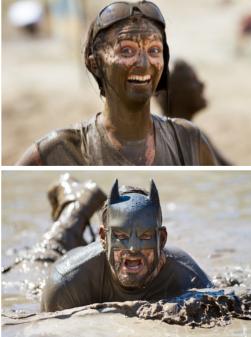 Maldon, England
It's not pretty or glamorous—it's not a relaxing mud bath designed to cultivate a healthy glow. It IS an athletic challenge that requires racers to let down their hair, so to speak, and navigate the 400 meter mud-laden span between the banks of the River Blackwater at low tide, and all in the name of charity!
Teams and individuals can get involved in the Maldon Mud Race, an event which raises funds both for their personal charities and those selected by the event organizers. A Fancy Dress Competition has been instituted in recent years, and though some choose to stick with clothes they don't mind trashing at the end of the race, many go all out, (like Batman on the left), when dressing up. Whatever the wardrobe, participants are treated to a day of good cheer and camaraderie for participants and supporters alike!
---
Discover More Exciting Events with Auto Europe
There are many more eclectic events out there waiting to be discovered by you! Auto Europe's award-winning team of travel experts investigate destinations across the globe to keep you informed of all the weird, wacky and wild festivals at your fingertips.
Rent a car with Auto Europe
from any one of over 8,000 international
pick-up locations
and explore these four destinations sure to add some side-splitting fun to your trip. Arrange your car rental online, or contact a rental car reservation specialist toll-free at 1-888-223-5555 24/7.
Stay appraised of specials and savings with Auto Europe by registering for our
weekly newsletter
. You can also follow Auto Europe on
Twitter
, and like Auto Europe on
Facebook
for more travel deals and info!