Car Rental Prague Vaclav Havel Airport (PRG)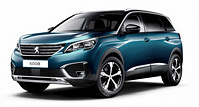 Why wait around for public transportation when a rental car at Vaclav Havel Airport gets you where you are going in half the time? There are many different available car rentals in Prague including long-term options, all at guaranteed low rates when you call Auto Europe. Vaclav Havel Airport is located in Prague and commonly known simply as the Prague Airport. This airport is the largest in the Czech Republic and one of the busiest in the region with a passenger base of approximately 10.8 million people. The airport began providing flights in 1939, although before this time it served as a military airport in 1919.
Picking Up a Car Rental at Vaclav Havel Airport
As long as you have accessed a car rental at Vaclav Havel Airport you will be able to explore the region and all that it has to offer at your own pace. No matter what kind of attractions you enjoy or what you hope to experience on your holiday you are certain to find it available with your rental car in Prague! One of the first places to visit while in Prague is Old Town. Situated in the heart of the city, Old Town is home to numerous houses, churches, and other buildings that date back as far as the 13th century. In Old Town there are plenty of things to have your camera ready for including the Astronomical clock, the Estates Theater, and the Municipal House.
The Prague Zoo is the best way to spend the day when you have kids on tow. This zoo is one of the best Prague attractions, serving as home for more than 4,700 animals of 690 species, many of which are endangered. Not only is this one of the best attractions in Prague, it is one of the best zoos in the world! The Lesser Quarter is also a neighborhood worth your time. This is the historic area of town and there are Renaissance homes and buildings in this neighborhood as well as squares and more!
Accommodations near Prague Vaclav Havel Airport
Cheap hotels, luxury hotels, practical hotels - no matter what you expect in your stay, it is available with Auto Europe! We will ensure that you get to your hotel of choice in Prague with an affordable chauffeur or airport transfer service and rental car at Vaclav Havel Airport.
Courtyard by Marriott is one of the closest hotels to the airport. This seven-story hotel is located in front of terminal one, with an array of amenities. Holiday Inn Prague Airport is located 0.5 miles from the airport and has wireless internet, a business center, on-site restaurant and bar, and so much more. The four-star hotel is also affordably priced.
Vaclav Havel Airport Contact Information
To speak with a member of staff at the airport, you can call them directly at +420 220 111 888. Be sure to book your rental car at Vaclav Havel Airport with Auto Europe so you can also tour destinations nearby including Dresden, which is 74.4 miles in distance.