If a visit to Lake Como is on your must-do list, its spot is well deserved. That said, we think that once you catch a glimpse of the pictures below the Italian Lake District may move up a few notches on your bucket list. Here are our top 5 reasons to visit Lake Como now:
---
Historic
Only a massive glacier scraping its way across the ancient face of the European continent could have carved out a land form as striking and lovely as the Italian Lake District. Thanks to the Ice Age, melting glaciers left behind four major lakes and several minor ones. Lake Como is the crown jewel of the principal set which includes neighboring Lake Maggiore, Lake Lugano and Lake Garda. Curiously shaped like a skinny wishbone, Lake Como is Italy's third-largest body of water and among Europe's deepest lakes. Surely the depth and the narrowness combine to create Como's celestial blue water; crystal clear against the backdrop of the snow-capped Italian Alps just south of the border with Switzerland.
A mild climate has favored the growth of luxurious floral vegetation here, providing camera-worthy pops of color around the lake's edges adorned by fin-de-siècle villas. As is not uncommon in Italy, Lake Como is a place that is also a frame of mind. This destination offers an escape from modern life, transporting visitors through the prettiest time tunnel one could imagine to a simpler, easier time. Time slows here, allowing visitors to savor simple moments and enjoy every breath. Visit Lake Como and you will struggle to put the feeling this destination offers into words. Upon your return you'll find yourself explaining to friends and family that there is a magical quality to the place - a feeling which is as difficult to describe as it is easy to enjoy.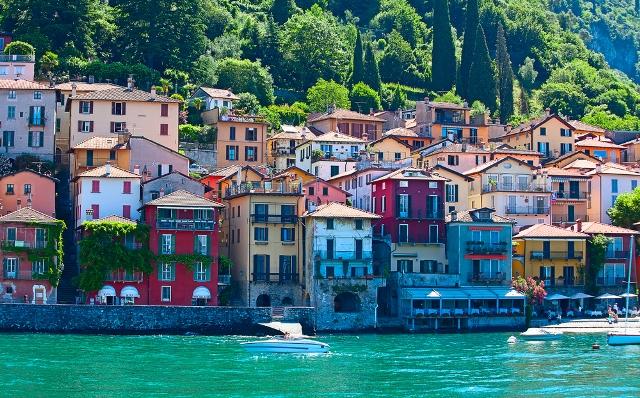 Panoramic
For those familiar with the hustle and bustle of business-minded Milan, it's a bit surprising that such serenity and stunning scenery can be found only 50 miles north of Lombardy's capital city. Rent a car in
Milan
and you'll arrive first in the town of
Como
at the southern border of the lake which shares its name. Straight away, you'll want to drink in the luscious lake views. One way to do that is to hop aboard one of the red or lilac colored cars of the 19th century funicular railway which climbs 3,500 feet to the tiny town of Brunate. After seven minutes of a 55-degree incline (not recommended for the acrophobic) you'll reach the top and be rewarded with expansive views. After all, this is two-thirds of a mile up! Upon descent, you'll be drawn to the impressive Como Cathedral or perhaps a tour of the famous silk museum. But don't stop exploring here; there is so much more to see!
The self-proclaimed pearl of Lake Como is the classy town of Bellagio, sitting just between the two forks of the lake. Considered absolutely the prettiest town on Lake Como, if not in all of Italy, we recommend that you plan to spend at least one morning or an afternoon here. Explore harbor front shops, steep steps mounting up narrow lanes beside warmly-colored houses with balconies dripping in ivies and a riot of wisteria twisting around pink and red geraniums. Those who decide to use Bellagio as a jumping-off point enjoy a choice of luxury hotels located right on the water, including the Belvedere and the Bellagio.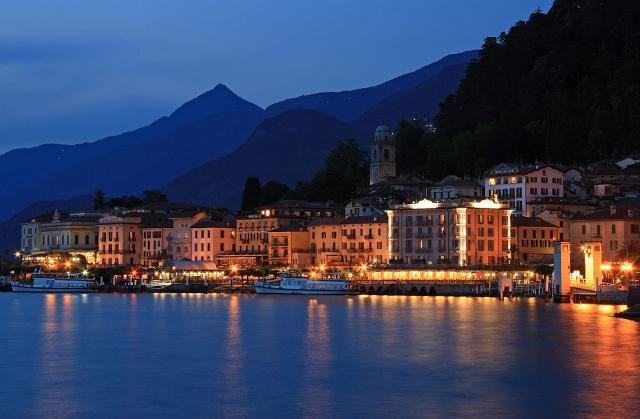 Inviting
Town-hopping by ferry boat is a signature Lake Como experience. And what fun it is to navigate on the water, jump off at the dock and take a look around, move along to the next village by way of another ferry. You can do it on foot, with a bicycle or with a rental car, as the ferries will accommodate all sorts of travelers.
From immaculate villa to elaborate villa, it's difficult to decide which is more beautiful or has the better view. Explore quiet medieval villages with cobblestone alleyways, promenades of oleander, stone cottages, waterfront parks exploding with bursts of bushes in bloom and showy flowers. Busy yourself with trying to find the celebrity homes dotted around the lake behind large gates. Among the notables who own property on Lake Como's shores are American actors George Clooney, Brad Pitt and Sylvester Stallone, plus Italian designers Donatella Versace and Giorgio Armani (not bad company to keep!).
The not-to-be-missed Villa del Balbianello, built in 1787 as a monastery, is located in the town called Lenno on the lake's western shore. Many visitors are aware that its extraordinary gardens caught the eye of location scouts and movie directors; the villa was featured in "A Month by the Lake," "Star Wars: Episode II Attack of the Clones," and "Casino Royale" starring Daniel Craig. Now run by the National Trust of Italy, the public is invited for a look around this spectacular villa.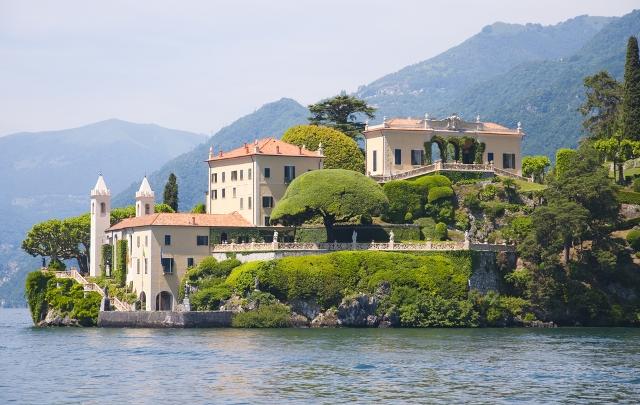 Romantic
Embrace the moment. Lake Como is nothing if it's not romantic. However, honeymooners who might otherwise choose to stare into one another's eyes will have competition here from the stunning scenery. Many towns around the shores of Lake Como have elegant rose, cream and honey-colored villas with fine statues in terraced gardens dropping down to the water's edge. Some of these operate as small hotels, such as Albergo Milano in picturesque Varenna. Take a stroll in the gardens, a dip in the outdoor pool, a chilled glass of local wine on the patio. There is no end to the romance here.
Come dinner time, a dish of local risotto and red wine served al fresco by candlelight goes nicely with views of small boats and moonlight reflected by subtle shimmering water. If you want to splurge on the top-rated Villa d'Este in Cernobbio, well, you only live once! Besides, Cernobbio is also home to Harry's Bar and Il Gatto Nero Restaurant - said to be two favorite haunts for George Clooney and his famous visiting friends.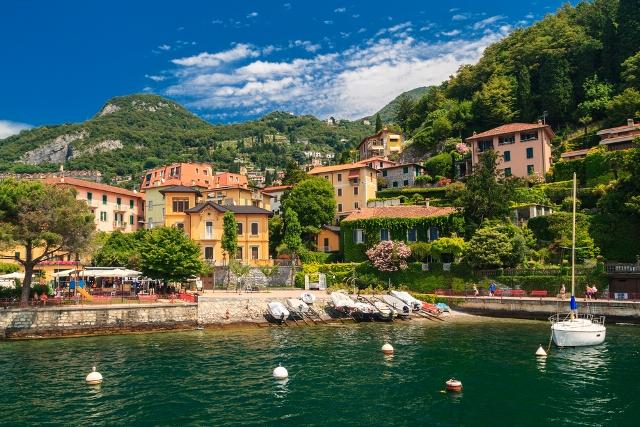 Gastronomic
In elegant Cernobbio, Villa d'Este is a member of Leading Hotels of the World, a destination hotel. Even if Villa d'Este didn't overlook Lake Como (hard to imagine!), this chandelier-dripping jewel would attract visitors looking for old world charm, acres of splendid gardens enhanced by ancient trees, marble staircases, perfectly chilled martinis and superior linen bedsheets. In fact, architecturally-speaking, Villa d'Este is considered a very fine example of 16th century design. Staff fawn over the guests, treating every one as a VIP while providing a steady, but discreet, stream of service, nibbles and comfortable seating. Book dinner here and be sure to save enough room for the superb skills of the pastry chef. Remember, diets begin after vacations, and you only live once!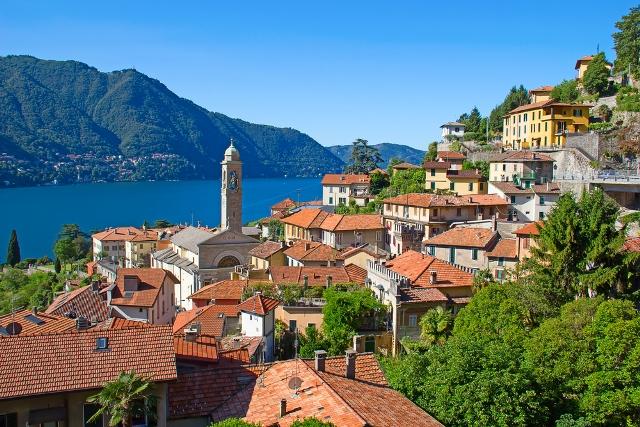 If you're ready to check
Lake Como
off your bucket list, Auto Europe is ready to help. Visit Lake Como in one of our
luxury Italian rental cars
and treat yourself to a star experience at every bend of Lake Como's iconic coastline.
For over 60 years Auto Europe has helped visitors just like you enjoy the one-of-a-kind pleasures offered by Lake Como. Book your rental car in Italy online today or call us toll-free at 1-888-223-5555 to start planning your Italian getaway.