There are approximately 700 kms of Floridian fun to be had on this exciting road trip. We've found some of Florida's best attractions and experiences. Whether you're on a family road trip, a couples retreat, having fun with friends or solo-traveling USA's East Coast you're sure to remember this fun filled journey down Florida's Highway A1A.
Start: Orlando
Finish: Miami
Duration: 7 Days (710 km)
Day 1: Orlando (Walt Disney World)
Start in Orlando, and begin by exploring the magic of Walt Disney World. Discover Magic Kingdom or the eco-minded Animal Kingdom first. Then take the Disney Monorail to Epcot Center and dig into the international food-and-drink possibilities in the World Showcase section. While we recommend more than a day to experience Walt Disney World properly, here are a few tips for those who wish to do it in a day:
Make a list of your must do's
Purchase tickets in advance
Schedule fast passes for rides / attractions
Stay at a Disney resort
Arrive early & stay late
We Recommend: Avoid eating at peak dining times and you won't waste time waiting in long lines.
Day 2: Orlando (Universal Studios)
Universal Orlando Resort comprises of two separate parks: Universal Studios Florida and Islands of Adventure. Both have Harry Potter rides and experiences, as well as intense roller coasters and activities for young ones. However, generally speaking, Islands of Adventure has more thrills than the movie-centric Studios.

We Recommend: If you want to ride Hogwarts Express, you'll need Park-to-Park tickets to go between the parks.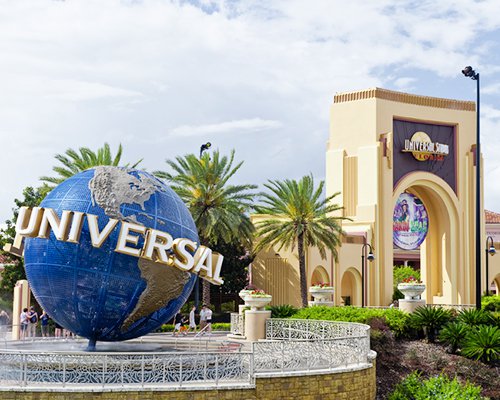 Universal Studios
Day 3: Orlando to Saint Augustine
Duration: 173km - 1.5hrs

Say goodbye to the thrills & spills of Orlando and start your journey towards St Augustine. Approximately 30mins outside Orlando, stroll the brick-lined streets of downtown Sanford and watch boaters glide by on nearby sparkling Lake Monroe. Then continue 1.5hrs along Highway 95 until you arrive in St Augustine.

St Augustine is the oldest continuously occupied European city in the USA, celebrating its 450th anniversary. Take your time exploring the nooks and crannies of the Old City in a trolley, visit the 17th-century Castillo de San Marcos fortress, or marvel at mysteries inside the Pirate & Treasure Museum. Spend the night at one of the many newly restored boutique hotels.

We Recommend: Enjoy a quirky-casual dinner made with all local ingredients at The Floridian. Keep an eye out for the old rowboat fastened to the ceiling!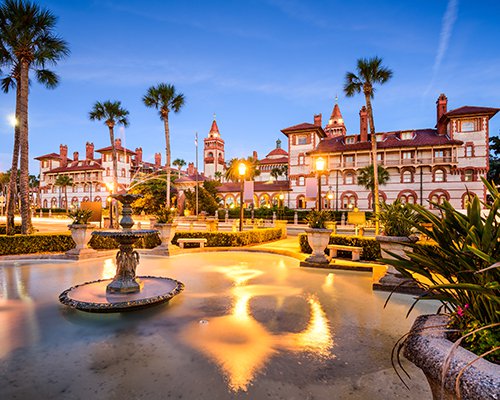 Saint Augustine
Day 4: Saint Augustine to Daytona Beach
Duration: 87km - 1hr

Today you'll cruise the coastal stretch of Highway A1A south from St. Augustine to Daytona Beach. The road follows the coast with panoramic oceanfront views the entire way.

Head south to the Fort Matanzas National Monument located on Matanzas River and take advantage of the park's free shuttle boat which takes you across the river to the island. The fort was built by the Spanish army in 1742 to guard Matanzas Inlet and the city of St. Augustine. Once you've had a taste of history, continue towards Marineland, where you will find the Marineland Dolphin Conservation Center. This world class conservation centre is on the National Register of Historic Places and was once home to the first ever trained dolphin. In recent years it has replaced its dolphin shows with personalised "touch and feed" programs.

Before ending the day in Daytona Beach, make a pit stop at Flagler Beach for lunch at one of the many rooftop cafes or take a photo and walk along the Flagler Beach Fishing Pier – a historic landmark that's 245m long. By the afternoon you'll arrive in Daytona Beach. Best known as the home of the Daytona 500, this beach has been the centre of car racing since 1902. Whilst the most popular activity is visiting the Daytona International Speedway, the city has plenty to offer. Soak up the sun on its world famous beach, climb to the top of one of the oldest lighthouses in the US, or visit the historic downtown filled with great shops and restaurants.

We Recommend: Expect heavy traffic in Daytona Beach during race weeks, bike weeks, spring-break periods, and summer holidays. If you cannot avoid these times -patience is a virtue.
Day 5: Daytona Beach to Fort Pierce
Duration: 227km - 2hrs

Catch the sunrise over Daytona Beach in the morning, and continue along Highway A1A until you reach the Kennedy Space Center Visitor Complex. You don't have to be a future astronaut to appreciate the 'out-of-this-world' NASA facility. Experience everything from viewing rocket launch pads & space shuttles to astronaut encounters, exhibitions, and 3D IMAX films. For added entertainment value, the complex has been organised into Mission Zones. Attractions and experiences are grouped in specific periods of time, from the dawn of space exploration to current and ongoing missions. You may even witness a shuttle launch in real-time!

After a day of space exploring, you will appreciate the scenic, 90-minute drive along the Atlantic coast towards Fort Pierce. Spend the afternoon relaxing on the isolated white sands of South Beach Park, the water is refreshing, the beach is clean and there are usually very few people around. Visit downtown Fort Pierce for a variety of restaurants and bars to enjoy dinner and spend the night.

We Recommend: Arrive at the space centre as early as you can, as there's enough there to keep you busy for a full day.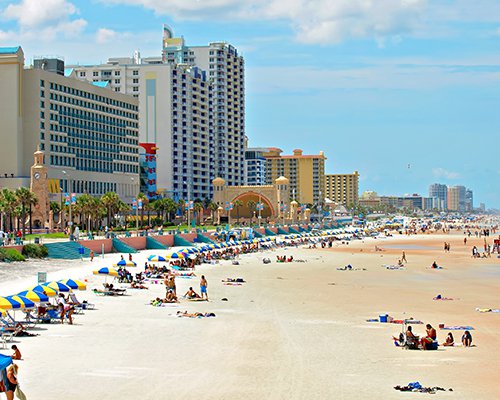 Daytona Beach
Day 6: Fort Pierce to Fort Lauderdale
Duration: 170km - 1.5hrs

This morning is the perfect opportunity to catch another sunrise in 'Sunrise City' - a nickname for Fort Pierce. Enjoy a refreshing breakfast on the waterfront then start the drive towards Fort Lauderdale. Stop at Palm Beach along the way with a visit to Dreher Park – home to the Palm Beach Zoo and the South Florida Science Center & Aquarium.

Fort Lauderdale is an easy 45 minute drive from Dreher Park, and is your final stop for the day. The city is best described as a residential resort city with a series of canals and waterways much like Venis. Fort Lauderdale Beach lies at the heart of the tourist area, where you can walk along the footpaths and view the numerous hotels, restaurants and shops lining the beachfront. The nightlife is electric, and you can relax and unwind at a local wine bar, or dance it up in a nightclub. Laugh the night away at a comedy club, or feel the passionate and energetic vibe of Latin-inspired nightlife.

We Recommend: Peak entertainment season in Fort Lauderdale runs from Thanksgiving through to April, when concert, art, and music events are in full swing.
Fort Lauderdale
Day 7: Fort Lauderdale to Miami
Duration: 50km - 0.5hrs

In the morning head up Las Olas Boulevard – the heart and soul of Fort Lauderdale. This popular thoroughfare stretches from the beach at Highway A1A, and then rises over the fabulous Intracoastal Waterway, with magnificent views of million dollar homes and yachts finishing in downtown Las Olas.

Here is your opportunity to spend some time window shopping and people watching, before you begin the final leg of your journey to Miami. The 30 minute drive from Fort Lauderdale to Miami is easy. South of Fort Lauderdale, Highway A1A heads inland and merges into US-1, returning to the coast for the run south into Miami Beach. While your road trip officially ends in Miami, we suggest spending a couple of days discovering all the highlights this city has to offer. Miami is a melting pot of nationalities, where a mix of cultures, residents and travellers mingle. Make sure to check out South Beach, Art Deco District, Ocean Drive, Little Havana and especially Everglades National Park (located just outside the city).

We Recommend: Many places along Ocean Drive are party hotels – great for late-night drinking and dancing, but if you seek a quiet retreat, look a block or two inland.