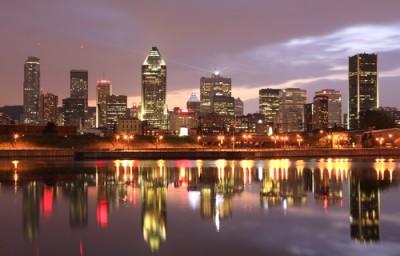 If you're looking for a destination that offers visitors the opportunity to indulge in whatever the heart desires, then Montreal is the place for you! Whatever you're into, whatever you want to see and do, you can find it in the city that was recently described as "Canada's Cultural Capital" by Monocle Magazine.
Montreal was largely settled by the French as far back as 16th century, though it was settled by the Iroquois several thousand years prior. Montreal is Canada's second-largest city and home to about 1,620,000 people. It is consistently rated as one of the world's most livable cities, and offers a diverse mix of art, recreation, and culture… but where to start?
Historical Drama
- If you want to be dazzled by examples of architecture and iconic landmarks, Montreal is one of your best bets. There's a reason it has the highest number of historical sites in the entire country – cathedrals! There are so many outstanding churches in Montreal you'd be hard-pressed to visit them all before your trip ends. Start with Notre-Dame Basilica, featuring Gothic Revival architecture considered amongst the most dramatic in the world. The cathedral offers a spectacular organ boasting over 9,000 pipes and was the site of Celine Dion's 1994 wedding. Also worth a visit: Saint Joseph's Oratory (Canada's largest church) and Mary, Queen of the World Cathedral.
Nature's Bounty
- Those wishing to enjoy the great outdoors should definitely head to the Botanical Gardens. This 190 acre park is considered one of the most important in the world given its' extensive collections. Be sure to hit the renowned Chinese Garden and Japanese Garden! If you have the time: Take a trek up famed Mount Royal, an extension of a vastly eroded ancient volcanic complex.
Good Sport
- Ice Hockey is by far the most popular sport in Montreal, so be sure to take in a game if your trip is "In Season". The Montreal Canadiens boast a 24 Stanley Cup Championship record! Soccer is also big in Montreal, and the city hosted the 2007 FIFA World Cup. Stock car racing is popular in the warmer months and you can enjoy both NASCAR and Grand Prix Formula One races at the famous Circuit Gilles Villeneuve.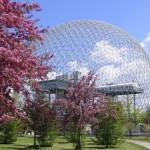 Lavish Landmarks
- If architecture is what excites you, then you'll be thrilled to discover Montreal has more than just beautiful, old churches (though, it really DOES have a lot of churches!). Head to Olympic Stadium first and visit the stadium built specifically for the 1976 Summer Games that cost a staggering $1.5 billion and took 30 years to pay off. You'll also want to make time to see the Montreal Biosphere at Parc Jean-Drapeau and Habitat 67 on the Marc-Drouin Quay on the Saint Lawrence River.
Art Attack
– No shortage of options here! Head to Place des Arts, home to festivals, performance and concerts, and the world-renowned Montreal Symphony Orchestra. Montreal also hosts the Montreal International Jazz Festival, Just for Laughs comedy festival, Montreal World Film Festival and the Montreal Fireworks Festival each year. And don't forget Cirque du Soleil! Based in Montreal, the "Circus of the Sun" is a regular staple of Quebec's performance scene.
I Love the Nightlife
– Here is where you'll see the most diversity – amongst the options for entertainment! There is a seemingly limitless supply of fantastic restaurants, including Toque, le Jardin Nelson and Bonaparte Restaurant. If you enjoy bar hopping, then hop to Pub St-Paul, Les Foufounes Electriques, Brutopia and Casa del Popolo. If you'd prefer to dance the night away, then your best bets are Club Unity, Parking and Copacabana.
Viva Diversity!
– Since I did say that there's something for everyone, then head over to Montreal's Gay Village on Rue Ste Catherine East for shopping, restaurants, clubs, and bars. And since anything (and everything!) goes in Montreal, those who are daring can check out the strip clubs for fully nude dancers. The men go all the way at Campus (muscles), Stock (jocks) and Taboo (diversity!), while you can enjoy the females at classy Club Wanda's or busy Kamasutra Club.
You'll have a fabulous time in Montreal, but remember - French is the primary language! In fact, Montreal is the second largest primarily French-speaking city in the world, after Paris. So what's the best option for you? Well, you won't know until you try them all…
Enjoy!
Contact Auto Europe for all your travel needs, from hotels in the U.S. to car rental in Paris.