Take an icy glide toward winter enchantment! Ice skating is a boon to the winter traveler, especially when packing equipment which is very light, relative to skiing. Where skiing is the main course for planned vacation, ice skating can be slipped in as a seasoning, augmenting your travel plans with just a little hint of exercise and wonderland magic. In beautiful outdoor rinks, you are able to still enjoy the scenery and the fresh air, but you don't need to commit to spending your entire vacation in this one outdoor activity. Of course, for those who love both skiing and skating, I don't see why they couldn't include both sports in their itinerary with the convenience of a rental car in Europe! In the cosmopolitan cities of Europe, winter travel offers visitors the chance to catch renowned live musical performances and explore grand museums without so much as a passing thought of the amazing weather and natural scenery you might be missing. In between intense cultural experiences, you can revive your blood flow and experience a lively slice of local life with visits to beautiful central skating rinks, such as these travel favorites!
Fountain of Neptune: Berlin, Germany
Neptune may be the proud and fearsome god of the sea, but in
Berlin, Germany
, it appears that he takes on a winter gig as the harbinger of holidays! During this time, central Berlin is transformed to a seasonal paradise. Neptune's tempestuous fountain sea turns into vast icy plain, welcoming visitors to enjoy a free skating session. There are also skate rentals available for those who travel light. The festivity doesn't stop there. You will be able to procure trinkets and goodies for everyone on your list at the nearby Christmas Market, and from the glittering Ferris wheel, you will be able to catch a panoramic view of the city of Berlin in its holiday season splendor.
Tower of London: London, England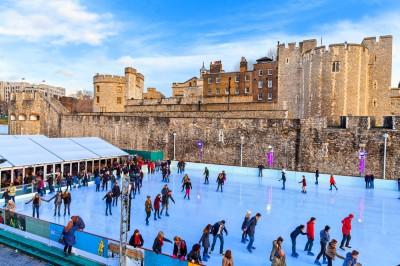 Road trip to London
this winter and you may find yourself zooming beneath stone turrets in a real fairytale castle! Famous and infamous, the historic royal Tower of London once housed important enemies to the throne. It now sets the stage for one of London's most festive holiday traditions. This lovely outdoor rink is beset by characteristically blunt medieval architecture that makes it one of the most unique skating rinks in the world. Imagine the feeling of your blades cutting the glassy ice beneath them as you swiftly skate, hand in hand with your beloved travel companions in a real medieval castle moat! With all that fresh air and exercise, you are sure to work up an appetite. A visit to the Ice Bar will provide a hearty snack or a hot mulled wine before you return to the ice for another round of gleeful gliding.
Varosligit Park: Budapest, Hungary
Gliding over the enormous rink of Varosligit Park will make you feel sanguine and swan like for good reason: in summertime, this water feature doubles as a picturesque lake where visitors enjoy gentle boating. Offsetting an afternoon skate among the elegant architecture and magnificent park with a time in a unique Hungarian bath to warm yourself in natural mineral spring water is the perfect combination of activities to revive you travel-weary body. Afterward, a city stroll and a stop in a Hungarian pub for mulled wine will put you in the holiday spirit. A
car rental in Hungary
can propel your winter tour, allowing you to delight as you easily traverse the scenic countryside and stopping to browse handicrafts and savor robust cuisine.
Place Sainte Catherine: Brussels, Belgium
While the rest of the western world is "Rockin' around the Christmas Tree", you can take a page from the book of joyful Belgians and try "rinking" around it! Explore
Belgium with a car rental
this winter, you won't regret it. The holiday season is the definition of festivity in Brussels' central Saint Catherine's Place, where a carnival of colors will spark your imagination. A traditional Christmas Market takes seasonal residence in this lively square, and in the heart of it you'll find an elegant rink and an ornately adorned tree! Skimming across the flawless ice surface surrounded by jovial lighting, holiday cheer and stately and historic architecture is sure to provide that intangible experience that makes your Belgium trip a fond and lasting memory!
Vienna Ice Dream: Vienna, Austria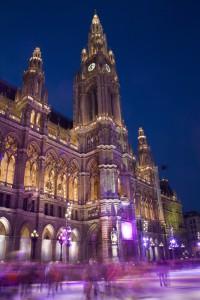 Vienna offers up the opportunity to float freely through a winter wonderland! A whole network of large rinks, curling rings and skating paths await your exploration in the center of Vienna, right in front of the stately
Vienna
city hall! In this complex skate park, beneath the snow dusted trees, your skates can transport you easily through winding icy river ways, amid a sea of lights. Make a whole evening out of enjoying this beautiful park with no worries: there are plentiful booths for hot beverages and food stands positioned throughout the meandering route to sustain your strength through this skating adventure. Wintertime in Vienna is truly a magical experience, marked by elegant balls, museum showing of priceless art collections and nearby alpine ski resorts, all of which you can reach with ease and style when you
rent a car in Austria
!
Paris City Hall Square: Paris, France
Renting a car in France
to tour the City of Love is a delight to every sense, culminating with an uplifted heart and spirit. This is never true so than in the pristine and glittering beauty of winter. Winter lends elegance to
Paris
and is the perfect time for a romantic getaway, or a serious art tour that could never be forgotten. Skating in the picturesque rink in Paris City Hall Square, near the Seine River, is such a quintessentially Parisian experience that you'll practically feel your accent improve as you lace your skates and purchase "chocolat chaud" and cookies at this dazzling rink side.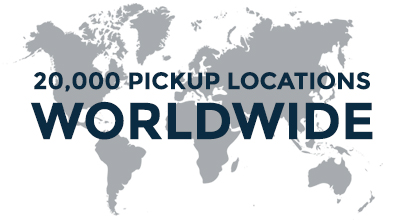 Wherever you are heading, you can add cheer to your cold weather travels with a trip to the beautiful open air skating rinks. Also, you can add comfort and convenience with a rental car through Auto Europe. Our travel experts are available 24/7 to help you save on quality rental cars for your overseas explorations. Call us today at 1-888-223-5555 to arrange your car rental.